The Tennessee Titans decided to make a big investment in Rodger Saffold this offseason — his average salary of $11 million per year ranks as the fifth-highest salary among left guards, per OverTheCap.com — as they re-shaped the interior of their offensive line following the departures of both Quinton Spain and Josh Kline.
Saffold, a nine-year NFL veteran, has compiled a fine career thus far, earning overall grades of at least 70.0 in five seasons, including in each of the last three. He finished 2018 ranked ninth among guards with a 72.8 overall grade, and he ranked fourth with a 71.6 run-blocking grade.
Saffold would have been a welcome addition to many NFL rosters this off-season. Good offensive line play is tough to find at the professional level, and he has a proven track record of success. However, few teams made more sense for the veteran guard than the Titans.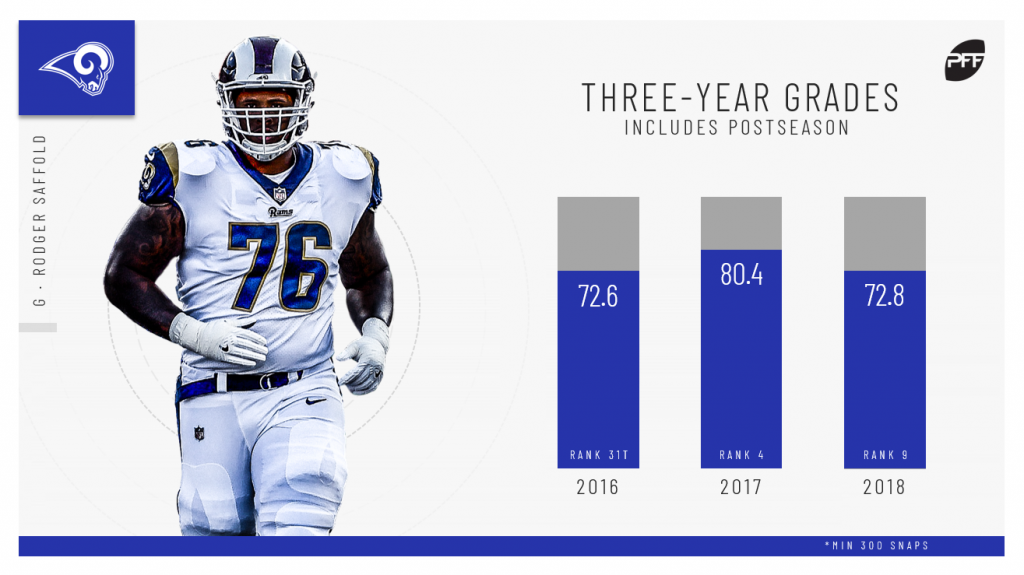 When it comes to the run game, the Titans heavily relied on zone runs in 2018. They ranked ninth among all teams by running outside zone on 28% of their run plays and they ranked eighth by running inside zone 39% of the time. Saffold has thrived when blocking for both of those concepts over the past few seasons.
From 2016-2018, there were 31 guards who blocked at least 200 times on outside zone plays; among that group, Saffold ranked eighth with a 73.0 run-blocking grade. There were 42 guards who blocked at least 200 times on inside zone plays from 2016-2018; among that group, Saffold ranked seventh with a 68.6 run-blocking grade. Andy Levitre and Zack Martin were the only other guards to rank within the top 10 in terms of run-blocking grade for both concepts over the last three seasons.
Additionally, Saffold should prove valuable for Tennessee when it comes to pass protection. Marcus Mariota had the 11th-highest rate of dropbacks on which he held onto the ball for at least 2.5 seconds last season (55.5%), and among the 53 guards who have amassed at least 500 snaps in pass protection on such plays over the last three years, Saffold ranks 12th with a pressure rate allowed of just 5.5% — a nice improvement over the rates of both Kline (7.5%) and Spain (7.8%) over that stretch.
Saffold's best season as a pro so far came back in 2017 when he posted an 80.4 overall grade. Given the fit in Tennessee, it won't be the least bit surprising if he approaches (or bests) that grade with the Titans in 2019.