Richard Sherman has been one of the best cornerbacks in the NFL over the course of his career, and when you look at the numbers quarterbacks have put up when targeting him, the case can certainly be made that Sherman has been the best cornerback in the NFL for the last five-plus years.
Since the start of 2013, Sherman has been targeted 310 times and has allowed 149 receptions for 2,036 yards, eight touchdowns and has tallied 20 interceptions in the regular season.  Among 86 cornerbacks with at least 200 targets in that span, Sherman not only ranks first among cornerbacks in passer rating allowed (51.2), he also ranks first in catch rate (48.1%), first in coverage snaps per reception allowed (18.5), fourth in coverage grade (91.6) and fourth in forced incompletion percentage (17.7%).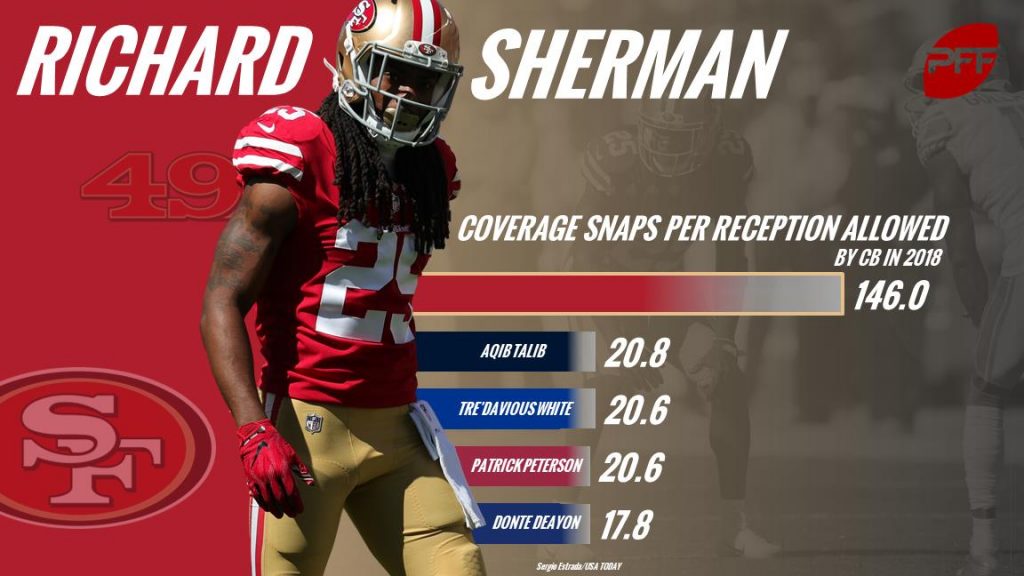 Darrelle Revis, Patrick Peterson, Xavier Rhodes, Aqib Talib, Chris Harris, Jalen Ramsey, Josh Norman, and all the other great cornerbacks that have seen at least 200 targets since 2013 all sit below Sherman and those numbers don't even include Sherman's best season of 2012, in which he ranked first among cornerbacks in overall grade at 92.2 and combined for eight interceptions and 18 pass breakups while allowing a catch rate of just 43.9%.
The vast majority of that time period, Sherman suited up on Sundays as a member of the Seattle Seahawks' Legion of Boom. He roamed the secondary with a tandem of elite safeties in Earl Thomas and Kam Chancellor.  As the Seahawks defense disbanded, Sherman left as one of the departures. Heading into 2018, he had a new team in the NFC West – the San Francisco 49ers – who he signed with in free agency this offseason.
To open the season, Sherman has shown everyone that he is not finished and that he is bringing that same shut-down talent to San Francisco.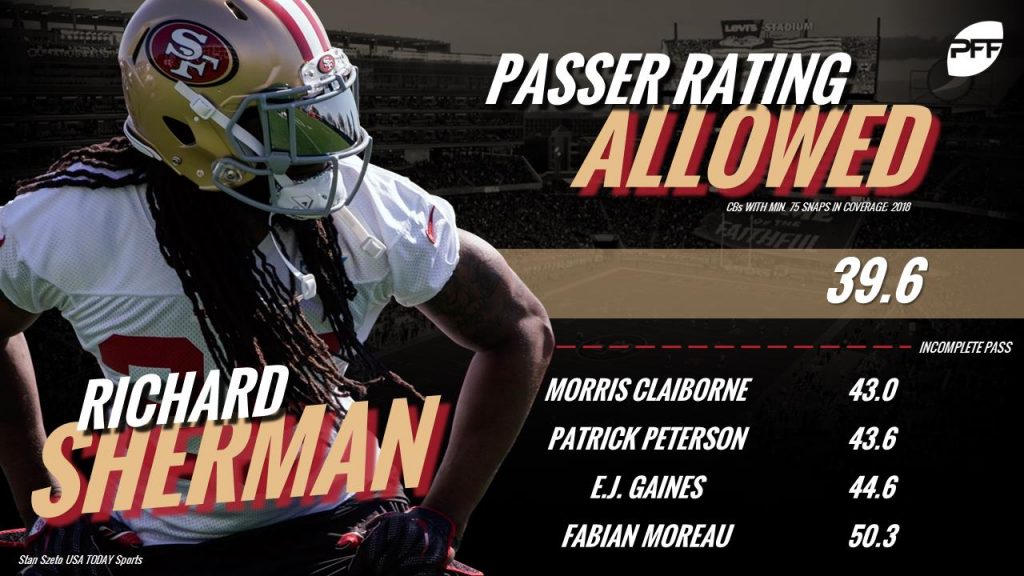 Here at PFF, we track various cornerback metrics such as yards per coverage snap, coverage snaps per target, and coverage snaps per reception allowed. Sherman's performance in these metrics has been remarkable in 2018. Across four games, Sherman has been on the field for 146 coverage snaps and has been targeted just eight times, allowing only one reception for 18 yards. Among the 72 cornerbacks who have been targeted five or more times, Sherman ranks first in yards allowed per coverage snap (0.12), first in coverage snaps per reception allowed (146.0), first in coverage snaps per target (18.3) and first in passer rating allowed (39.6), which in fact, is the same exact rating as a quarterback receives for spiking the football.
For context, the leader in coverage snaps per reception allowed last season was William Jackson III with 26.4 which was one of the best full season totals we've ever seen. Obviously, Sherman will not keep his current pace, and just one reception allowed will cut that mark of 146 in about half. However, the fact that he has allowed just one reception in his first 146 coverage snaps with the 49ers is impressive to say the least.
As is evidenced by his coverage snaps per target, quarterbacks simply aren't testing Sherman. The ability of a cornerback to take away half of the field is something that is invaluable to a defense, and it is something that Sherman is providing in his first season in San Francisco.
A couple of opportunities against Sherman have been missed, such as a rollout by Josh Rosen which was overthrown to an open Larry Fitzgerald for what would have been about a 25-yard gain on the sideline. In fact, just two of the eight targets against Sherman have been catchable, and those two both came in the first half of Week 1 against the Minnesota Vikings. As the season goes on, quarterbacks will likely start to hit some of those chances.
That does not take away from this fact though – quarterbacks are steering clear of Sherman in the 49ers secondary. Given what he has done when quarterbacks have targeted him throughout his Canton-bound career, I don't blame them.