The most successful NFL teams know when to let players walk and sign big contracts elsewhere, but teams also know when they have a valuable piece that's worth bringing back. Re-signings are often overlooked in free agency as some of the league's biggest playmakers swap teams, and players who lost their previous campaign to injury are often forgotten about in the grand scheme of things. Here are the best returning players — whether it be from injury or due to a re-signing — who could have a significant impact in 2019. 
2018 grade: 91.0
The NFL is filled with defensive line talent, but few players are as well rounded as Jarrett. In 2018, the fourth-year interior defender ranked in the top 20 at his position in run-stop percentage (9.7 percent) and pass-rushing productivity (6.9). That earned a 91.0 overall grade, fifth among interior defenders. He joined Aaron Donald as the only two interior defenders who played at least 14 games and notched a stop and a quarterback pressure in each — that type of consistent production isn't easy to replace, and Jarrett will get to display it for at least one more year in Atlanta.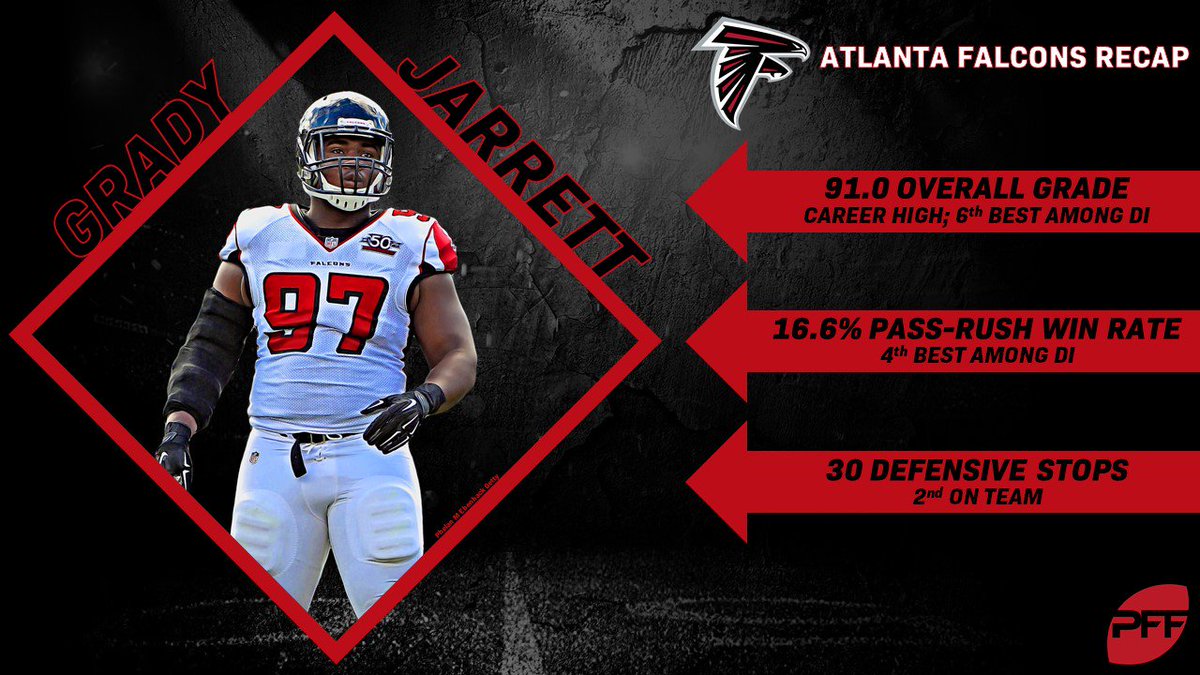 2018 grade: N/A
After playing just one game in 2018 due to injury, Williams' future seemed in doubt. However, the Panthers stuck with him, giving him a one-year, "prove it" deal. Williams appeared to be doing just that in 2017, earning a career-high 78.0 grade while playing more than 1,100 snaps (seventh among tackles). While injury derailed another potentially solid season, his upswing was apparent, and the Panthers were right to keep him on board as his replacement, Chris Clark, was underwhelming in both run blocking and pass protection. Williams has proven he has the skill set necessary to make the leap from good to great in 2019.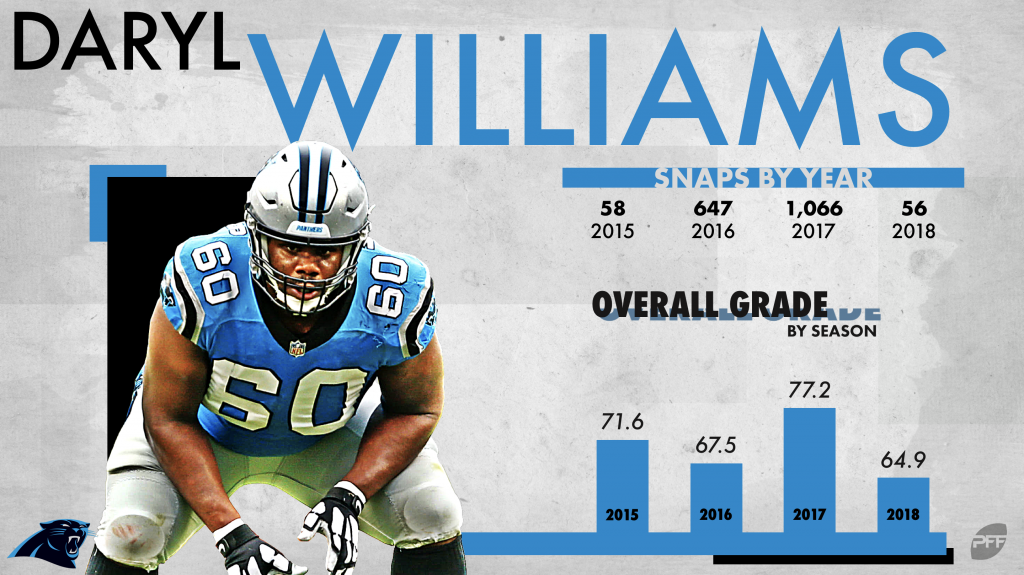 2018 grade: 88.0
It would be more of a story to say Lawrence won't have a big impact in 2019, but here we are nonetheless. He's had two straight 85.0-plus grades and would have gotten a massive contract in free agency if he had made it that far. There's speculation around whether the Cowboys will be able to lock him up long-term, but for now, he'll look to emulate his last two seasons where dominated opposing offensive linemen to the tune of 79 pressures in 2017 (5th) and 66 pressures in 2018 (13th). Surely Lawrence will have no issues taking over games once more in 2019, and while the Cowboys were smart to give him the franchise tag, they'll need to work out an enticing deal if they want to keep him around.
2018 grade: 81.1
If the Broncos didn't make their move for quarterback Joe Flacco, Sanders almost certainly wouldn't be on this list. Flacco's deep ball has been subpar for years now, but then again, he's had few weapons at his disposal. If Sanders can put up 1,000 yards with Trevor Siemian and Paxton Lynch, it'll surely be no problem with Flacco. Sanders has earned an 80.0-plus grade in four of his past five seasons, and he caught nine of 16 deep targets last year — a good enough reason for the Broncos to pick up the final year on his contract. Flacco, meanwhile, hasn't completed more than 20 deep throws since 2014. It's a sleeper combination, for sure, but Flacco's arm has weapons now — and Sanders is target No. 1.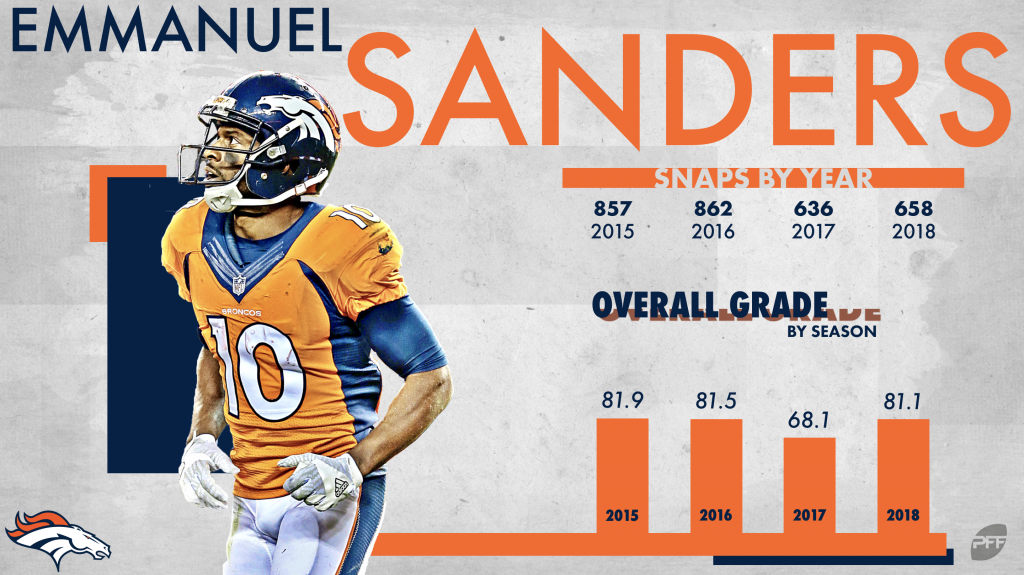 2018 grade: 81.2
A fantastic start to the year was cut short by an ACL tear, but make no mistake: Fuller was ready to cement himself as a top receiver in the league. Through eight weeks, he was top 20 in yards per route run, deep yards, and drop rate, not to mention his 147.2 passer rating when targeted that ranked third. Everything was coming together for the third-year receiver, but the final half of his season was taken away as quickly as his success came. Fuller had underachieved in his first two years as a former first-round pick, so his 2018 campaign was essential to dissuade the "bust" label. He did that and more, setting himself up to recover and again shine on the field in 2019.
2018 grade: 77.7
On draft day in 2014, Desir earned the "sleeper pick" label coming out of Division II Lindenwood, and when the Cleveland Browns selected him in the fourth round, he was pinned as a steal. His time in Cleveland didn't pan out, but now Desir is earning $7.5 million a year and is potentially the steal of free agency. The Colts resigned the fifth-year cornerback after his best season yet, where he earned the fifth-highest run-defense grade (90.3), the second-highest tackling grade (89.9), and a healthy 73.9 coverage grade. With an impressive season and a nice contract under his belt, Desir is poised to make an even bigger leap as he continues to hone his craft.
2018 grade: 77.4 (8 games)
Similar to Will Fuller V, Kupp had a potential breakout season cut unexpectedly short. He had already matched his touchdown total from his rookie season through 10 weeks, and he ranked fourth among wideouts with an 81.6 percent catch rate. Yet a torn ACL derailed the campaign and also took Kupp out of the spotlight. While many have forgotten about the strong numbers he's put up in his first two years, Los Angeles Rams fans surely haven't, and they'll be expecting to see more come September.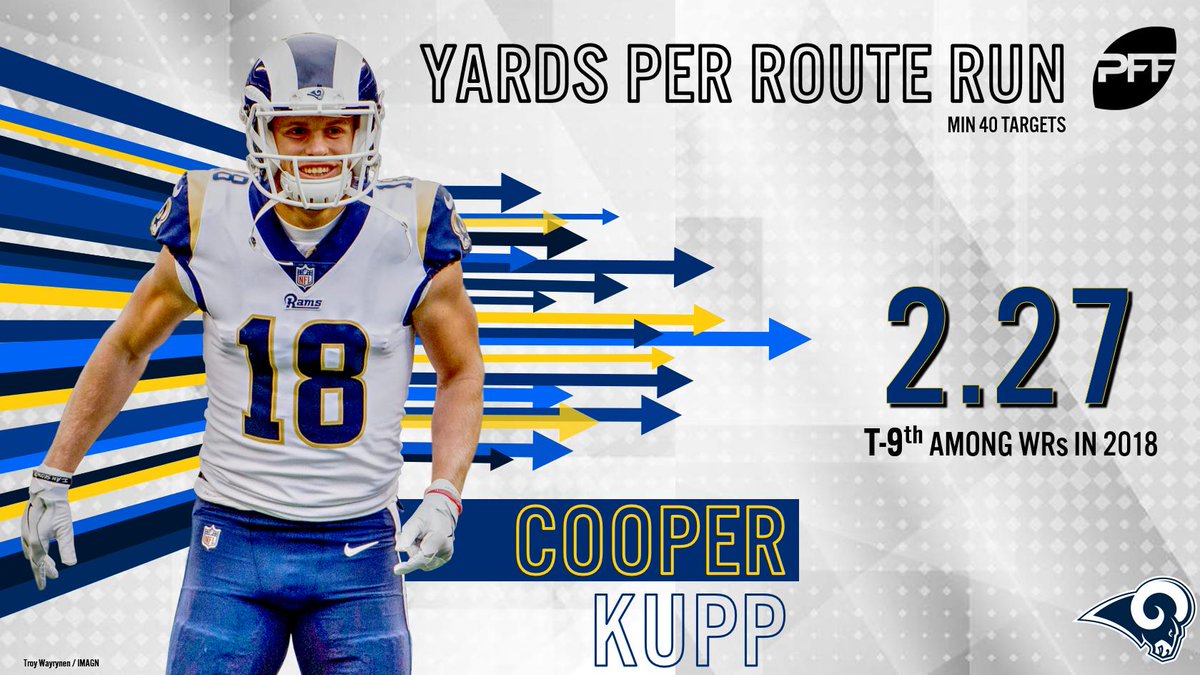 2018 grade: 88.1
The Eagles have enjoyed pass-rush success from all along their defensive line for the past few seasons, and Graham has been a large part of that. He finished first on the team in quarterback pressures in 2016 and 2017, and second on the team in 2014, 2015, and 2018. But finishing second on the team in 2018 was no minor accomplishment — he had the fifth most pressures (77) of all edge defenders. In resigning Graham, the Eagles ensure their defensive line remains dominant for years to come.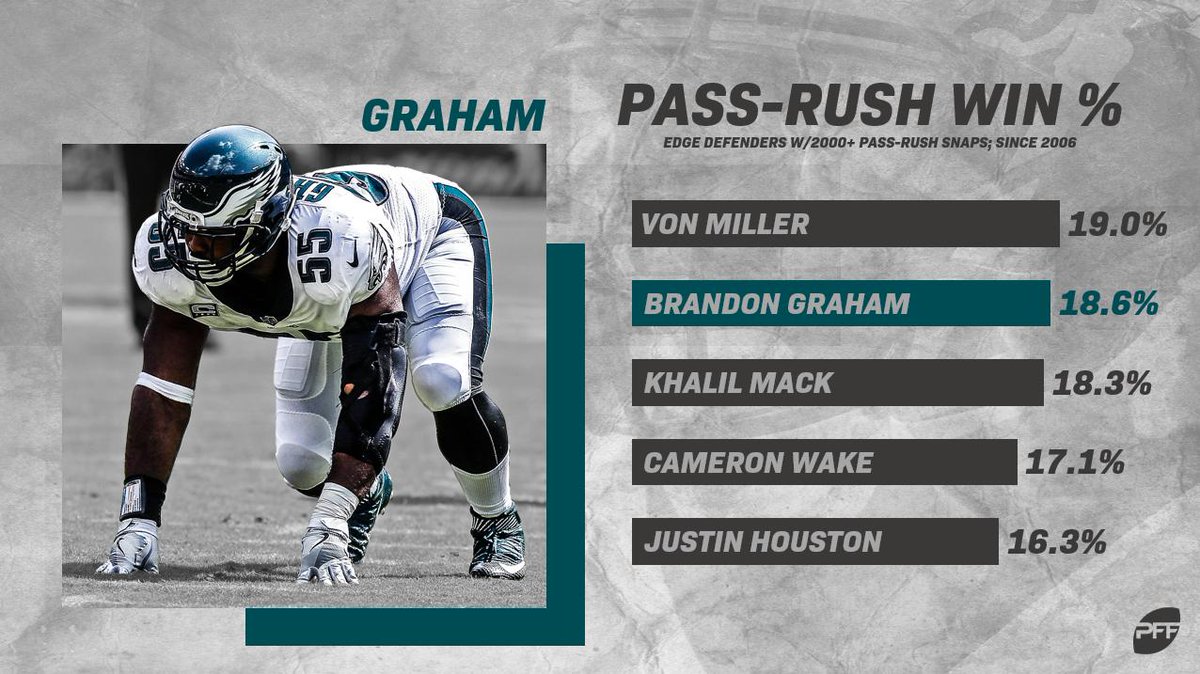 2018 grade: 77.4
With 10-plus sacks in each of the past three seasons, Clark is the epitome of a stalwart edge defender. He has admittedly struggled in the run game, but for his sheer ability to get to the quarterback from either side of the line, the Seahawks locked him up with the franchise tag. That production culminated in an 8.9 pass-rushing productivity rating last year, which ranked fifth among all edge defenders. Clark is due for a hefty pay raise at some point — whether it's with the Seahawks remains to be seen — and there's no reason his consistent production should cease in another contract year.
2018 grade: N/A
Perhaps the biggest surprise on the list is Guice, who has yet to officially record a carry as an NFL running back, but his college production speaks for itself, where he never earned a season grade below 85.0 and frequently ranked among the best in yards after contact and first down runs. Those kinds of attributes should translate well to the pro game, and Guice will get some opportunities alongside Adrian Peterson to prove it.