The new era in San Francisco has officially arrived, and the 49ers have staked their claim of the team they can be in 2018 with a 44-33 statement win over the Jacksonville Jaguars. Quarterback Jimmy Garoppolo tossed two touchdowns and ran for another while the backfield duo of Carlos Hyde and Matt Breida totaled 128 yards on the ground and two scores.
The 49ers defense intercepted Jaguars quarterback Blake Bortles three times, but the Jacksonville signal-caller made things interesting with two late-game touchdown passes to push the score to 37-33 with 1:50 left. After a failed onside kick attempt, Breida ran in a 30-yard score to ice the game and push the 49ers to 4-0 since Garoppolo became the starting quarterback.
With that, we give you our PFF-exclusive takeaways from the contest for each team.

Top 5 Grades:
CB K'Waun Williams, 87.8 overall grade
RB Matt Breida, 86.9 overall grade
LB Reuben Foster, 85.5 overall grade
TE George Kittle, 84.7 overall grade
QB Jimmy Garoppolo, 84.4 overall grade
Performances of Note:
The legend of Jimmy G(Q) continues to grow. Still undefeated as a starter, this was maybe his most impressive and unexpected victory. Knocking off a playoff-bound Jaguars team boasting the league's best defense, Garoppolo carved them up early to take a significant lead, and then continued to execute well. His passer rating when kept clean was 114.0, and he completed 73.9 percent of his passes from a clean pocket.
The run that iced the game late after the Jaguars had made things interesting with a pair of touchdowns in the fourth quarter belonged to Breida. He only carried the ball 11 times in the game, but racked up 74 yards on those carries. As a receiver, he added a lone reception for eight yards, but every time the ball was in his hands his quickness caused problems for the Jaguars defense.
Williams was impressive in coverage against Jacksonville, as he was thrown at three times only allowing a single catch for 11 yards and making a beautiful one-handed interception to go along with a pass breakup. Williams has been solid in coverage over the past two weeks, only allowing 33 yards on five targets. His 67 defensive snaps were the most since Week 4 against the Cardinals.
Foster continued his impressive rookie campaign against the Jaguars and produced in all facets. The only reception he allowed was limited to a 2-yard gain and he also recorded a hit on the quarterback while rushing the passer. Foster has been solid against the run all season, his instincts and explosiveness has led to 35 run stops for the rookie, fourth among all qualifying inside linebackers with at least 110 run snaps.

Top 5 Grades:
S Barry Church, 87.1 overall grade
Edge Calais Campbell, 82.1 overall grade
LB Myles Jack, 80.8 overall grade
WR Keelan Cole, 79.5 overall grade
TE James O'Shaughnessy, 79.3 overall grade
Performances of Note:
The rookie put in another solid performance after playing the best game of his season a week ago. He was targeted 12 times and caught six of his targets for 108 yards but all three of Blake Bortles interceptions came when throwing to Cole, which might suggest they weren't entirely on the same page. The numbers over the last three games suggest Jacksonville might've found a gem in the undrafted free agent as he's caught 16 passes for 393 yards during that span.
Jacksonville fans will be hoping this isn't the Bortles that shows up in the playoffs. He's been good of late limiting the turnovers but that came to a halt Sunday as he threw three interceptions. He threw for 382 yards on 50 attempts with most of those yards coming via a clean pocket, going 24-of-33 for 263 yards when not under duress. He did take four shots downfield and completed 1-of-4 for 32 yards on passes traveling over 20 yards in the air.
Their big defensive addition in free agency, Campbell was once again excellent even in a losing effort. He had a hit and a hurry on Garoppolo, but also batted a pass at the line and led the team with five defensive stops, two more than any other Jaguars defender. This was as quiet as any team has kept Campbell as a pass-rusher this season, but he still made his presence felt, and against the run, he was too powerful for tight ends to try and block on the edge.
In coverage, Bouye was again impressive, allowing just two receptions from the four passes thrown his way over the course of the game. Those catches went for just 16 yards, and the passer rating allowed when he was thrown at was just 60.4, but he looked completely disinterested in the run game, and missed two bad tackles, which led to significant gains for the 49ers, including a rushing touchdown. Those are the plays that tend to get ignored for cornerbacks, but the best at the position make those plays when they are called upon.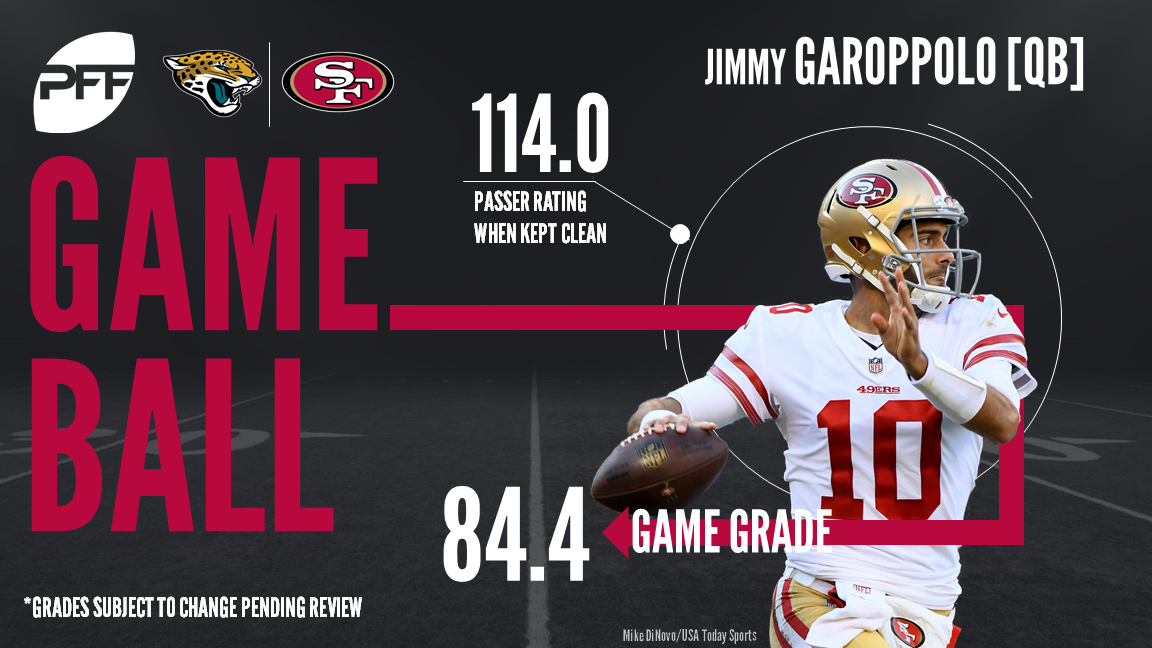 *Grades subject to change