In a wild game with plenty of playoff implications, the Philadelphia Eagles defeated the Los Angeles Rams 43-35 in the L.A. Coliseum.
QB Carson Wentz was forced to leave the game with an injury, but before he left he threw for 291 yards, four touchdowns and an interception. The Eagles racked up 139 rushing yards, with RB Jay Ajayi leading the way with 78. WR Torrey Smith hit 100 yards receiving on the dot, and TE Trey Burton scored two touchdowns.
QB Jared Goff and WR Cooper Kupp showed their connection, as Kupp came away with 118 yards on five receptions. Goff ended the day with 199 passing yards and two touchdowns, but he also lost a key fumble late. RB Todd Gurley had 96 rushing yards on only 13 carries, scoring twice. He also chipped in 39 receiving yards. With that, we give you our PFF-exclusive takeaways from the contest for each team.

Top 5 Grades:
TE Trey Burton, 87.8 overall grade
DI Fletcher Cox, 84.6 overall grade
Edge Chris Long, 84.5 overall grade
QB Carson Wentz, 83.9 overall grade
Edge Brandon Graham, 83.7 overall grade
Performances of Note:
We await news of what injury Wentz has suffered, but whether Eagle fan or not we should all be disappointed at potentially losing a player who has added so much to the league this year. The sophomore quarterback was sharp against a Rams defense that got pressure on 16 of his 45 dropbacks, pushing the ball in the deep and intermediate areas to complete nine passes beyond 10 yards in the air. That the Eagles won this game without him on the field shouldn't take away how much he did to ensure the team were in position to.
No Zach Ertz, no problem. Only once has Burton picked up more than the 56 yards he did today, while he doubled his touchdown tally for the season after finding the end zone twice. Burton matched his season best 47 snaps and depending on when Ertz comes back has shown he is a more than adequate fill in.
Cox bounced back from a sub-par performance against the Seahawks by his high standards with four pressures against the Rams. He also had two third down stops. The Eagles schemed to isolate Cox head up on Rams' C John Sullivan in some third down situations and Cox took full advantage late in the first quarter and second quarter respectively, quickly beating Sullivan once off the left shoulder and then off the right shoulder to hit Goff as he was throwing to force an uncatchable pass, getting the Eagles defense off of the field.
Long has been on fire for the Eagles since Week 5 and came up with another productive performance in his specialist pass-rush role. Long only played 18 total snaps, rushing the passer 14 times but converting those opportunities into five pressures (one sack, four hurries), which trailed only Brandon Graham's six pressures for most on the team. Long also turned in the Eagles' biggest defensive play of the game with his strip sack of Goff setting the Eagles up for a field goal that put them ahead late. In his last nine games Long has racked up 35 pressures on 200 pass-rushes.

Top 5 Grades:
RB Todd Gurley, 93.2 overall grade
DI Aaron Donald, 88.9 overall grade
S John Johnson, 86.6 overall grade
WR Cooper Kupp, 85.3 overall grade
CB Nickell Robey-Coleman, 85.2 overall grade
Performances of Note:
Gurley was at his rampaging best in this game, he fell just shy of a 100-yard rushing game but since he only got 13 carries, missing that mark should not be held against him. Gurley forced five missed tackles on those carries, as he used creases opened up in the aggressive Philadelphia front to exploit his ability in space against the Eagles' defensive backs and linebackers. Those five missed tackles forced were Gurley's most since Week 1 last season.
A second 100-yard game in three weeks for Kupp, who sparked the Rams back into the game in the second quarter after they fell two scores behind. He had a crucial third-down conversion to halt the Eagles' momentum, on the play he broke two tackles up the left sideline to completely flip field position before he finished off the drive by diving for the pylon for his first touchdown since Week 7. Kupp contributed further as a blocker, keeping Malcolm Jenkins out of Todd Gurley's running lane on his second score early in the fourth quarter to put the Rams into a lead they ultimately couldn't hold.
In some respects a quiet performance by the high standards of Donald, but there were more than enough plays where Donald showed that one-on-one, there isn't a defender in the league who gives offensive linemen as many problems. He picked up two quarterback hits and five hurries as he made life hard for whoever was behind center for the Eagles.
If there is one obvious issue with the Rams defense it's at linebacker. Both Barron and Alec Ogletree are capable of using their tremendous speed to beat blockers to a spot to make splash plays, but both men continue to struggle when linemen get their hands on them. Today that was punctuated by some bad tackling, with the normally reliable Barron missing three tackles, more than he's missed in any game since Week 4 of the 2016 season. If the Rams are to make a playoff run this will need to improve.
PFF Game Ball: Chris Long, Edge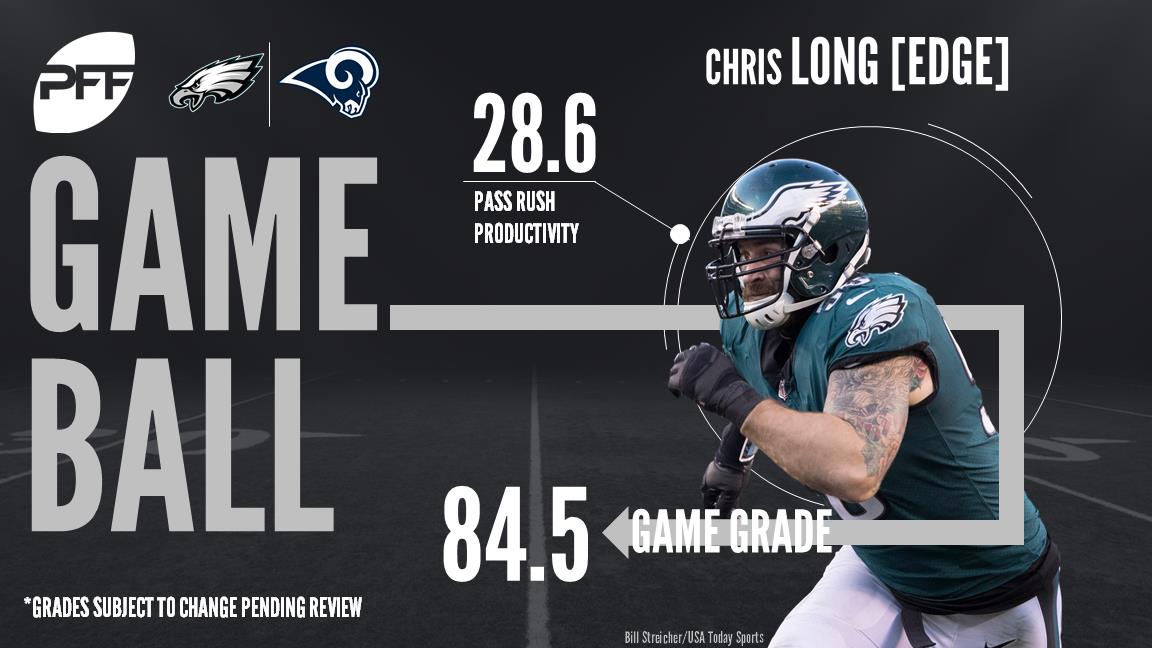 *Grades are subject to change upon review