Buffalo Bills QB Tyrod Taylor threw two interceptions and Philadelphia Eagles QB Carson Wentz went without a touchdown when the first stringers were on the field, but T.J. Yates came on late to throw a touchdown pass to Brandon Reilly to put the the Bills up on the Eagles. However, with less than five minutes left in the game, QB Dane Evans led a touchdown drive that ended with a RB Byron Marshall score to give the Eagles a 20-16 victory.
With that, we give you our PFF exclusive takeaways from the contest for each team.

Top 5 Grades
Edge Steven Means, 90.2 overall grade
DI Fletcher Cox, 86.0 overall grade
Edge Derek Barnett, 85.5 overall grade
CB Ronald Darby, 83.5 overall grade
S Rodney McLeod, 83.3 overall grade
Performances of Note:
TE Billy Brown, 80.3 overall grade
Late in the game Billy Brown proved himself as a safe target for quarterback Dane Evans. Brow caught all of his four targets for 34 yards, 20 of which came after the catch. When targeted his quarterback's had a rating of 102.1
Salako, who signed as an undrafted free agent out of Oklahoma State this offseason, made his best case for a roster spot with Dillon Gordon struggling ahead of him at left tackle, allowing four pressures and earned an overall grade of 36.6. In Salako's 15 snaps in pass protection he did not allow any pressures. Salako also was effective in run blocking, posting a run blocking grade of 83.9.
Means absolutely tormented Buffalo's reserve left tackles, finishing the night with a 92.2 pass rushing grade and a 20.5 pass rush productivity rating (PRP measures pressure created on a per snap basis with weighting towards sacks). Means tallied seven total pressures (including two sacks) – all coming from the right side – on 28 pass rush snaps.
Graham looked like he was in mid-season form right from the get-go in this one, he bull rushed Jordan Mills for a pressure on Buffalo's first pass of the game and absolutely blew by Dion Dawkins on an inside move later in the first. Graham finished the night with an excellent 18.8 PRP as it took him just eight pass-rush snaps to get those two pressures, to go with a stop in run defense.

Top 5 Grades
Edge Ryan Davis, 88.2 overall grade
Edge Jerry Hughes, 84.5 overall grade
Edge Shaq Lawson, 81.3 overall grade
S Jordan Poyer, 81.2 overall grade
C Ryan Groy, 80.7 overall grade

Performances of Note:
C Ryan Groy, 80.7 overall grade
The only offensive player to grade north of 80.0, Groy finished Thursday night's game with a perfect pass blocking efficiency rating (PBE measures pressure allowed on a per snap basis weighting towards sacks) of 100.0, Groy surrendered zero pressures – which is especially remarkable considering Buffalo surrendered 25 as a whole – on 27 pass block attempts.
Similar to last week, Peterman had success moving the ball when he was able to throw from a clean pocket but struggled mightily when tasked with throwing under pressure. The fourth round pick went 9 of 12 for 160 yards and a 116.7 passer rating from a clean pocket, compared to just 1-of-8 for seven yards and a 39.6 passer rating when under pressure.
Ryan Davis, who came into the league as an undrafted free agent in 2012, was electric rushing the passer in the Eagles second preseason game. Davis turned 2016 undrafted free agent tackle Dillon Gordon into a turnstile beating him with inside and outside moves for four pressures on only 17 pass rushing snaps, earning a pass-rush grade of 88.9
Hughes was extremely disruptive in the first few series of this game when matched up against one of the best tackles in the league in Lane Johnson. Hughes recorded one sack and drew a holding call on Johnson in 12 pass rush snaps. He was also disruptive in run defense recording two stops and a run defense grade of 86.8

PFF Game Ball: Steven Means, edge defender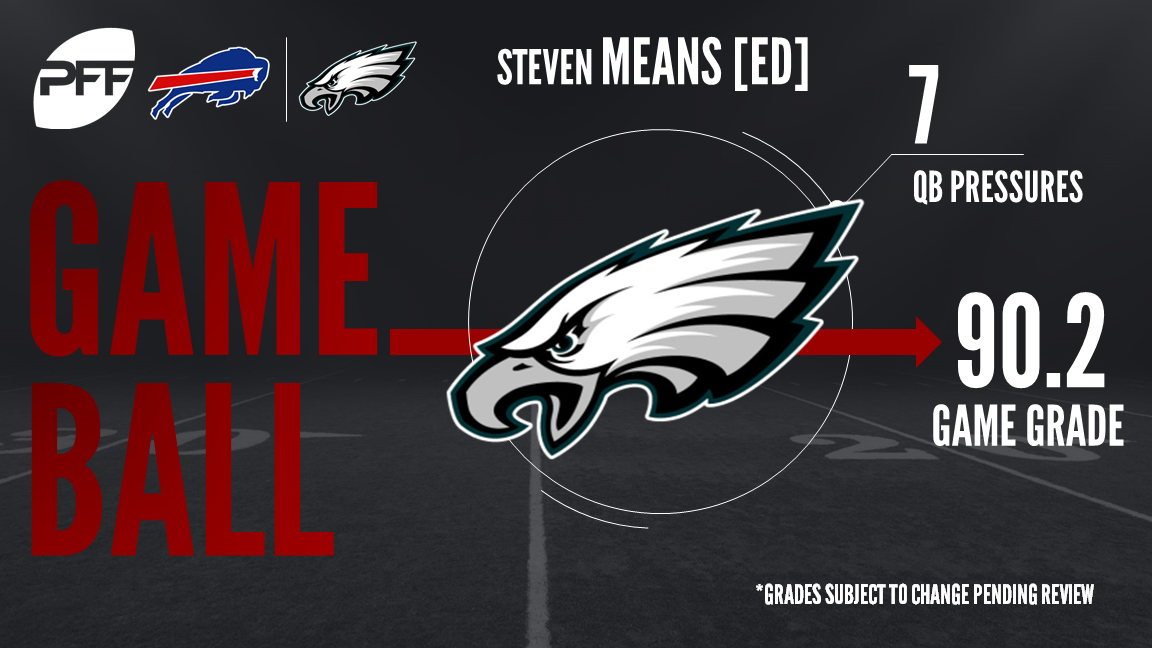 *Grades subject to change upon reveiw