The Raiders opened the scoring with a QB Derek Carr touchdown pass to WR Michael Crabtree, and the pair would score a second touchdown in the second quarter, along with a RB Marshawn Lynch rushing touchdown. The Jets would score a WR Jermaine Kearse touchdown catch and a field goal, but they'd trail by 11 at halftime.
Not much would change in the second half, besides the size of the Oakland lead. The Raiders would go on to win 45-20. With that, we give you our PFF exclusive takeaways from the contest for each team.

Top 5 Grades:
S Karl Joseph, 91.1 overall grade
G Kelechi Osemele, 89.2 overall grade
WR Michael Crabtree, 87.3 overall grade
C Rodney Hudson, 84.8 overall grade
QB Derek Carr, 84.4 overall grade
Performances of Note:
Through different means the Raiders have invested heavily in their offensive line and the Jets have invested heavily in their defensive line. Led by Osemele, it was the vaunted Raiders' offensive line that comfortably got the better of this matchup. Osemele left his mark on the likes of Leonard Williams and Darron Lee throughout the game, driving defenders off the ball and generally making linebackers' lives a misery. Osemele provided a key block on Cordarelle Patterson's touchdown run, driving Darron Lee out of the A-gap to open a clear path to the endzone for the Raiders' new gadget receiver.
Through two weeks Michael Crabtree has failed to catch only a solitary pass thrown his way. For the season he sits at 12/13 for 163 yards with all three of his touchdowns coming today against the Jets, with two against Juston Burris. Whether on a fade into the endzone or a go route adjustment that Crabtree moved for before the corner could even see it, the Jets couldn't hold Crabtree in check today and it seemed that the only thing limiting Crabtree's stat line today was the number of times the Raiders felt the need to put the ball in the air.
You'd be forgiven for wondering who Morrow is. The undrafted free agent was a long shot to make the team after being picked up from Greensville College, but after a strong finish to preseason he's found a role on the team and after playing four snaps in the opener, managed 24 this week. How did he do? Well the grade is a spoiler, but he acquitted himself exceptionally well, especially in coverage, where he broke up one pass and then scored a tackle for a loss on a catch. Have the Raiders unearthed a situational superstar? Time will tell.
EDGE Khalil Mack, 79.7 overall grade
You expected Mack to feast in this game, but it didn't really work out that way. He did pick up a sack and did win his share of pass-rushing duels, but the dominance that was his Week 1 effort was not on display with the Jets doing a good job of taming him, especially in the first half. He ended the day with a sack and two hurries on 44 snaps.

Top 5 Grades:
G James Carpenter, 83.4 overall grade
S Jamal Adams, 83.0 overall grade
S Marcus Maye, 81.4 overall grade
T Kelvin Beachum, 79.0 overall grade
WR Jermaine Kearse, 75.0 overall grade
Performances of Note:
QB Josh McCown, 70.4 overall grade
When McCown connected deep with Jermaine Kearse, you thought an upset may be on the cards. But not for long. McCown didn't play badly and extended a couple of drives with his legs and some accurate passing. But it was not, nor was it ever going to be enough for a team who are not doing anything to dispel offseason fears of struggling all year. He completed just three passes longer than 10 yards in the air all day, and was sacked on three of the 13 occasions the Raiders blitzed. They'll come a time when his backups need to get on the field, but this effort shouldn't force the chatter this week.
Unloved in Seattle, but with the lack of talent at wideout Kearse suddenly finds himself a No. 1 receiver in a team playing catch up a lot. With five targets he led the team, including a 35 yard grab behind David Amerson that went for six. You can only imagine as the season goes on he'll be involved even more.
S Jamal Adams, 83.0 overall grade,  S Marcus Maye, 81.4 overall grade
There isn't much to cheer for Jets fans right now but their young safety duo are off to a bright start, and even playing behind a defensive front that was overpowered by the opposing offensive line couldn't hide that. Both Adams and Maye came up to make stops against run and pass with Maye leading the way with 3 stops after Adams picked up a pair a week ago. Both made their best plays working downhill towards runs and short passes but in what looks likely to be a dark season, Adams and Maye offer a spark of optimism for the future.
After a strong start to the season against the Bills last week with three stops and three pressures, Williams was shut down and moved around by the Raiders' powerful offensive line in Week 2. Williams was held without a stop for only the fourth time in his short career, coming up with comfortably his lowest overall and run defense grades of his career to date.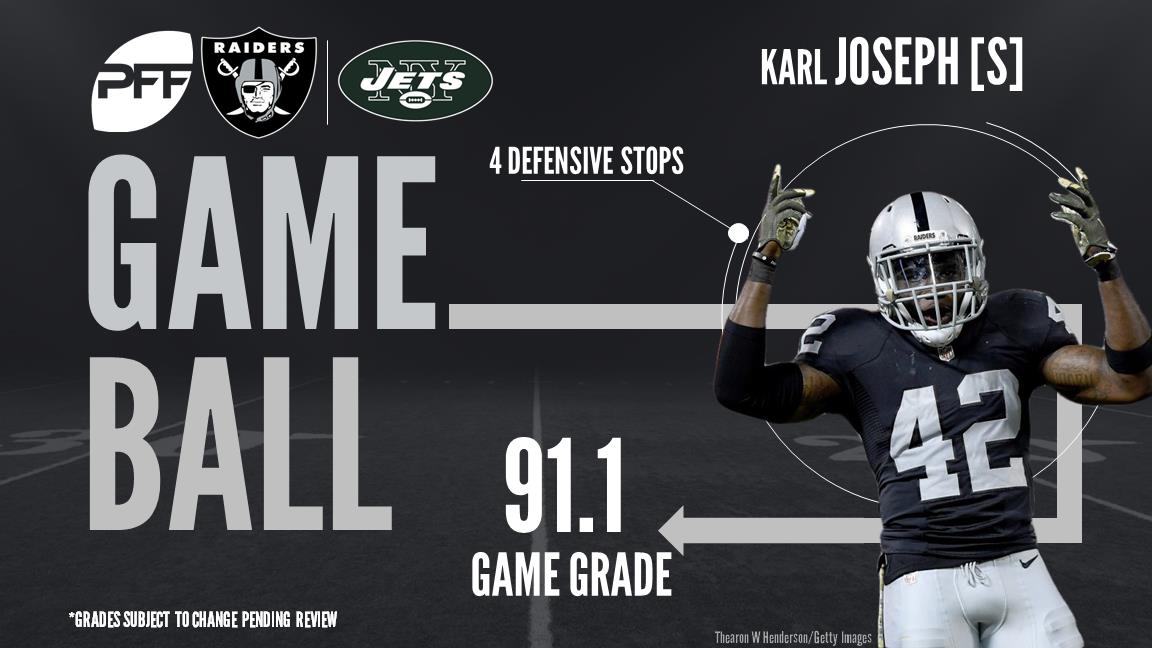 *Grades are subject to change upon review