The Oakland Raiders went into the Hard Rock Stadium and came out with a victory, as they defeated the Miami Dolphins 27-24.
RB Marshawn Lynch kept the ground game humming along, with 14 carries for 57 yards and he also scored two touchdowns on the night. QB Derek Carr was highly efficient, averaging 10.0 yards per attempt on the way to a 300 yard passing night.
QB Jay Cutler was less efficient, only 7.4 yards per attempt, although his three touchdown passes kept the Dolphins in the game for the majority of the night. RB Kenyan Drake took advantage of the Jay Ajayi trade and put up 69 yards on only 9 carries, however he did lose a key fumble.
Edge defender Khalil Mack was a menace all night for the Raiders, particularly on the late drives where Miami was trying to close the scoring gap. For Miami, S Reshad Jones continued his solid season for the Dolphins, racking up the most tackles among Dolphins defenders.
With that, we give you our PFF exclusive takeaways from the contest for each team.

Top 5 Grades:
QB Derek Carr, 90.4 overall grade
TE Jared Cook, 83.2 overall grade
Edge Khalil Mack, 81.7 overall grade
DI Denico Autry, 81.2 overall grade
CB Sean Smith, 79.9 overall grade
Performances of Note:
Carr hasn't played to the same level as he did in 2016 and has been inconsistent week-to-week, but he put together a near-flawless game until a throw forced into tight coverage on his final throw of the game. He was great on intermediate and deep targets, where he was 12-of-17 with two passes dropped. Overall, Carr's adjusted completion percentage was 82.1 percent on the night.
Coming back from his one-game suspension, Lynch bounced back for a solid performance that included two touchdowns. Even through he only had 57 yards rushing, he gained 60 yards after first contact for an average of 4.3 yards after contact per carry. He forced three missed tackles on the night.
The standard Mack sets for himself each week means a good game for most players is a disappointing game for him. Even though this wasn't a vintage game by Mack, he was still a force and tough for the Dolphins offensive line to handle, especially late in the game. Mack recorded five pressures and had a couple of other plays where he beat the offensive lineman but the ball was out to quick for Mack to record a pressure.
Carrie was one of the better defenders on the Raiders defense, and even though he allowed every pass his way to be completed, he only allowed 5.9 average per catch. He made the necessary tackles to keep everything in front of him and limited anyone from gaining extra yards.

Top 5 Grades:
TE Julius Thomas, 88.0 overall grade
WR DeVante Parker, 86.9 overall grade
QB Jay Cutler, 85.0 overall grade
S Maurice Smith, 82.8 overall grade
DI Davon Godchaux, 82.3 overall grade
Performances of Note:
This was a game that Jay Cutler showed two sides of his play. The majority of the game Cutler was happy to spread the ball underneath and allow his receivers and especially the running backs to gain yards after the catch. However as the score started to tilt towards Oakland's favor, Cutler started to take chances downfield and was able to hit them. One of the best things that can be said about Cutler's performance was there was no throw that could have been intercepted, everything was only where the Dolphins player could make a play on the ball. When the Raiders didn't blitz, Cutler completed 83.3 percent of his passes.
With the trade of Jay Ajayi, the running back duties fell on the shoulders of Williams and Kenyan Drake. While Williams was only able to gain 14 yards on the ground, his ability in the passing game was a game changer. He caught every pass sent his way, racking up 47 yards and a touchdown. The duo of Drake and Williams will determine if Miami's offense will be able to stomach losing Ajayi going forward.
Godchaux didn't do much as a pass-rusher, with just one hurry and a batted pass on the night, but he was the Dolphins best run defender against Oakland. He had four run stops on just 18 snaps in run defense after having entered the game with seven stops in his first seven games combined.
LB Kiko Alonso, 33.7 overall grade
Alonso was tasked with covering Jared Cook for much of the night, and he struggled to stay with the athletic tight end. Alonso allowed five catches for 82 yards to Cook, and gave up a 12-yard pass to Michael Crabtree as well. Five of the six catches against went for at least 10 yards, including four first downs.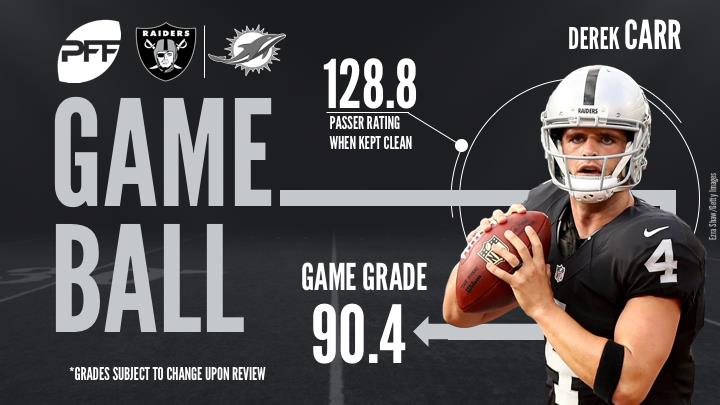 *Grades are subject to change upon review