The Pittsburgh Steelers defeated the Cleveland Browns, 33-18,  in Week 8 of the 2018 NFL season.
PFF's ReFocused series this season features immediate takeaways and a key to the victory from two Senior Analysts who graded the performance, watching every player on every play of the game. For more data and analysis from the game, utilize our Premium Stats 2.0 dashboard to expand your knowledge on the key players, signature stats and much more.

FINAL SCORE
Pittsburgh Steelers 33, Cleveland Browns 18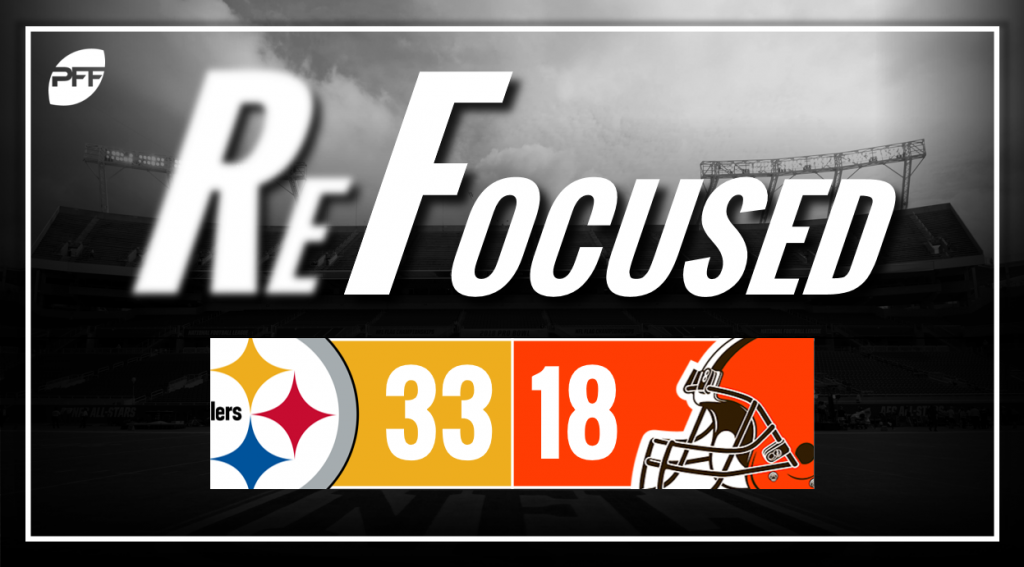 Bud Dupree was a menace in both phases, as his speed and explosiveness proved too difficult for the Cleveland offensive line to handle. He notched a number of unblocked pressures due to the Browns' struggles with the Steelers blitz scheme, but he also notched a number of key one-on-one wins on both run and pass plays.
With such a heavy emphasis by the Browns on their running and screen games, solid tackling was a key factor in Pittsburgh's defensive success. When the first man did miss, the defense was quick to rally and prevent big plays in the open field.
James Conner continues to be the focal point of the Steelers' offense. Conner scored two touchdowns on a pair of power runs. Conner was also targeted frequently in the Steelers' passing attack, including screens and even splitting out to the slot.
Antonio Brown and Ben Roethlisberger hooked up for a pair of touchdown passes that helped outpace the Browns.

This was a rough one for left tackle Desmond Harrison. He struggled to protect the edge in pass protection and took two bad holding penalties, both being charged as a result of him tackling a much smaller defender in space.
The Browns struggled throughout the game to pick up Pittsburgh's blitzing linebackers. Baker Mayfield saw a significant amount of pressure due to unblocked defenders and consequently was unable to test the Steelers on perimeter and downfield throws (outside of his interception to Joe Haden).
Myles Garrett notched a first-quarter sack, beating Steelers' tackle Alejandro Villanueva outside and attacking the ball in Roethlisberger's hands to bring the big quarterback down.]
Rookie cornerback Denzel Ward had an up-and-down day and was often covering Steelers' Brown. Ward tackled Brown for a loss on a wide receiver screen and also broke up a slant intended for Brown. However, Brown also picked up a third-down conversion catch against Ward and was also flagged for a defensive holding penalty on Brown running a go route.
Keys to the Game
Pittsburgh
Conner was the mainstay of the Steelers' offense and ran out the clock late in the fourth quarter.
Cleveland
The Browns' offense stalled out with poor running on early downs and poor blitz pick-ups on passing downs.