The Los Angeles Rams defeated the Denver Broncos, 23-20,  in Week 6 of the 2018 NFL season.
PFF's ReFocused series this season features immediate takeaways and a key to the victory from two Senior Analysts who graded the performance, watching every player on every play of the game. For more data and analysis from the game, utilize our Premium Stats 2.0 dashboard to expand your knowledge on the key players, signature stats and much more.

FINAL SCORE
Los Angeles Rams 23, Denver Broncos 20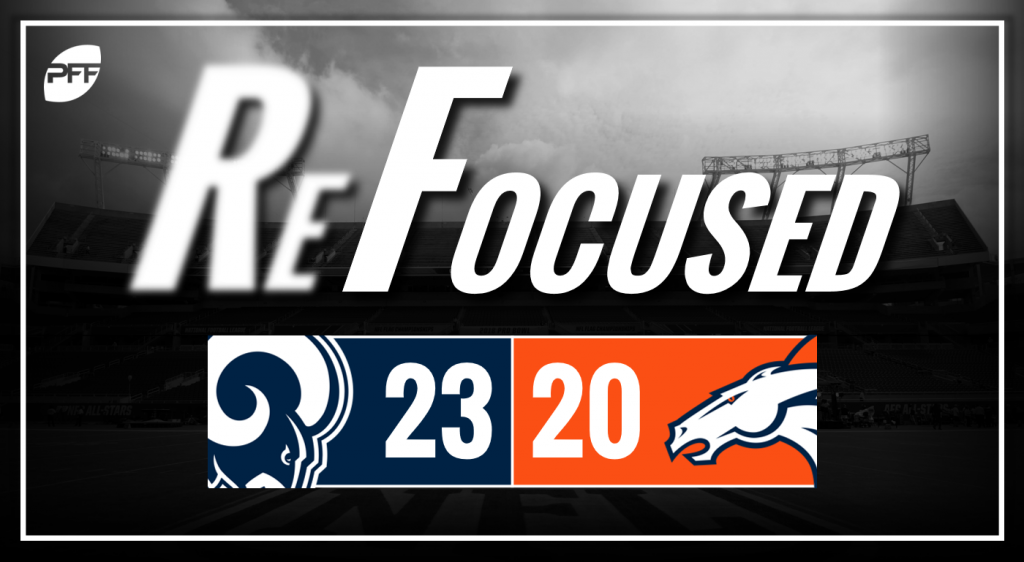 Todd Gurley had one of the most productive rushing games of his career against the Broncos, relying largely on an outside zone attack. Gurley broke several tackle attempts with speed and a highly effective stiff arm.
Jared Goff did throw an interception on an out route when Tramaine Brock tipped the ball which bounced off the face mask of the intended receiver Josh Reynolds and into the hands of Darian Stewart.
Defensive interior Aaron Donald was once again his dominant self, as he got the better of both Denver guards throughout the entire game. Donald was consistently in the Denver backfield, forced Case Keenum to leave the pocket multiple times and notched a sack on the day.
Cornerback Troy Hill, who is playing in place of the injured Aqib Talib, gave up big plays to the Broncos receivers. Wide receivers Courtland Sutton, Demaryius Thomas and Emmanuel Sanders all recorded receptions longer than 40 yards while being covered by Hill.

Rookie Bradley Chubb had two late second-quarter sacks. The first sack came after Von Miller beat Rob Havenstein on an inside move, forcing Goff towards Chubb. On the second sack, Shane Ray beat Roger Saffold inside and forced Goff to flee the pocket again into Chubb's arms. Chubb's third sack came in the 4th quarter on an inside stunt and forced a field goal attempt which was missed.
Todd Davis had a much better outing compared to previous weeks, recording multiple stops on the day.
Keenum struggled to get into a rhythm all afternoon. While he did make multiple bad decisions, including the pass that was intercepted, his bigger issue was just being accurate on a consistent basis, as he overthrew open receivers on multiple occasions.
Sanders was the go-to guy for Keenum yet again. Sanders made multiple big plays in the contest, as he remains the Broncos' main deep threat and contributes by gaining yards after the catch.
Keys to the Game:
Los Angeles:
The Goff-Gurley combination rose above the cold weather to keep Denver down on the scoreboard through four quarters.
Denver:
Overall, Keenum's inconsistency hurt the Broncos too much in this game. Despite the fact that receivers played themselves open, Keenum struggled to get the offense going with accurate passes.