The Dallas Cowboys defeated the Jacksonville Jaguars, 40-7,  in Week 6 of the 2018 NFL season.
PFF's ReFocused series this season features immediate takeaways and a key to the victory from two Senior Analysts who graded the performance, watching every player on every play of the game. For more data and analysis from the game, utilize our Premium Stats 2.0 dashboard to expand your knowledge on the key players, signature stats and much more.

FINAL SCORe
Dallas Cowboys 40, Jacksonville Jaguars 7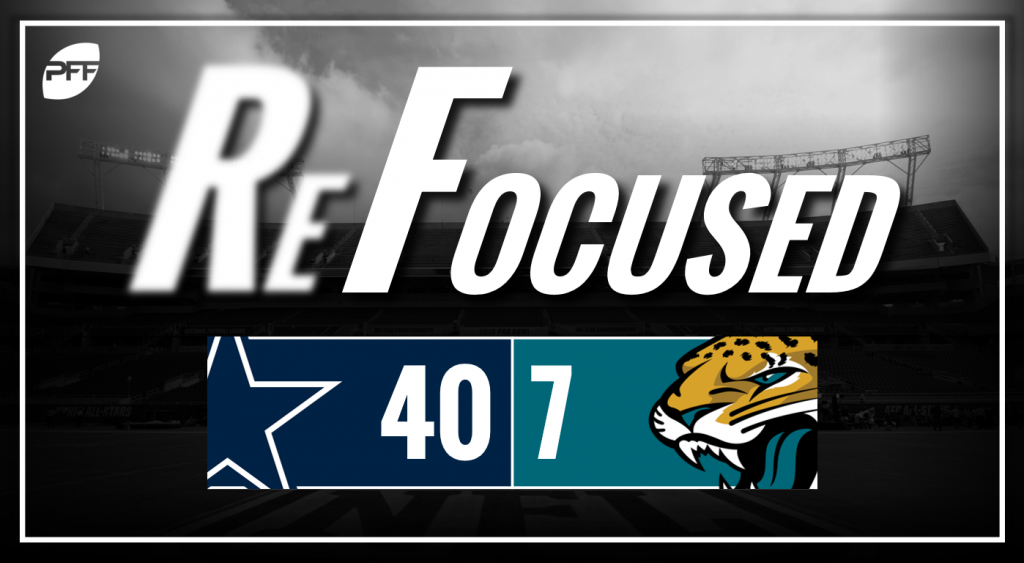 It's hard to win a game when you only complete three passes of 10+ yards past the line of scrimmage. Bortles wasn't helped out by a couple of drops, but he wasn't finding anything open down the field in their comeback attempt.
After not allowing a single sack a season ago, Andrew Norwell just allowed his second on the season. Maliek Collins toasted him with an inside spin, and the left guard is already over halfway to his pressure total from 2017.
The run fits for Jacksonville were a nightmare at times. Zeke Elliott's last touchdown run had nothing to do with the run-blocking and everything to do with Jacksonville's inability to stay gap-sound.
A.J. Bouye is going to be seeing Cole Beasley in his nightmares tonight. Bouye was following the Cowboys receiver to the slot often, and he allowed three catches from four targets for 31 yards and in an uncharacteristic performance.

Sometimes a little luck can help. This game could have had a much different tune had Dak Prescott's two first-half fumbles not bounced immediately back into his lap. He did a fairly good job protecting the ball through the air though, as he ended the game with only one turnover-worthy throw.
The offensive line put together one of it's best performances on the season. While Dak was sacked three times, not a single one was charged to an offensive lineman.
The pass-rush finally looks to be at full strength and was affecting Bortles all game long. They found pressure on 13 of his 31 dropbacks despite only blitzing six times.
In a battle between two of the best cornerbacks in the NFL, Byron Jones can say he went toe-to-toe with Jalen Ramsey and didn't flinch. He was targeted three times, he broke up two of those passes and didn't allow a single catch.
Keys to the Game:
Jacksonville:  The Jaguars run defense has to be more disciplined going forward against run-heavy attacks. They have the talent to stop the run, but there was far too much free-lancing today.
Dallas:  With David Irving back and Randy Gregory rounding into form, the Dallas defense is 100% for real.