The Atlanta Falcons defeated the Tampa Bay Buccaneers, 34-29,  in Week 6 of the 2018 NFL season.
PFF's ReFocused series this season features immediate takeaways and a key to the victory from two Senior Analysts who graded the performance, watching every player on every play of the game. For more data and analysis from the game, utilize our Premium Stats 2.0 dashboard to expand your knowledge on the key players, signature stats and much more.

FINAL SCORE
Atlanta Falcons 34, Tampa Bay Buccaneers 29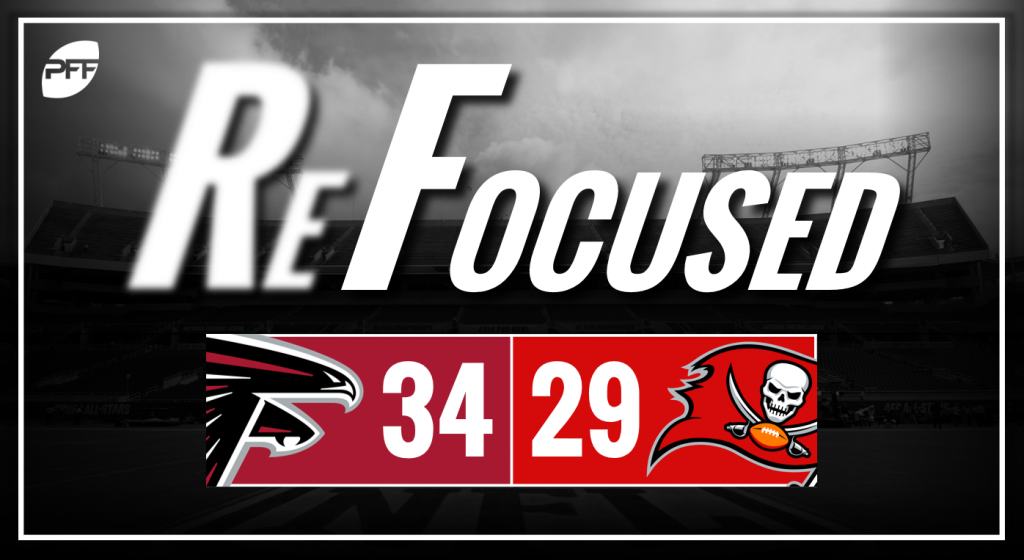 None of Matt Ryan's three touchdown passes traveled very far in the air, but he had a solid day nonetheless. Ryan completed over 75% of his passes on the afternoon, and he eclipsed 350 passing yards for the third time in four weeks.
Wide receiver Julio Jones was held out of the end zone yet again, but he had one of his most productive of his season so far. Calvin Ridley and Mohamed Sanu added a couple of big catches of their own, as well.
Atlanta's pass-rush has struggled for much of the season, and that continued today. Most of the pressure they did manage to generate came off of stunts, but Winston always seemed to have as much time as he needed in the pocket.
On the backend, coverage for the Falcons wasn't a whole lot better in this one. They did manage to snag two interceptions, but Tampa's receivers routinely had time and room to work with. 

In his first start of the season, Jameis Winston turned in the type of volatile performance we've come to expect from him. Winston's best work came between the numbers, particularly to the intermediate area, where he repeatedly found open receivers. However, there were also several plays where he put the ball in harm's way, including a dropped interception in the end zone on the opening drive, and an overthrow of DeSean Jackson that was picked off by Damontae Kazee.
Our highest-graded tight end entering the week, O.J. Howard turned in another productive performance, catching all four passes that came his way and converting all four into first downs.
The Tampa Bay defense played well against the run, but they struggled in coverage. While the secondary certainly has some blame, they didn't get much help from their pass-rush. Ryan was only sacked once, and only pressured a handful of times out of his 40-plus dropbacks.
Ryan Smith and Justin Evans seemed to have issues covering receivers on Sunday. Granted some passes were short RPOs, but it seemed like the pair allowed nearly every ball into their coverage to be completed, with Smith giving up one of the three scores, too.
Keys to the Game:
Atlanta: Atlanta moved the ball well through the air on offense, and ultimately did just enough to hold off a Tampa Bay comeback in the final minute.
Tampa Bay: In a high scoring game in which both offenses played well throughout, Tampa Bay's two turnovers were ultimately the difference.