The Minnesota Vikings defeated the Philadelphia Eagles, 23-21, in Week 5 of NFL action.
PFF's ReFocused series this season features immediate takeaways and a key to the victory from two Senior Analysts who graded the performance, watching every player, on every play of the game. For more data and analysis from the game, utilize our Premium Stats 2.0 dashboard to expand your knowledge on the key players, signature stats and much more.

Final Score: Minnesota Vikings 23, Philadelphia Eagles 21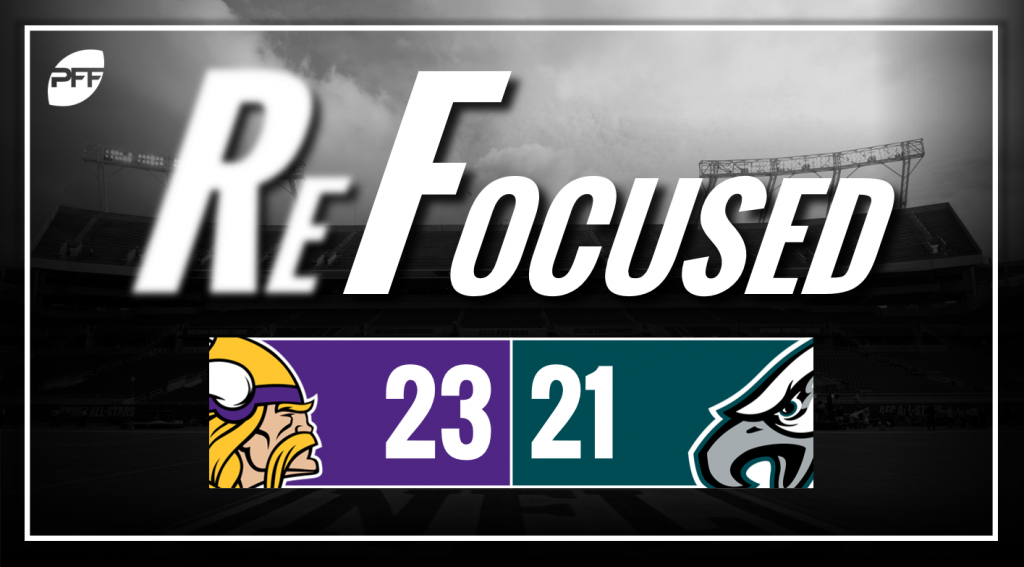 Kirk Cousins was lights out under pressure once again. The offensive line got predictably handled, but Cousins made throw after accurate throw with defenders in his face to fuel the Vikings' offense.
Adam Thielen is a magician. He hauled in seven of his 10 targets for 116 yards and made multiple extremely difficult catches look commonplace.
Linval Joseph had himself a day. He had a sack, a hurry and a run stop, but the highlight was a huge fumble returned for a touchdown.
Mackensie Alexander looked lost far too often in the middle of Minnesota's defense. They had a handful of busted coverages on the day, and most involved Alexander in one way or another.

Brandon Graham and Fletcher Cox were, once again, wrecking balls for the Eagles' defense. They combined for double-digit pressures and made life difficult for Cousins.
It was not a banner day for Sidney Jones in coverage. Every single time he was targeted, he allowed a completion and missed two tackles to boot.
This isn't the same Carson Wentz we saw a season ago. His play speed is still a tick slow, and he held on to the ball too long in a number of clean pockets today.
The Eagles' receivers may have only dropped two passes on the day, but they were both incredibly critical. The game would have turned out much differently if Wendell Smallwood would have been able to haul in an early third down conversion in the red zone and Alshon Jeffrey would have hung on to a target on 3rd and 20 late in the game.
Keys to the Game
Minnesota:
The Vikings' offensive trio of Cousins/Diggs/Thielen was once again the driving force in the victory, overcoming multiple missed field goals for the win.
Philadelphia:
The numbers look good from a bunch of free yards on the Eagles last drive, but Wentz was unable to consistently move the chains for the Eagles in this one.