The Los Angeles Rams defeated the Minnesota Vikings, 38-31, in Week 4 on Thursday Night Football.
PFF's ReFocused series this season features immediate takeaways and a key to the victory from two Senior Analysts who graded the performance, watching every player, on every play of the game. For more data and analysis from the game, utilize our Premium Stats 2.0 dashboard to expand your knowledge on the key players, signature stats and much more.

FINAL SCORE
Los Angeles Rams 38, Minnesota Vikings 31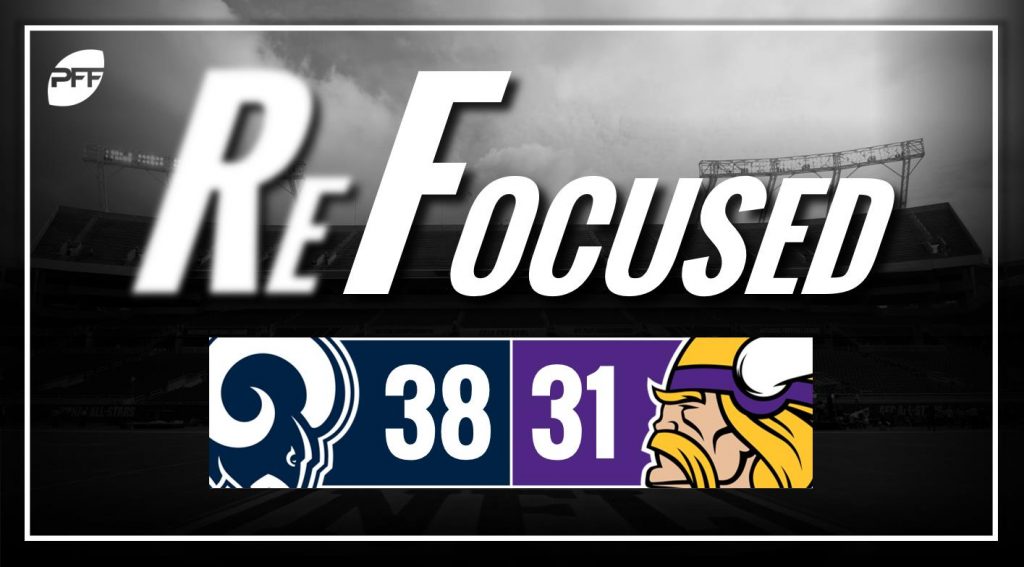 Jared Goff kept his hot start to the season going on Thursday night against the Vikings. Simply put, the third-year quarterback was spectacular. Goff connected on four deep touchdown passes and was in control all night long. Goff has this Rams' offense pumping on all cylinders. IF he keeps this up, he very well could be this year's league MVP.
With his performance on Thursday, All-Pro Aaron Donald all but cemented himself as the top-graded interior defender for Week 4. He was outstanding anywhere he lined up and beat the Vikings' offensive linemen with inside and outside moves, bullrushes and stunts. There was about nothing the Vikings could do to stop him, as he was even beating double teams. Thursday will likely go down as one of if not the best performance we see from Donald this year.
The entire receiving corps had themselves a night – Cooper Kupp, Brandin Cooks and Robert Woods all went for over 100 yards – but Kupp was the star among the group tonight. The second-year receiver was active at all levels of the field, showing the ability to make plays deep while also proving to be a reliable target underneath.
The Rams' secondary struggled mightily to slow down one of the best wide receiver duos in the league in Stefon Diggs and Adam Thielen. The main culprits were cornerbacks Sam Shields and Marcus Peters, who were left in coverage on them often. The starting corners were responsible for coverage on all three Viking touchdowns and were the clear Achilles heel in the Rams' defense that allowed 31 points, while Cousins was under constant pressure.

Kirk Cousins and his dynamic duo of Adam Thielen and Stefon Diggs showed out in this crucial Thursday night game against the Rams. They took advantage of the Rams' beat-up secondary to put up 31 points, with the vast majority of the yards and all of the touchdowns coming through the air. The Vikings even got unexpected contributions from backup wide receiver Aldrick Robinson, who had two early touchdown catches.
There was plenty of poor offensive play by the Vikings, as well, and most of it centered around the interior of the offensive line. The Vikings struggled mightily to block Donald, who was even able to get through the Vikings' line when they sent two guys at him. Donald was most effective against Tom Compton, who couldn't find a way to stop him from disrupting the quarterback. The dominant Rams interior also completely stopped any notion of a Vikings ground attack early and held them to just 54 yards rushing.
Xavier Rhodes had a tough night against the Cooks. The Rams' speedster was able to beat Rhodes on a crossing route to keep an early Rams drive going on a third-and-long, and then Rhodes would go on to commit two defensive holding penalties matched up against Cooks, the second of which he compounded on when he kicked a flag and picked up an unsportsmanlike penalty.
It was an ugly night for the defense overall, but Sheldon Richardson played well for the most part. Richardson was able to pick up a handful of pressures and also tallied a few stops in run defense.
Keys to the game
Los Angeles:
Goff and the Rams' offense is just on an entirely different level. The offensive game plan instituted by the Rams was absolutely beautiful to watch unfold – their use of play-action is next level – and they're so talented on that side of the ball that when those players execute, it just overwhelms opposing defenses. They overwhelmed Minnesota on Thursday night.
Minnesota:
The Viking' offense has been everything Minnesota fans could have hoped for going into this season. They've now put up over 400 yards in passing in two out of their four games, but their record is just 0-1-1 in those games. The defense just allowed too many big plays in the passing game to the Rams, and the Vikings' secondary needs to find its way to complement its now fully competent offense.