The Chicago Bears defeated the Arizona Cardinals, 16-14, continuing the third full week of action in the NFL.
PFF's ReFocused series this season features immediate takeaways and a key to the victory from two Senior Analysts who graded the performance, watching every player, on every play of the game. For more data and analysis from the game, utilize our Premium Stats 2.0 dashboard to expand your knowledge on the key players, signature stats and much more.

FINAL SCORE
Chicago Bears 16, Arizona Cardinals 14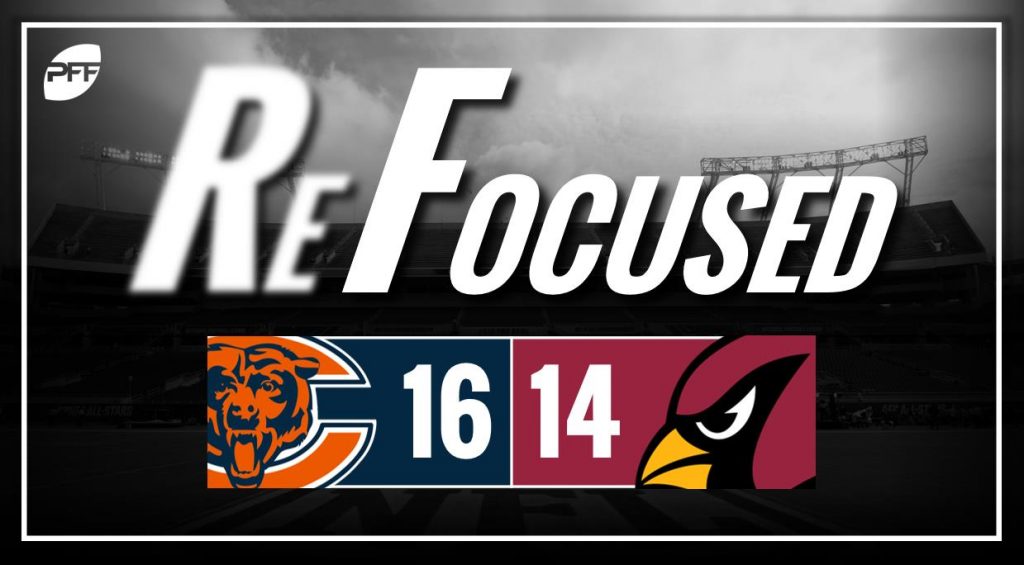 Analyst Takeaways

Quarterback Sam Bradford had one of his worst games in years. He put a few nice throws on tape, but it takes more than that to overcome two interceptions and two fumbles. Bradford's night went so poorly that with four minutes left, the team chose to put in rookie Josh Rosen to get his first regular-season snaps.
Rookie signal-caller Josh Rosen was thrown into an incredibly difficult situation for any quarterback coming off the bench, much less a rookie that hasn't played a regular-season snap. While he hit on a couple of early throws, the first drive ended with an off-target throw that led to an interception on fourth down. Then, on their final drive, Rosen had a terrible misread that led to a pick-six, which was ultimately saved by a penalty.
It was an admirable performance by the defense, which was headlined by the play of the secondary. Outside of a few missed tackles, the Cardinals secondary played well, forcing several incompletions and they ultimately did enough to carry their sputtering offense. 
The Cardinals held the Bears to 3.9 yards per carry on the ground and were constantly in the backfield disrupting rushing lanes for Jordan Howard and Tarik Cohen. Second-year safety Budda Baker was all over the field making plays, and his presence was felt in the run game and in coverage. His continued strong play will help Cardinals fans forget about Tyrann Mathieu.

Once again, Mitchell Trubisky struggled after the first drive of the game when the play calls weren't scripted. Trubisky seems to lack confidence and fears making mistakes, as he is missing on passes to short routes that every starting quarterback should be able to complete. He sprinkles in a few big-time throws here and there and needs to use those to boost his confidence; otherwise, this Bears offense will struggle to put points on the board.
The Bears offensive line did a fine job protecting Trubisky as he was given ample time to throw despite the blitz-happy defense of the Cardinals. This bodes well for Trubisky going forward, as they're performing well enough to keep him free from pressure on the majority of his dropbacks, which in turn, will give him the opportunity to diagnose the defense and make the types of throws that he's more than capable of making.
It was Just another day at the office for Khalil Mack, which for him means another All-Pro-type outing. Mack's impact was felt throughout the game, racking up two sacks, a forced fumble, a handful of other pressures, and some nice plays in run defense.
The Bears secondary gave up a couple big passes, but in general played well, keeping most of the completed passes to short throws underneath and cleaning up with sure tackling. When given the opportunity, they made several plays on the ball to create turnovers and break up passes.
Keys to the game
Chicago: The Bears somehow found a way to win this game despite Trubisky's best efforts to thwart that. They made just enough plays on offense and were aided by a stellar defense. 
Arizona: After jumping out to a quick 14-0 lead in their first three drives, turnovers plagued the Cardinals, which led to them being shut out over the final three quarters.