The New England Patriots defeated the New York Jets, 38-3, in Week 17 of the 2018 NFL season.
PFF's ReFocused series this season features immediate takeaways and a key to the victory from two Senior Analysts who graded the performance, watching every player on every play of the game. For more data and analysis from the game, utilize our Premium Stats 2.0 dashboard to expand your knowledge on the key players, signature stats and much more.

FINAL SCORE
New England Patriots 38, New York Jets 3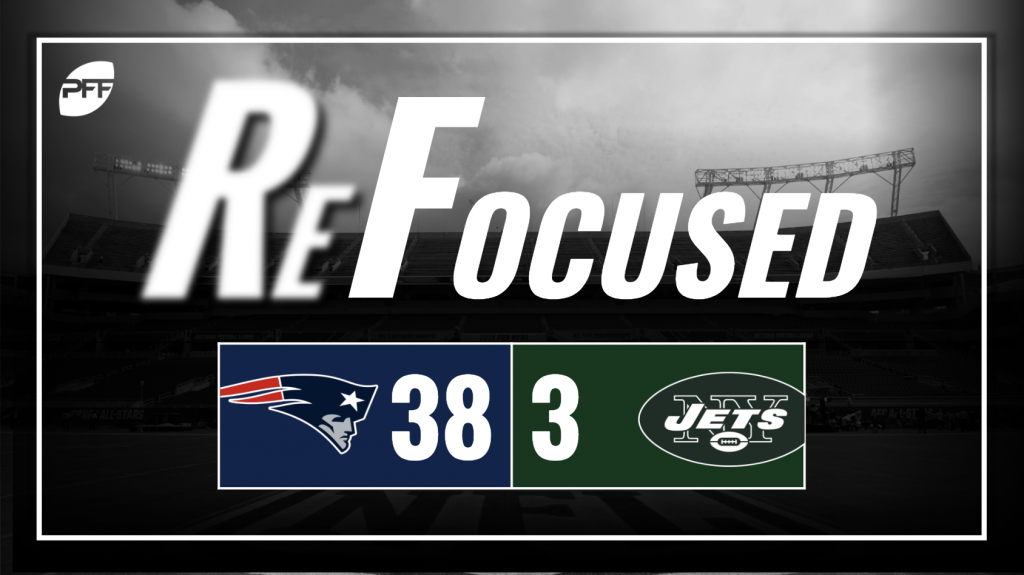 Danny Shelton typifies Patriot defensive lineman. His blend of quickness and athleticism makes him incredibly tough to block one-on-one. Although not necessarily a household name, Shelton consistently impacts opposing run and pass games. New England can trot out a list of talented pass-rushers safe in the knowledge one of them is likely to get into the backfield on each snap. It says something about the Patriots' policy of trading up front assets. It's less problematic when you always have a surplus.
J.C. Jackson was up-and-down against New York, but overall, he was pretty impressive for an undrafted rookie. His highlight came late in the fourth quarter, where a strong hit jarred the football loose forcing the incompletion. More impressive, he appeared to be covering the deep third in zone coverage, showing quick enough reactions to break up towards the line of scrimmage and knock the ball loose. He did give up a handful of completions, particularly on slants, but was always in position to make an immediate tackle.
Tom Brady was sharp early on as the Patriots built a 21-3 lead at the break, throwing for all three of New England's first-half scores while making some impressive strikes to the intermediate area before the Pats put things in cruise control for the rest of the contest.
While Brady spread the ball around to a number of different receivers on the day, Julian Edelman and Phillip Dorsett were the key contributors. Edelman converted all five of his receptions into first downs, including several explosive plays, while Dorsett was the go-to man on third down, picking up conversions on both of his third-down targets, including getting free in the back of the end zone for a touchdown in the second quarter.

Despite a handful of impressive flashes from Sam Darnold, it's clear the rookie quarterback has a long way to go before competing with the upper echelon at the position. No surprise, given he's a rookie, but coaching is going to be really important going forward. His pocket presence and footwork remain glaring issues. Darnold doesn't feel pressure particularly well, and he often scrambled into pressure against the Patriots. 
The Jets' offensive line has hamstrung the offense since Mark Sanchez was the future of the franchise. There are no standouts, with a number of weak links up front. Jonotthan Harrison has a tough job reaching defensive tackles in New York's zone blocking scheme, but he lacks the quickness to get quickly into position.
The Jets struggled to generate any consistent pressure, as they were kept at bay by New England's offensive line, picking up just a single sack and generally giving Brady ample time to find the open man downfield.
There wasn't much that went well on defense for New York in this one, but cornerback Derrick Jones was one of the lone bright spots, recording a trio of stops and allowing limited yardage into his coverage.
Keys to the Game
New England
After a pair of sub-standard games (for him) in recent weeks, Brady looked like Brady again in the first half, as the Patriots put this game away early.
New York
Ultimately, the Jets' offense is a ways below playoff standard. The quarterback needs time, the running backs make poor decisions and the offensive line is incredibly limited. The unit has been bad for a while, but at least they have a passer around which they can build.