The Los Angeles Rams defeated the San Francisco 49ers, 48-32, in Week 17 of the 2018 NFL season.
PFF's ReFocused series this season features immediate takeaways and a key to the victory from two Senior Analysts who graded the performance, watching every player on every play of the game. For more data and analysis from the game, utilize our Premium Stats 2.0 dashboard to expand your knowledge on the key players, signature stats and much more.

FINAL SCORE
Los Angeles Rams 48, San Francisco 49ers 32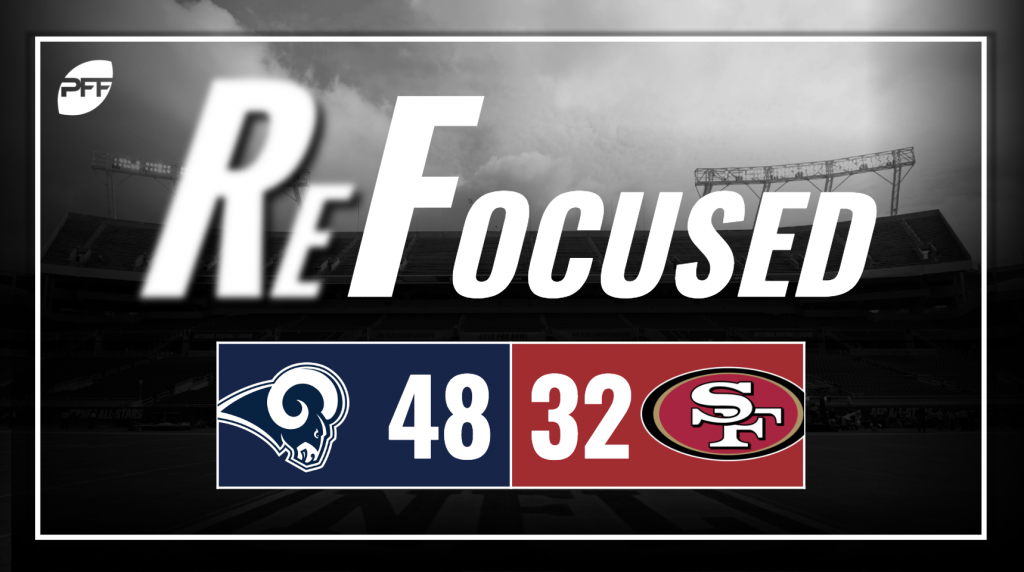 While he didn't approach the sack record today (he notched just one of the three he needed today to tie it), Aaron Donald was his standard self. The 49ers didn't have an answer for him inside, and his prowess on the pass-rush led to extra attention and freed up linebackers to get in on the action as well.
Dante Fowler Jr. had an effective day on the edge against both the run and pass. His quickness allowed him to get off quickly on run plays, and his speed saw him notch multiple pressures on the edge when rushing the passer.
Turnovers gave Los Angeles excellent field position on their first two drives to quickly go up by two touchdowns on just 20 yards gained. Jared Goff continued his bounce-back with a four-touchdown performance in three quarters, finding Josh Reynolds and Brandin Cooks for a pair of touchdowns each.
No Todd Gurley again, and no problem again. The Rams' offensive line gave C.J. Anderson a ton of room to work with, occasionally moving the entire 49ers' front line four-to-five yards off the line of scrimmage. Anderson's 132 yards gave him his first back-to-back 100-yard rushing games since 2014. If there's someone's health to be concerned about going into the playoffs, it shouldn't be Gurley, but Andrew Whitworth, who left the game in the first half.

Nick Mullens did not handle the pressure well today, throwing three interceptions, one of them getting returned for a touchdown by Rams linebacker Cory Littleton. He struggled reading underneath coverages and far too many times stared down receivers and forced the ball into traffic.
George Kittle had yet another huge afternoon, capping it off with a reception on a quick out late in the fourth quarter that he turned into a 43-yard touchdown reception, giving him the all-time season record for reception yards by a tight end. He also made contributions as a blocker, making his case for being the most complete tight end in today's NFL.
The 49ers' defense was immediately put behind the eight ball because of turnovers, but they still didn't fare well regardless. Too often the front seven lost ground or their gaps, giving big running room for the Rams running backs, who combined for 162 rushing yards.
The back end of the defense had a couple busted coverages or miscommunications. Overall, though, they were not close enough in coverage, contested only a couple catches and missed a few tackles after the catch.
Keys to the Game
Los Angeles
Turnovers helped the Rams spring out to an early lead that they easily held for the remainder of the game and allowed them to rest some starters in the fourth quarter.
San Francisco
First-half turnovers put this one quickly out of reach for the 49ers.