The New Orleans Saints defeated the Pittsburgh Steelers, 31-28, in Week 16 of the 2018 NFL season.
PFF's ReFocused series this season features immediate takeaways and a key to the victory from two Senior Analysts who graded the performance, watching every player on every play of the game. For more data and analysis from the game, utilize our Premium Stats 2.0 dashboard to expand your knowledge on the key players, signature stats and much more.

FINAL SCORE
New Orleans Saints 31, Pittsburgh Steelers 28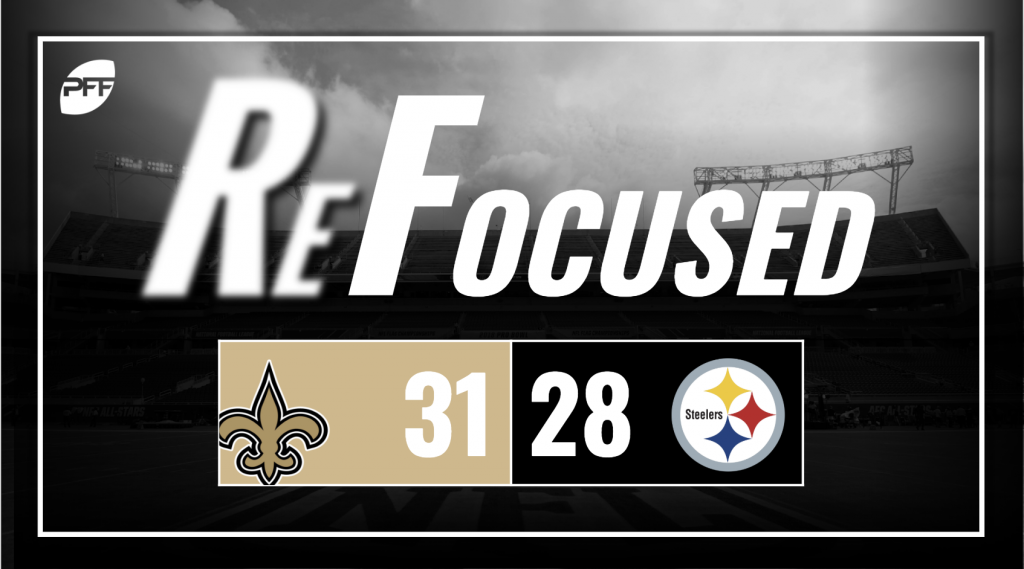 The Saints' pass-rush struggled to get home in this one. Big Ben was only under pressure on 14 of his 54 dropbacks and even when he was, they often left the door open for him to make plays outside the pocket.
The Saints' plan for double teams on Antonio Brown was often to push an underneath zone defender his way, but they continually got lost on their landmarks and ceded too many easy first downs.
This was arguably Drew Brees' most impressive performance of the season. With a banged-up offensive line, he navigated tight pocket after tight pocket en route to 327 yards and the game-winning touchdown.
It was fairly clear that both offensive tackles weren't 100 percent in this one. Ryan Ramczyk gave up five hurries while Terron Armstead allowed a sack and a hit while only playing 38 of a possible 66 snaps.

Pittsburgh needed anyone other than JuJu or AB to make a play at the end, and no one could. Outside of those two, the rest of the Steelers combined for 80 yards on 13 targets – 49 of which came to Vance McDonald after the DB guarding him tripped.
Brown was once again a man possesed. 14 catches on 18 targets for 185 yards and two scores. His almost one-handed score would have been in the running for catch of the year if he got both feet in.
The pass-rush got after Brees in a way that few have so far this season. Bud Dupree, T.J. Watt, Cameron Heyward and Stephon Tuitt all had four-plus pressures on the day.
Joe Haden was given the unenviable task of guarding Michael Thomas for much of the day and while he held his own, he'll be left thinking about what could have been. He ceded two costly pass interference penalties that converted fourth downs before the game winning score.
Keys to the Game
New Orleans
The Saints' defense made the play when it mattered most and Drew Brees put together one of the best quarterback performances all season for the win.
Pittsburgh
Once the Saints doubled the Steelers' top-two wideouts, they had nowhere else to turn.