The New England Patriots defeated the Buffalo Bills, 24-12, in Week 16 of the 2018 NFL season.
PFF's ReFocused series this season features immediate takeaways and a key to the victory from two Senior Analysts who graded the performance, watching every player on every play of the game. For more data and analysis from the game, utilize our Premium Stats 2.0 dashboard to expand your knowledge on the key players, signature stats and much more.

FINAL SCORE
New England Patriots 24, Buffalo Bills 12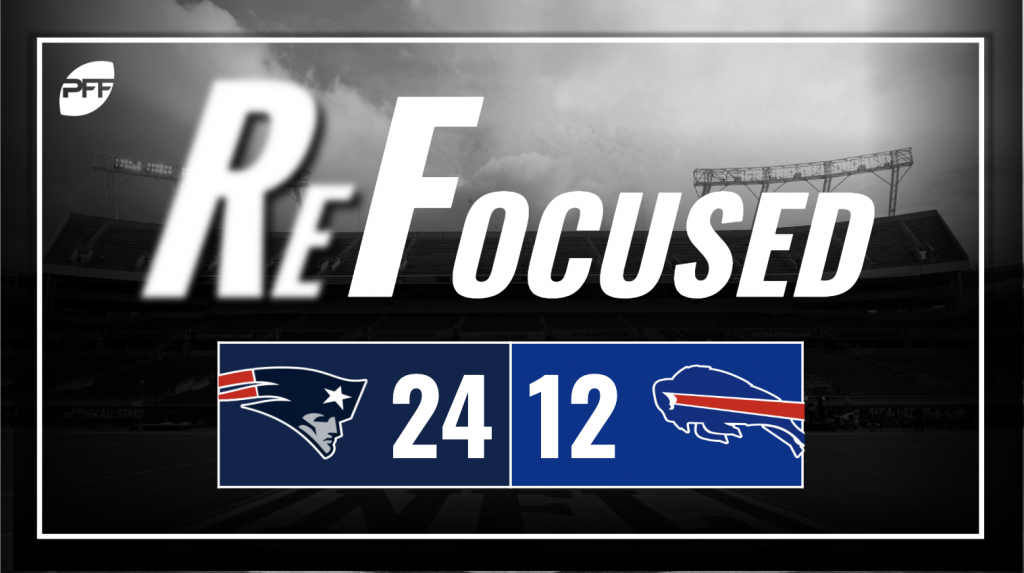 While he had some mixed outings earlier in the year, veteran cornerback Jason McCourty had a great day against Buffalo on Sunday. McCourty had an interception and also forced a fumble, playing big roles in two turnovers, while receivers also did not have a lot of success in his coverage until late in the game when the contest was essentially over.
Edge defender Trey Flowers had a couple quieter games recently, but he was once again at his best against Buffalo. Flowers was all over the field, as he successfully set the edge against the run and got into the backfield on multiple pass plays and also drew a holding penalty. The Patriots edge defender certainly played a big part in Josh Allen having a rough day.
Patriots quarterback Tom Brady did not have a lot of success throwing the football against the Bills. While neither of Brady's two interceptions was his fault, as they were results of a dropped pass and a miscommunication between Brady and running back Rex Burkhead, the New England signal-caller could have easily turned the ball over one more time early in the game when his pass was batted down by linebacker Tremaine Edmunds. It's also necessary to note that Brady was quite often under pressure and was playing against one of the better passing defenses in the NFL.
Tight end Rob Gronkowski continues to have a disappointing season, as he struggled against Buffalo on Sunday. The New England tight end was not his usual self when blocking, which is also shown by his holding penalty. In addition, he failed to catch any of his three targets, including a pass that he dropped that became an interception.

While Allen topped 200 passing yards and threw a touchdown pass, a lot of his passing yards – and his touchdown – came late in the game during garbage time. Overall, Allen struggled against the Patriots, as he was inaccurate on a lot of his throws and also turned the ball over twice when he forced throws into tight coverage.
The Bills' pass-catchers did not really help Allen on this afternoon. While the unit was also marred by a couple injuries, they also dropped multiple passes and failed to make contested catches in close coverage.
Bills edge defender Lorenzo Alexander had a solid outing, as he was all over the field against the Patriots. Alexander kept making plays against the run, as he also had success rushing the passer. In addition, he also picked off Brady in the second quarter.
With the exception of Alexander, the Buffalo edge defenders struggled on the afternoon, especially against the run. The Bills defenders couldn't consistently set the edge on run defense, which proved to be costly against New England's outside zone runs, a scheme the Patriots used frequently in this game.
Keys to the Game
New England
Despite Brady's and Gronkowski's struggles, the Patriots beat the Bills largely due to the offensive line's dominant performance in run blocking.
Buffalo
Allen did not have a good enough day to beat the Patriots and was unable to provide a spark with his legs, either.