The Chicago Bears defeated the San Francisco 49ers, 14-9, in Week 16 of the 2018 NFL season.
PFF's ReFocused series this season features immediate takeaways and a key to the victory from two Senior Analysts who graded the performance, watching every player on every play of the game. For more data and analysis from the game, utilize our Premium Stats 2.0 dashboard to expand your knowledge on the key players, signature stats and much more.

FINAL SCORE
Chicago Bears 14, San Francisco 49ers 9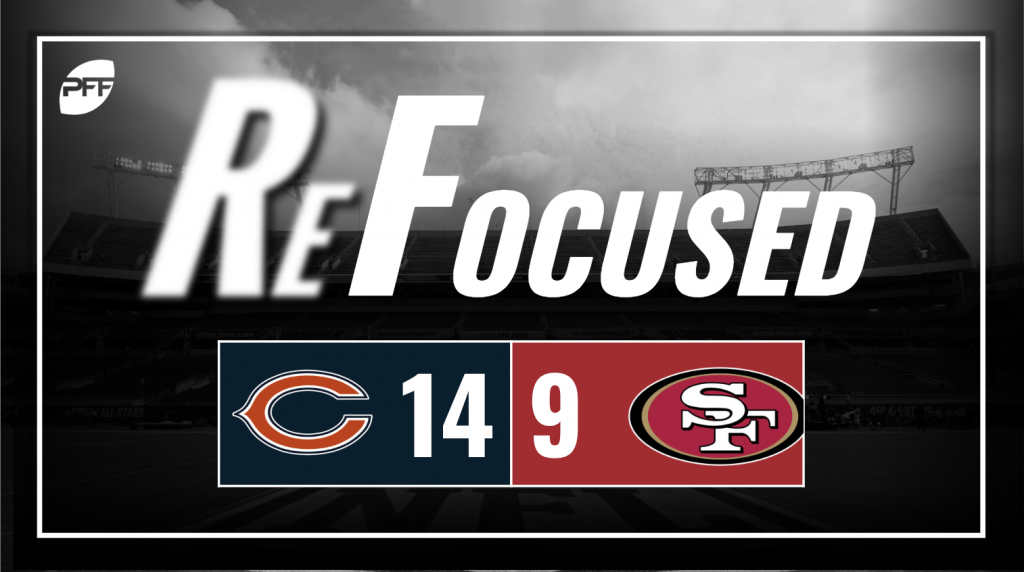 Another solid performance for first-time Pro Bowler Akiem Hicks. He pressured Nick Mullens a few times, including their last play to force him to leave the pocket. Hicks also had three batted passes, two coming on third down to force punts, after entering the game with just two this season and four in the previous six years.
Khalil Mack was held without a sack, but he had multiple hits on the quarterback and kept him under pressure often, particularly when lining up against Mike McGlinchey.
The Bears should be happy with Mitchell Trubisky's performance today. In an up-and-down season, he made just one really bad decision this entire game and it got nullified by a defensive holding penalty. Other than that, he was very efficient. He made a couple fantastic throws mixed in with many solid throws on designed plays that took advantage of his skillset while missing very few. The passing offense wasn't great, but it did enough to get the win.
For those hoping for a big game from Tarik Cohen, they'll be disappointed as he was rendered ineffective in this one. He managed to break a few tackles while rushing the ball, but most of those happened behind the line of scrimmage and he didn't make it much further than that. He caught just one pass, as Trubisky rarely looked his way despite him being on the field for a majority of their passing plays.

San Francisco did not run the ball well at all, barely averaging three yards per rush and just 47 yards on the day. The offensive line and fullback Kyle Juszczyk did not create much running room, and Matt Brieda left the game early with an ankle injury.
Mullens was under heavy pressure at times and was hit while throwing two or three times. Add in a few batted passes and throwaways, and he wasn't as inaccurate as his 58% completion percentage would suggest. However, he didn't hit on many deep or intermediate passes and couldn't lead the 49ers to the end zone on their final drive.
Soloman Thomas had a good game as a run defender, making a few tackles on Bears running backs. Even when he wasn't making tackles, he was blowing up plays or forcing the Bears to look somewhere else. He was a big reason that the Niners defense allowed just 86 yards on 28 carries, with no run going for more than nine yards.
Before Richard Sherman was (arguably unfairly) ejected from the game, he was continuing a great season that has sometimes gone under the radar simply because no quarterback even tries to throw at him. This game was no different. Despite being on the field for over 30 pass plays, Sherman was thrown at just one time. Even that one target was an underneath throw in front of Sherman that went for just nine yards.
Keys to the Game
Chicago
The difference in this game was that Trubisky made no mistakes (that counted) and was accurate, making good throws that picked up first downs on a day that the run game was ineffective.
San Francisco
The 49ers had their work cut out for them going up against one of the best defenses in the league, and settling for three field goals instead of getting into the end zone at least once made all the difference.