The Cleveland Browns defeated the Carolina Panthers, 26-20, in Week 14 of the 2018 NFL season.
PFF's ReFocused series this season features immediate takeaways and a key to the victory from two Senior Analysts who graded the performance, watching every player on every play of the game. For more data and analysis from the game, utilize our Premium Stats 2.0 dashboard to expand your knowledge on the key players, signature stats and much more.

FINAL SCORE
Cleveland Browns 26, Carolina Panthers 20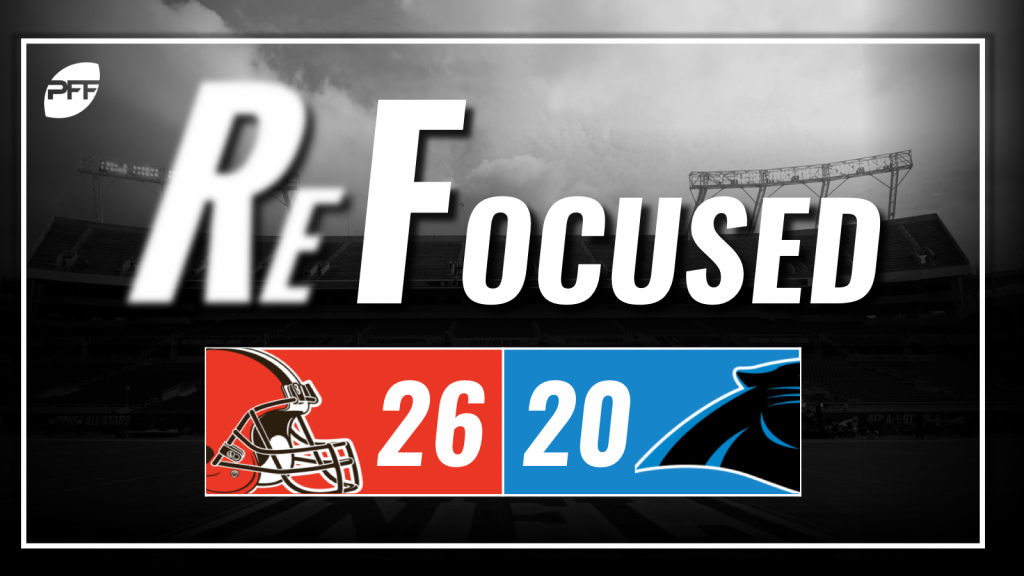 Cam Newton struggled with accuracy at the end of the game (the game-ending interception was proof of this), but on the penultimate drive that ended at the Browns three-yard line, Newton missed an open receiver for a touchdown that would have put them ahead with two minutes left.
Rookie Tight end Ian Thomas had a coming out party. Prior to this week, his single-game career-high was five catches for 46 receiving yards. This week, Thomas recorded 77 yards on nine catches, as Newton was willing to use the Rookie over the middle of the field.
Luke Kuechly was all over the field, leading the Panthers in tackles and making plays downfield in both the run game and the passing game.
The Browns targeted Donte Jackson early and often in the passing game, and while Jackson didn't miss a tackle in pass defense, he still allowed over 100 yards on the throws into his primary coverage.

Myles Garrett once again led the Browns' defense. While he only had one sack, he also caused a holding call and chipped in with a few more pressures and a batted pass.
In the first half, the Browns defense struggled with all the different looks the Panthers used in the run game, but in the second half, the Browns defense as a unit tightened up and only two drives went over 20 yards after that.
Baker Mayfield had the throw of the game where he hit Jarvis Landry 50 yards downfield in stride for a touchdown. Throughout the game, Baker showed his ability to make plays downfield in the passing game and looked like the best quarterback on the field.
Jarvis Landry scored the aforementioned touchdown catch from Baker Mayfield, but Landry also was a factor in the run game as the Browns gave him the ball twice and he was able to take one of those runs for 50 yards.
Keys to the Game
Carolina:  The Panthers had every chance to take the lead late in the fourth quarter, but Cam Newton was unable to lead the team to victory.
Cleveland: The Browns defense did just enough in the second half to secure the victory, but the star performer of the game was Baker Mayfield, who made plays when the Browns needed a play.