The Jacksonville Jaguars defeated the Indianapolis Colts, 6-0, in Week 13 of the 2018 NFL season.
PFF's ReFocused series this season features immediate takeaways and a key to the victory from two Senior Analysts who graded the performance, watching every player on every play of the game. For more data and analysis from the game, utilize our Premium Stats 2.0 dashboard to expand your knowledge on the key players, signature stats and much more.

FINAL SCORE
Jacksonville Jaguars 6, Indianapolis Colts 0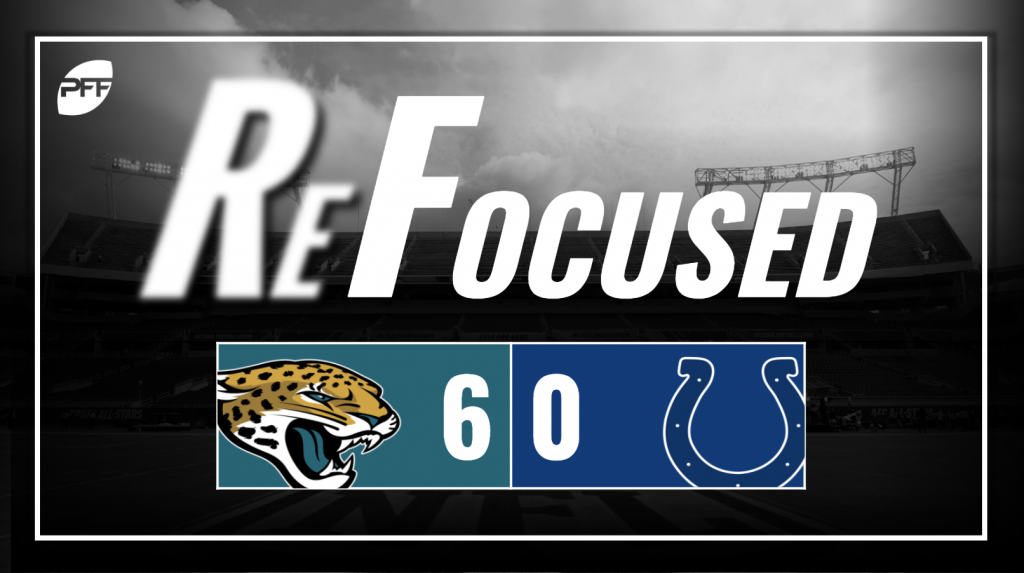 In his first start under center since taking over for Blake Bortles, Cody Kessler's first four drives ended with 13 offensive plays, a fumble by running back Carlos Hyde and three punts. While the offense managed to generate a pair of red-zone chances ending in field goals, the other four of those six final drives ended with punts, as well. Kessler's first start can be summed up by three descriptors: under pressure, check downs and screens to the flat.
Without pointing the finger at any one individual, the performance by the Jacksonville offensive line left plenty to be desired, victory or not. Even utilizing a vanilla, quick "strike" playbook with a new quarterback behind center didn't stop from Colts' defenders from living in the Jaguars' backfield.
The Jaguars' defensive line dominated this game. It was a group effort, as Yannick Ngakoue, Malik Jackson and Dawuane Smoot were hard to handle all day long.
Jags cornerback Jalen Ramsey was sensational. He had a couple nice pass breakups and was a huge factor in the Jags' shutout.

TY Hilton had a nice game receiving for the Colts, as he was a spark for their offense.
Andrew Luck had a decent game overall, as he had some nice completions and only one pass he probably would like to have back. The biggest issue was that he was under pressure and his go-to targets were covered well by the Jags' secondary.
The Colts limited the Jaguars to 2.9 yards per rushing attempt thanks to the combined efforts from interior defenders Margus Hunt, Tyquan Lewis and Jabaal Sheard squeezing the gaps between the tackles and linebackers Darius Leonard and Anthony Walker cleaning up anything that managed to get through. You will need to look far beyond the box score to appreciate the efforts from the defensive interior.
Without question, the player of the game for Indianapolis was edge rusher Denico Autry. The undrafted free agent, a 28-year-old playmaker out of Mississippi State, wreaked havoc on the Jags to the tune of seven total tackles, three sacks, a QB hit and a pair of forced fumbles.
Keys to the Game
Jacksonville
To praise an offense for a victory after generating a pair of field goals, 11 first downs and 211 total yards would be a crime. They may have snapped their seven-game losing streak, but all of the credit goes to the defense.
Indianapolis
Luck & Co. simply couldn't overcome Ramsey and the Jags' tough defense.