The Arizona Cardinals defeated theGreen Bay Packers, 20-17, in Week 13 of the 2018 NFL season.
PFF's ReFocused series this season features immediate takeaways and a key to the victory from two Senior Analysts who graded the performance, watching every player on every play of the game. For more data and analysis from the game, utilize our Premium Stats 2.0 dashboard to expand your knowledge on the key players, signature stats and much more.

FINAL SCORE
Arizona Cardinals 20, Green Bay Packers 17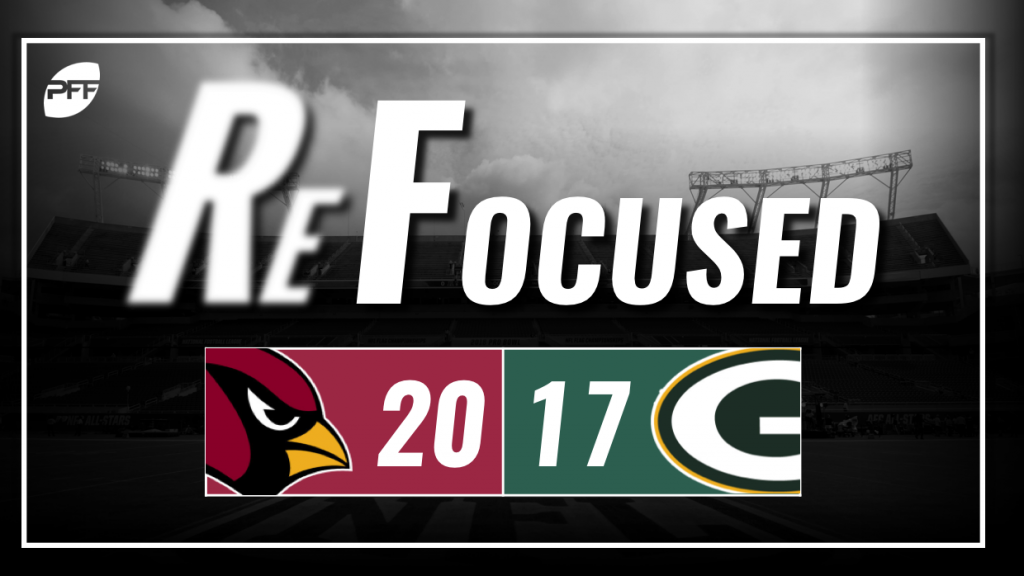 Once again, Green Bay struggled to move the ball and sustain drives for a good portion of the day. The passing game still isn't clicking, with miscommunications and off-target throws far too often. Aaron Rodgers completed just three passes of 10 or more yards downfield, two of which were on scramble adjustments.
The Packers' offensive line was already banged up entering the game, and then they lost Bryan Bulaga and Byron Bell to injuries in the first half. While it looked like their replacements fared better than they have in the past, there were still some issues. The line didn't give Aaron Jones and Jamaal Williams much room to work within the run game, as the pair combined to average just 2.7 yards on their 18 carries.
Kenny Clark had his way with Cardinals center Mason Cole throughout this contest, beating Cole for multiple quarterback pressures and making a number of plays near the line of scrimmage in the run game.
Rookie cornerback Jaire Alexander has been excellent this season, but he was up-and-down today against a mostly lifeless Cardinals passing attack. Christian Kirk got behind him with a nice double-move for Arizona's biggest play of the day, but Alexander came up with a nice third-down stop late with tight coverage on Larry Fitzgerald to force a field goal attempt and give Aaron Rodgers a shot at the end of the game.

They managed enough to come away with a win, but there wasn't much to be excited about from Josh Rosen and the Cardinals' aerial attack. As has been the case throughout the season, Rosen was under steady pressure. While he did connect on a couple plays downfield, he got away with some things as well. His biggest mishap of the day happened on the final drive where Rosen inexplicably chucked the ball into no man's land trying to escape from pressure, only to have Eddie Pleasant drop an easy interception that would've given Green Bay the ball in prime field position.
A steady dose of David Johnson produced just 69 yards on 20 carries, as Green Bay's defensive line largely controlled the line of scrimmage on a snap-to-snap basis. However, Chase Edmonds was efficient with his limited carries, breaking a 29-yard run late in the third quarter and finding the end zone twice on his five carries.
Gerald Hodges hasn't played much this season, but an injury forced him into the starting lineup once again. He seemed to be all over the field, and he led the defense in both tackles and stops.
Chandler Jones picked up another sack on Sunday, making that 11 sacks in his past 10 games. Much of the game he was going up against one of the best pass-protecting tackles in David Bakhtiari, and still managed to beat him a couple of times to put pressure on Rodgers.
Keys to the Game
Green Bay: The Packers woes on offense continued, managing just 17 points and failing to outscore a Cardinals team who entered the week as the lowest scoring team in the NFL.
Arizona:  The snap-to-snap efficiency wasn't there for Arizona's offense, but they created enough explosive plays to create scoring opportunities and overcome a struggling Packers team.