The Denver Broncos defeated the Cincinnati Bengals, 24-10, in Week 13 of the 2018 NFL season.
PFF's ReFocused series this season features immediate takeaways and a key to the victory from two Senior Analysts who graded the performance, watching every player on every play of the game. For more data and analysis from the game, utilize our Premium Stats 2.0 dashboard to expand your knowledge on the key players, signature stats and much more.

FINAL SCORE
Denver Broncos 24, Cincinnati Bengals 10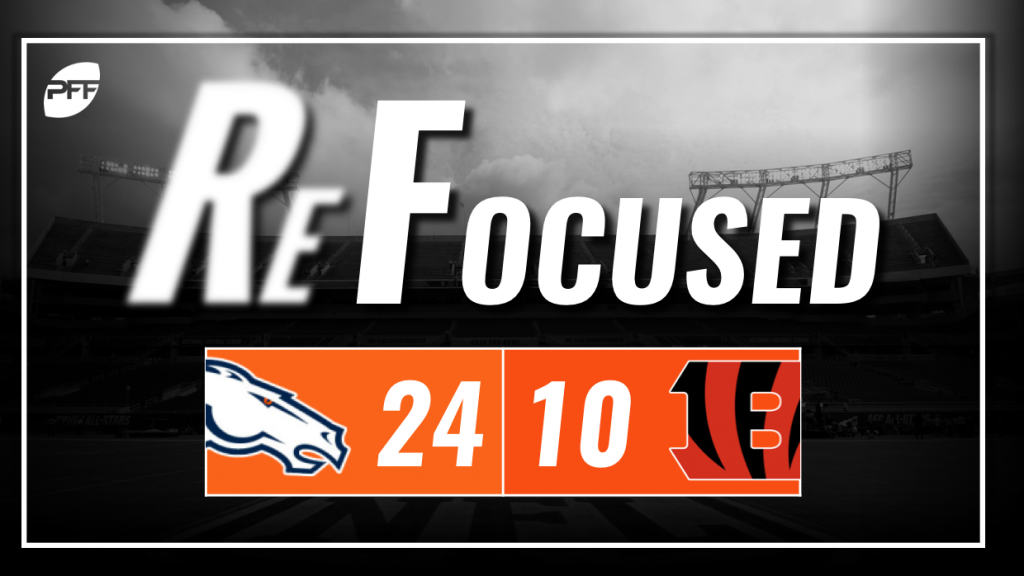 It was another productive game for Phillip Lindsay out of the backfield. Lindsay did a really nice job reading his blocking, finding the open rushing lane and bursting through the hole as he once again racked up most of his yards prior to any sort of contact. The Broncos did a nice job all game at calling a diverse run game with a good mix of both gap and zone plays and Cincinnati was never able to get into a groove on run defense.
Lindsay wasn't the only rookie to have a strong performance for Denver's offense, as Courtland Sutton also had himself a nice game on the outside. Sutton's biggest play of the day was a touchdown catch under contested coverage in the third quarter and he showed good rapport with his quarterback, connecting on a pair of back-shoulder throws in the second half.
Von Miller had yet another outstanding day, highlighted by his play during Cincinnati's two-minute drill at the end of the first half. Early, he knocked Cincinnati right tackle Bobby Hart onto his backside so violently with a one-hand stab that the referees incorrectly called him for illegal hands to the face, and once the Bengals moved the ball into the red zone Miller took away any hope of a touchdown by timing the snap perfectly and forcing Jeff Driskel to take an intentional grounding penalty.
The Denver secondary was rarely tested, despite losing star slot defender Chris Harris Jr. to injury. Their tight coverage combined with the line's formidable pass-rush forced Driskel to check the ball down or throw into tight windows all day.

Clint Boling starting at left tackle went about as you'd expect for a player who has spent his entire career at guard. He gave up numerous pressures throughout the game, including a game-ending strip sack late in the fourth quarter against rookie Bradley Chubb. 
Jeff Driskel conducted himself well today despite being under constant pressure. He threw a bad pick on an overthrow downfield and had another one dropped, but also made a number of impressive tight window throws in the seams.
It was not a great game for the Bengals' pass-rush as a whole in Week 13. Geno Atkins was able to get a handful of pressures (including a hit) but he was the only pass-rusher able to really get anything going at all for Cincinnati.
The Bengals' pass defense wasn't tested a whole lot in this game but Jordan Evans made a pair of nice plays in coverage, batting a pass in the first quarter and then recording a 0-yard stop in the third quarter.
Keys to the Game
Denver: Anchored by a strong defensive effort, the Broncos were able to control the game with their running attack on the offensive end.
Cincinnati: The Broncos' defense, led as always by Von Miller, dominated the Bengals linemen on the edge.