The Baltimore Ravens defeated the Atlanta Falcons, 26-16, in Week 13 of the 2018 NFL season.
PFF's ReFocused series this season features immediate takeaways and a key to the victory from two Senior Analysts who graded the performance, watching every player on every play of the game. For more data and analysis from the game, utilize our Premium Stats 2.0 dashboard to expand your knowledge on the key players, signature stats and much more.

FINAL SCORE
Baltimore Ravens 26, Atlanta Falcons 16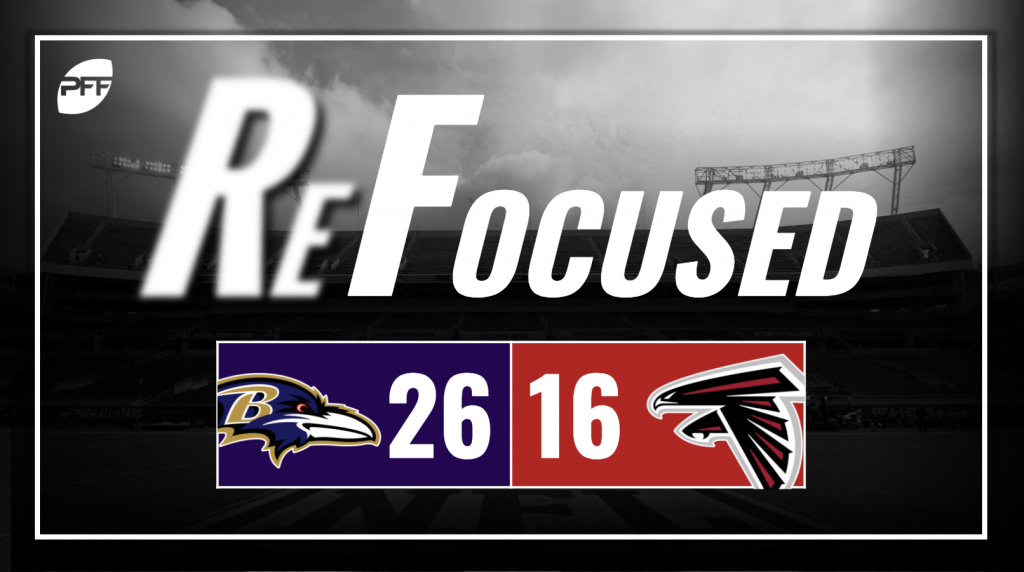 While he had troubles throwing the ball (and the Falcons' first touchdown owed largely to his pocket presence), Lamar Jackson's dual-threat ability was something the Falcons never really came to grips drips with. It remains to be seen if he will keep the starting job once Flacco is healthy again.
While Gus Edwards didn't break off anything big. What he was able to do was consistently get yards through contact to turn one- or two-yard gains into four- and five-yard gains. That field position was vital in keeping the Falcons' defense guessing, eating up plenty of clock and ultimately securing a much-deserved win.
It started early and continued throughout, with this the very best of Brandon Williams. The heavy-hitting defensive tackle was too strong for any of the Falcons' interior linemen, producing one of the most complete performances of his 2018 season.
You wouldn't think Julio Jones would come down from a jump ball with Eric Weddle with anything other than the ball, but such is the talent of Weddle. Their downfield jump ball was just an opportunity for Weddle to display his tremendous instincts and athletic ability, for what looked to be a sure-fire big completion hit the ground. Weddle continues to play at a high level and with the Ravens' defense at its suffocating best today, he was one of the chief reasons.

While it was a quiet day for most of the defensive linemen wearing red, Grady Jarrett once again came up big with a strong showing, especially rushing the passer where his strip-sack led to a touchdown. He was consistently too quick for the Ravens' guards.
There had been high hopes for Takkarist McKinley that this would be something of a breakout year for the former first-round pick. But much like Vic Beasley, the lack of production from the edge defenders in Atlanta continues to be a huge problem, as they simply do not generate pressure consistently. Sunday was no different, and it looks like it will be an offseason of going back to the drawing board in their efforts to make life tough on opposing quarterbacks.
It was a tough day at the office for Matt Ryan. His receivers, Calvin Ridley and Jones especially, had days to forget, but the pressure the Ravens applied (both with and without blitzing) made him uncomfortable all day, leading to some inaccurate throws and a game that encapsulates a season that hasn't gone to plan for Atlanta.
While the Falcons' offense has put up some big numbers this year, it would be hard to notice that with the injuries and perhaps Father Time playing a part. This offensiive line is not the consistent unit it once was. Zane Beadles has slotted in at right guard, but he was no match for the powerful Ravens front, while the usually dependable Alex Mack was not up to the task of stopping  Williams. This was most noticeable on the game-defining play, as Williams pushed Mack back into Ryan, tripping running back Ito Smith in the process so the back couldn't pick up his block of Patrick Onwuasor that became a sack, fumble and touchdown for Baltimore.
Keys to the Game
Baltimore
There was not much variety on offense, but their ability to impose their will in the run game powered the Ravens to a victory.
Atlanta
It wasn't pretty on offense, but it was ugly defensively in the second half, as they could not get off the field despite a one dimensional Ravens offense.