The New Orleans Saints defeated the Philadelphia Eagles, 48-7, in Week 11 of the 2018 NFL season.
PFF's ReFocused series this season features immediate takeaways and a key to the victory from two Senior Analysts who graded the performance, watching every player on every play of the game. For more data and analysis from the game, utilize our Premium Stats 2.0 dashboard to expand your knowledge on the key players, signature stats and much more.

FINAL SCORE
New Orleans Saints 48, Philadelphia Eagles 7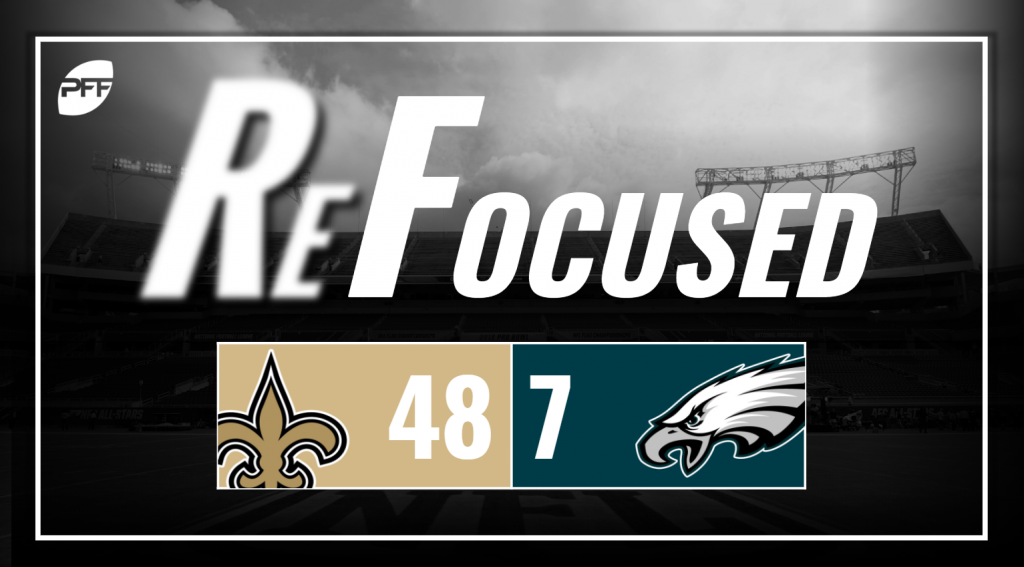 Tre'Quan Smith had a Sunday to remember. He caught 10 of his 13 targets for 157 yards, including a few spectacular grabs thrown in. The Saints keep trying to sign people to give him competition, and he's elevated his game accordingly.
Drew Brees continues to be on another planet. He once again didn't make a single turnover-worthy throw and dropped a handful of absolute dimes down the field in this one.
Marshon Lattimore has been back to his dominant self of late. He made a superb interception early in the game, sinking underneath a deep post from the far side in cover-3. He only allowed two catches all game long.
This was easily one of the most impressive performances we've seen from the New Orleans secondary this season. PJ Williams' solid game was a big reason why. He had a pass breakup and allowed only 25 yards on five targets.

It was a day to forget for Carson Wentz, who had nothing going on down the field. All five of his deep targets on the day fell to the turf.
Josh Adams looked impressive on his limited touches in this one. He moved the chains multiple times and had an impressive 28-yard touchdown scamper.
The injuries in the secondary were far too much to overcome in this one. Chandon Sullivan was forced into the most extensive action of his career (26 snaps) and allowed all 50-plus yards in coverage.
One of the lone bright spots for the Eagles on either side of the ball was defensive tackle T.Y. McGill. In only his second appearance of the season, he collected two stops against the run.
Keys to the Game
New Orleans
The Saints' offense is already an embarrassment of riches, but when number two receiver Tre'Quan Smith goes off, you're in trouble as a defense.
Philadelphia
The injuries on the back end are going to be the Achilles heel of the Eagles this season and don't look to be going anywhere anytime soon.