The Los Angeles Rams defeated the Kansas City Chiefs, 54-51, in Week 11 of the 2018 NFL season.
PFF's ReFocused series this season features immediate takeaways and a key to the victory from two Senior Analysts who graded the performance, watching every player on every play of the game. For more data and analysis from the game, utilize our Premium Stats 2.0 dashboard to expand your knowledge on the key players, signature stats and much more.

FINAL SCORE
Los Angeles Rams 54, Kansas City Chiefs 51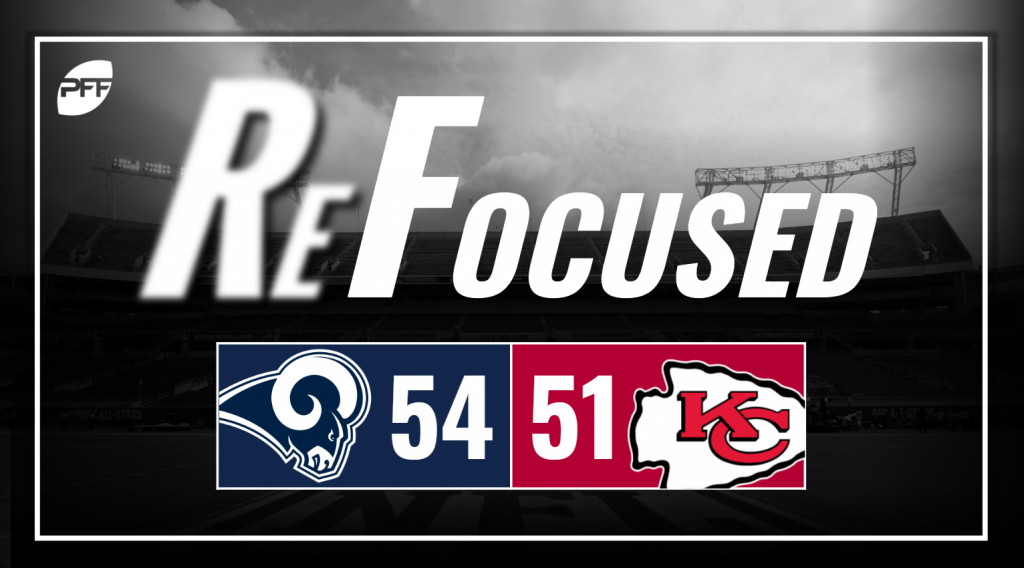 Aaron Donald did Aaron Donald things on Monday night. He finished the game with two strip-sacks, one of which resulting in a scoop and score from his teammate Samson Ebukam.
Los Angeles edge defender Ebukam, in addition to his fumble-six, turned a batted pass into a pick-six of Kansas City Chiefs' Patrick Mahomes.
Offensively, it was the Jared Goff show for the Rams, as Todd Gurley was largely a non-factor on the night. Goff threw for over 400 yards and made a number of excellent throws to the deep and intermediate areas, most notably on what would be the game-winning touchdown strike to Gerald Everett. However, it wasn't all roses either, as that touchdown throw wouldn't have happened had Orlando Scandrick held on to a surefire pick earlier in the drive. But overall, it was more good than bad for the third-year quarterback.
Injuries forced the Rams to do a bit more shuffling than normal at the skill positions, but it hardly limited them, as Goff got everyone involved from a receiving standpoint. Six players had at least three receptions, four topped 60 yards receiving and three found the end zone.

Tyreek Hill was stellar. The third-year speedster torched Sam Shields multiple times on the night and finished the game with 10 receptions for 215 yards and two touchdowns.
Mahomes had a handful of outstanding throws, but the throws he'll remember will be his two fourth-quarter interceptions that ultimately put the game out of reach for the Chiefs.
This was not a night for defense. It was a brutal night for the Chiefs' secondary. Kansas City stuck with a heavy dose of man coverage on the back end, and whether they were giving up completions or getting charged with penalties, they simply couldn't keep pace with the Rams' weapons on the outside.
Chris Jones was perhaps the lone Chiefs defender who turned in a standout effort. Jones had his way with Rams guard Rodger Saffold throughout the night, making plays in both the run game and as a pass-rusher.
Keys to the Game
Los Angeles
In a game with seemingly unlimited offense, there was also a high number of turnovers, and winning that battle was ultimately the difference.
Kansas City
Two Mahomes' interceptions late in the fourth quarter kept Kansas City from pulling ahead in the final minutes.