The Baltimore Ravens defeated the Cincinnati Bengals, 24-21, in Week 11 of the 2018 NFL season.
PFF's ReFocused series this season features immediate takeaways and a key to the victory from two Senior Analysts who graded the performance, watching every player on every play of the game. For more data and analysis from the game, utilize our Premium Stats 2.0 dashboard to expand your knowledge on the key players, signature stats and much more.

FINAL SCORE
Baltimore Ravens 24, Cincinnati Bengals 21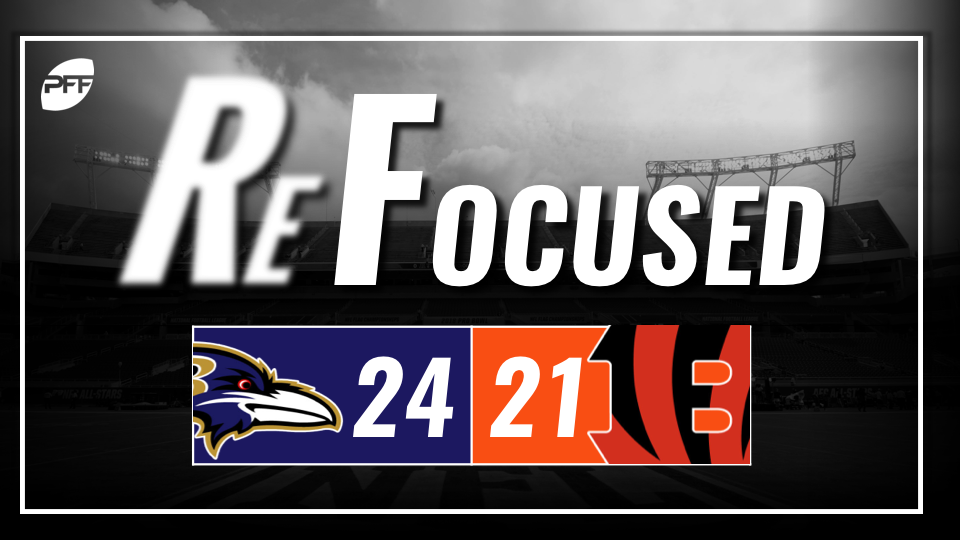 Offensive tackle Cordy Glenn had a rough afternoon, particularly in pass protection. It didn't matter if the rushers attacked with speed, power or quickness, as he struggled with all three and surrendered a number of pressures.
One positive note for the Bengals offense was the pass blocking of Gio Bernard. He was impressive picking up blitzes throughout the game and surrendered just one pressure in the contest.
Cincinnati's linebackers struggled to make plays against Baltimore's running game, which proved to be too much for the defense to overcome. The Bengals linebackers were often hesitant to attack the line of scrimmage and were also unable to work off blocks.
Interior defender Josh Tupou was one of the few bright spots for the Bengals' defense. Even though Tupou recorded just one tackle, he stood his ground well against the run and Baltimore's offensive linemen were rarely able to move him off his spot.

Rookie quarterback Lamar Jackson had a mixed outing in his first NFL start. He rushed for 117 yards on 27 carries and did well to outrun defenders to the edge while he also made good decisions at the mesh point on option plays. However, he did struggle to pass the ball, as he recorded just 150 passing yards and also threw an interception.
Although all eyes were on Jackson, running back Gus Edwards stole the show. Edwards averaged over six yards per carry and he converted multiple key third downs. He also proved to be tough to tackle for the Cincinnati linebackers, as he broke multiple tackles on the day.
The Bengals clearly missed A.J. Green's physicality, as the Ravens' cornerbacks were able to bully the Cincinnati receiving corps around for much of the afternoon. They were able to cut off routes to prevent receivers from reaching target points, and they forced Andy Dalton to attempt contested throws with regularity.
The Ravens quickly shut down the Bengals running game with their ability to control the line of scrimmage. The line's ability to stack linemen at the point of attack forced backs to cut back into the waiting arms of their unblocked linebackers.
Keys to the Game
Cincinnati: Put simply, Baltimore's cornerbacks outplayed the Cincinnati receivers (with the exception of John Ross' spectacular contested touchdown grab).
Baltimore: Gus Edwards and the Ravens offensive linemen were too much to handle for the Cincinnati linebackers, who were unable to stop Baltimore's running game.