The Buffalo Bills defeated the New York Jets, 41-10, in Week 10 of the 2018 NFL season.
PFF's ReFocused series this season features immediate takeaways and a key to the victory from two Senior Analysts who graded the performance, watching every player on every play of the game. For more data and analysis from the game, utilize our Premium Stats 2.0 dashboard to expand your knowledge on the key players, signature stats and much more.

FINAL SCORE
Buffalo Bills 41, New York Jets 10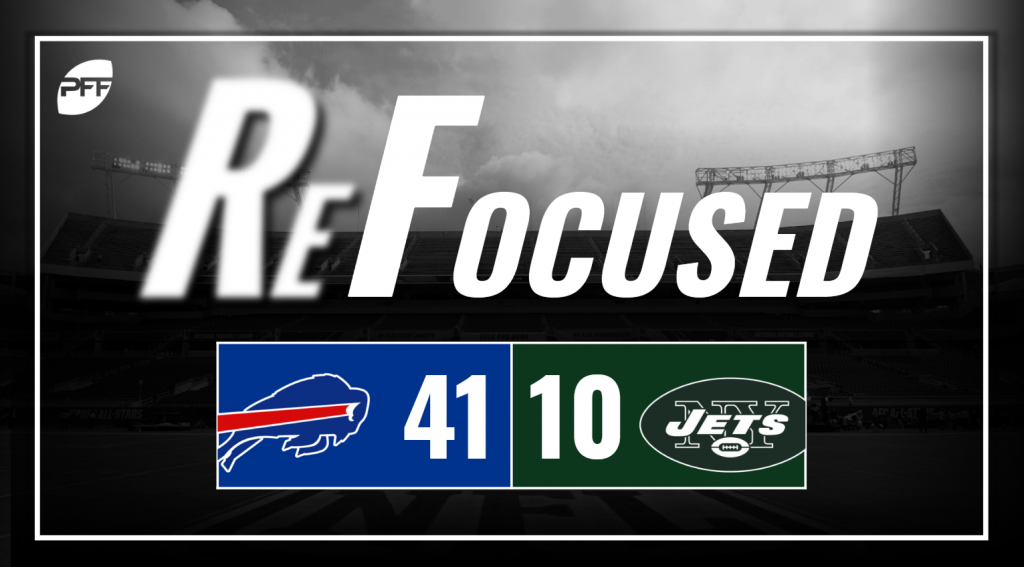 Matt Barkley had a solid debut in a Bills uniform, but it was Buffalo's receivers that really stole the show. Zay Jones and Robert Foster particularly had their most inspiring performances of the season. Foster got things going with a deep 47-yard bomb down the right sideline on the game's first play from scrimmage and became Buffalo's first 100-yard receiver on the season. Jones was Barkley's most reliable target throughout the contest, with six catches resulting in either a first down or touchdown.
Both LeSean McCoy and Marcus Murphy had productive games on the ground for Buffalo. The Bills' offensive line didn't dominate New York's defensive line on the ground, but both Shady and Murphy did a nice job finding the hole and bursting through to gain chunks on the ground. Both backs forced a few missed tackles against the Jets and both backs also did a nice job running through contact, finishing runs with a couple of extra yards as they went to the ground.
There is a strong defensive unit building in Buffalo with some nice fits in their zone blitz scheme. It all starts up front, where Shaq Lawson's return from injury offers a legitimate threat opposite of Jerry Hughes. With Kyle Williams still mauling on the interior, the Bills have a variety of threats when they jump into their nickel package. The linebacker corps might have their deficiencies, but they do offer versatility to bring rushers from different angles in long yardage situations. Lorenzo Alexander and Matt Milano, in particular, are effective when the Bills dial up the blitz.
Good safety tandems are not common in the modern NFL. Micah Hyde and Jordan Poyer might not make many Pro Bowl lists, but they are a solid duo who can be relied upon to prevent big plays. Hyde had an impressive pick against the Jets, falling off what looked like man coverage to undercut a seam route to another slot receiver. It displayed great instincts and ball skills, baiting a struggling Josh McCown into a dreadful decision. Outstanding stop units can be built on reliable safeties; Buffalo's pair falls into that category.

The Jets manufactured some pressure when they blitzed Jamal Adams, and they did get to Barkley for a sack on one play late when Buffalo had to sub in their backup right tackle for a few plays. But outside of those few instances, they got virtually zero pressure on Barkley. Leonard Williams had a few plays where he was able to shed the blocker, but the throw just got out before he was able to get pressure. For the most part, the Jets' pass-rush was dominated by Buffalo's pass protection.
Despite the ugly overall performance, there was still some good play on the Jets' defense. Avery Williamson, in particular, had a nice day when it came to defending the run. Williamson recorded a handful of stops against the run and didn't miss any tackles. Williamson also forced a fumble from Buffalo's Jones at the goal line that unfortunately – for the Jets – was recovered in the end zone by a Bills player for their second touchdown of the game.
McCown is a functional quarterback at best, and he struggled all day against a strong Bills defense. He had countless passes batted, showing an inability to find throwing lanes with a muddy pocket. When he did look down the field, he was highly erratic, missing throws high and low as well as misreading coverages. The lowlight was a complete misjudgment over the middle, which was easily intercepted. Sam Darnold's injury had a predictably dramatic impact on the Jets' offensive production.
Almost nothing went right for the Jets' offense. Receivers dropped passes, McCown missed throws and any positive plays they had seemed to be called back due to penalties. The offensive line was probably the biggest issue aside from the quarterback. Kelvin Beachum is supposed to be the anchor, but the veteran left tackle was beaten consistently in pass pro by Hughes, giving up a number of pressures throughout the game. New York's offensive line has been neglected for years. It's no surprise the young players continue to struggle next to underperforming veterans like Beachum and James Carpenter.
Keys to the Game
Buffalo
It sounds simple, but it's something Buffalo's been lacking all season: Their playmakers made plays and, for today at least, they had a quarterback that was able to get the ball into their hands.
New York
McCown and his struggling offensive line simply didn't get the job done for the Jets.