The Panthers put a couple of field goals through the uprights in the first half, but it was a pair of QB Drew Brees touchdown passes, one each to WR Michael Thomas and WR Brandon Coleman, and a field goal that would give the Saints the lead at halftime.
The teams would trade touchdowns in the third quarter, but another field goal and a touchdown run by RB Alvin Kamara would seal the game for the Saints, who would go onto win 34-13. With that, we give you our PFF exclusive takeaways from the contest for each team.

Top 5 Grades:
CB Ken Crawley, 85.2 overall grade
WR Michael Thomas, 83.8 overall grade
CB P.J. Williams, 82.0 overall grade
QB Drew Brees, 81.0 overall grade
G Larry Warford 80.8 overall grade
Performances of Note:
QB Drew Brees, 81.0 overall grade
Outside of a dropped interception thrown directly in the arms of Luke Kuechly, Brees played an efficient game, finding his main target Michael Thomas in the short and intermediate passing game often. Brees benefited from solid offensive line play, as he was under duress on just 4 of his 29 attempts. His work against the blitz was impressive as usual, finishing 9-10 for 117 yards 1 TD and a 148.8 passer rating
Seeing mostly zone coverage, Thomas caught passes on 5 different defenders on his 7 receptions. He finished the day with 32 of his 87 yards coming after the catch, working mostly in the underneath areas of the field and on dig routes in the middle of the field. Drew Brees finished with a 151.6 passer rating when targeting Thomas on the day.
Cornerbacks Ken Crawley and P.J. Williams were outstanding in the Saints secondary, posting coverage grades of 84.7 and 82.2. They were targeted a combined 13 times and surrendered only 7 receptions for 59 yards. They limited opponents yards after the catch, only allowing a combined 22 yards after the catch on the day. P.J. Williams also came up big, jumping a slant route intended for Devin Funchess and intercepting Cam Newton.
Jordan wasn't as dominating against Carolina as he had been the previous two weeks, he finished with a game grade of 76.8, but he did play stout in run defense, recording an 83.3 grade in that department. Jordan's three quarterback hurries led the team, giving him six total on the year.

Top 5 Grades:
G Andrew Norwell, 85.1 overall grade
G Trai Turner, 84.0 overall grade
LB Luke Kuechly, 80.4 overall grade
C Tyler Larsen, 80.0 overall grade
HB Christian McCaffrey, 79.1 overall grade
Performances of Note:
QB Cam Newton, 40.9 overall grade
It was a tough day for quarterback Cam Newton as he ended with 167 yards passing and three interceptions. One of those interceptions was deflected off HB Christian McCaffrey, the other two will fall on Newtons shoulders. All three of his interceptions came while under no pressure, as he finished 13 of 21 averaging 4.8 yards per attempt when the pocket was clean. Newton will look to bounce back next week against a tough opponent in the Patriots.
McCaffrey flashed his receiving ability against the Saints, hauling in 9 of his 11 targets for 101 yards, with 66 of those coming after the catch. McCaffrey had a YPRR (yards per route run) of 3.61 against New Orleans, putting his season average at 2.16, at the moment that ranks first among qualified running backs.
Davis had an off game and he had trouble diagnosing a strong Saints rushing attack. Not fitting his gap on multiple occasions lead to big gains for the Saints, and Davis finished with a 37.0 run defense grade. On the day the Panthers surrendered 151 yards on 27 attempts with 59 yards coming after contact.
Bradberry surrendered 2 catches for 56 yards including a 40 yard touchdown to Ted Ginn Jr. He struggled in run defense, with 2 missed tackles and allowing rookie Alvin Kamara in to the end zone in the fourth quarter when he lost containment on the play. Bradberry was also beat deep on an overthrow that could have inflated his yards allowed as well.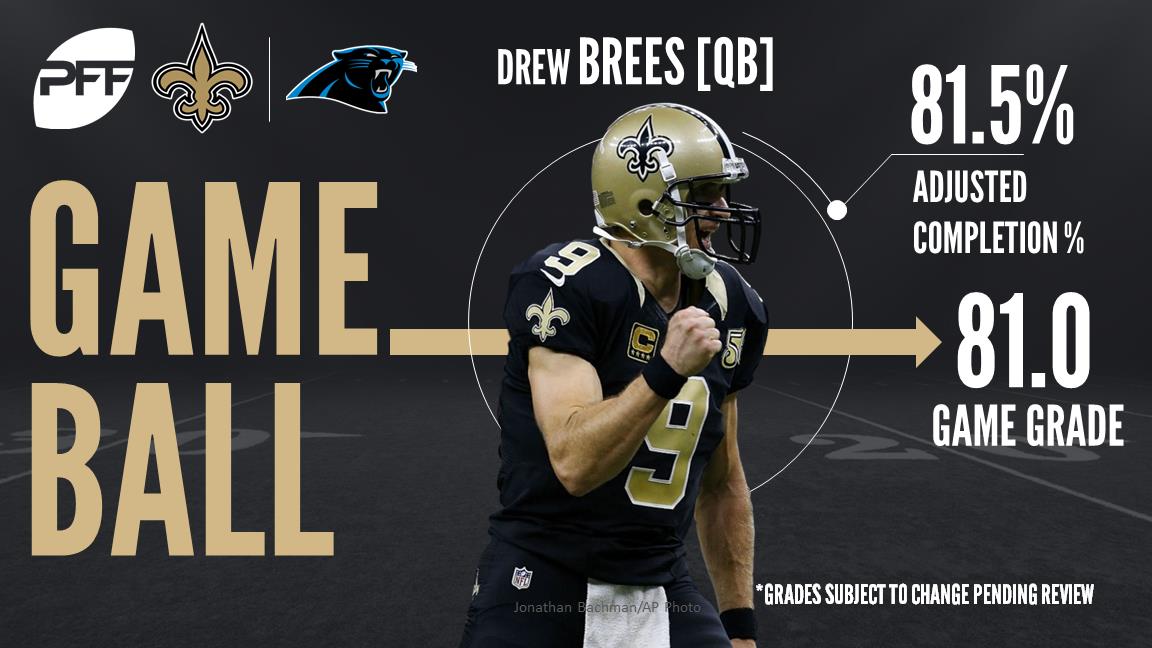 *Grades are subject to change upon review