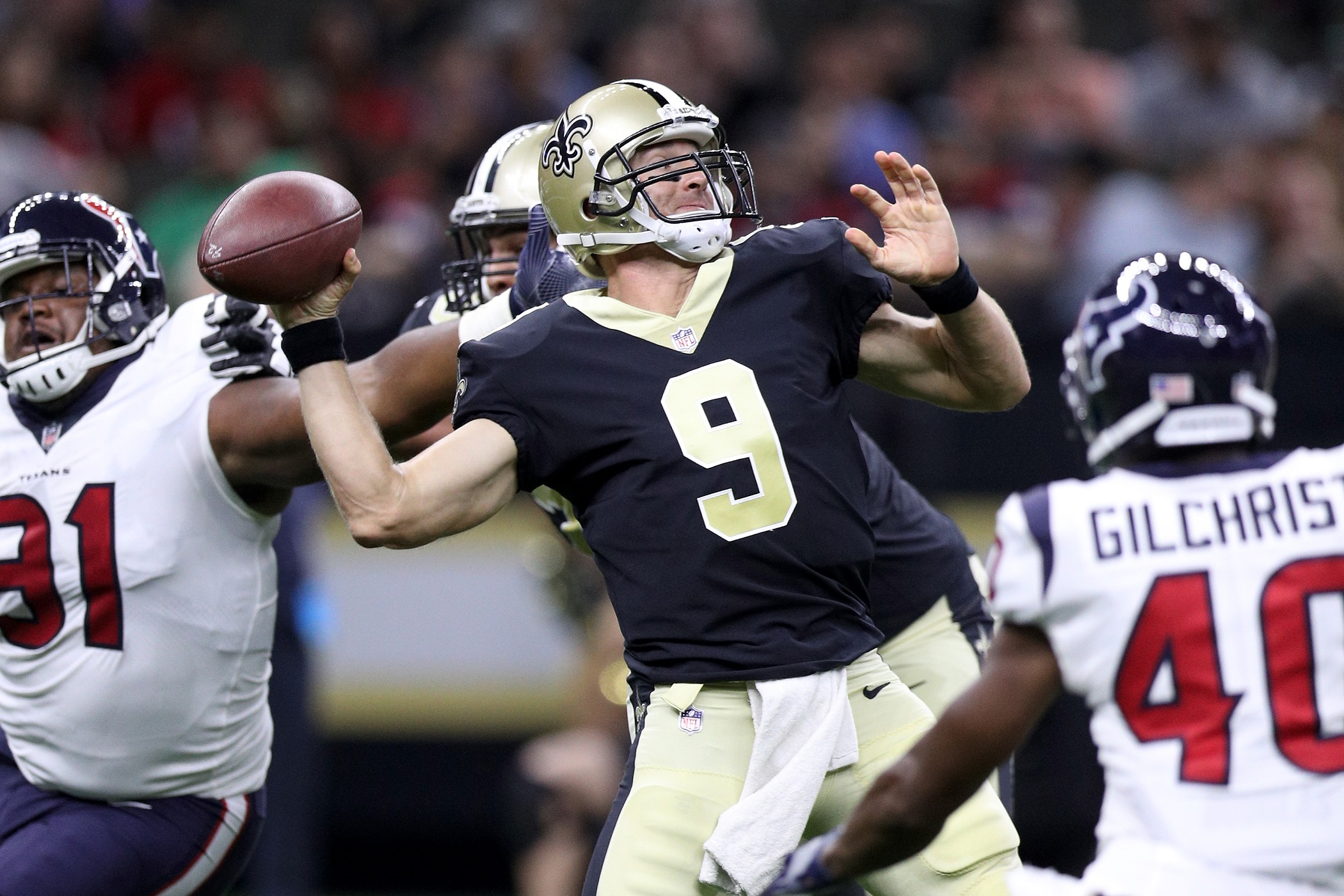 NEW ORLEANS, LA - AUGUST 26: Drew Brees #9 of the New Orleans Saints throws a pass against the Houston Texans at Mercedes-Benz Superdome on August 26, 2017 in New Orleans, Louisiana. (Photo by Chris Graythen/Getty Images)
The Drew Brees and Michael Thomas connection was strong early, leading to a first quarter field goal for the Saints. Lamar Miller was effective early, but Tom Savage was not, and the Texans finished the first quarter with no points.
A Darius Victor touchdown run and another field goal would be more than enough, as the Saints prevailed 13 to 0. With that. we give you our PFF exclusive takeaways from the contest for each team.

Top 5 Grades:
Edge Cameron Jordan, 85.4 overall grade
DI David Onyemata, 85.2 overall grade
CB P.J. Williams, 84.9 overall grade
LB Alex Anzalone, 82.0 overall grade
WR Ted Ginn, 80.7 overall grade
Performances of Note:
QB Drew Brees, 69.8 overall grade
Making his preseason debut, Brees spent most of his time in the first half (he came out for the final drive of the second quarter) playing conservatively, with 13 of his 15 attempts traveling fewer than 10 yards in the air. Brees was sharp though, finishing the game with an 80.0 adjusted completion percentage as he was accurate on 12 of his 15 attempts.
Playing with the second unit, the undrafted sophomore from North Carolina had himself a fine game, especially in pass protection where he didn't cede a pressure on 17 pass-block snaps. Turner struggled a bit in pass protection in New Orleans' first two preseason games, making Saturday's showing especially encouraging.
Jordan was probably the most productive player on the field Saturday, as he finished with a sack and 2 hits on 16 pass rushing snaps. Jordan also had two stops in run defense on seven snaps.
Williams was equally impressive in the Saints secondary as he yielded 1 reception on 4 targets thrown his way totaling negative-1 yard. Williams ability to play the deeper passes down the field was the key to his production.

Top 5 Grades:
DI Eli Ankou, 84.3 overall grade
DI Rickey Hatley, 83.9 overall grade
Edge Ufomba Kamalu, 81.6 overall grade
TE Ryan Griffin, 81.1 overall grade
CB Dee Virgin, 79.9 overall grade
Performances of Note:
Griffin played well for the Texans, as he caught both catchable passes thrown his way for 22 yards. He also impressed with his run blocking, as he opened up some cut back lanes for the Texans running backs with his athletic ability on the backside of zone plays.
Watson finished 11-of-21 for 116 yards with 2 drops. He made plays with his feet and kept some plays alive while also forcing passes into coverage. Watson had one interception, and had another potential interception dropped. Watson finished 3-for-9 while under pressure as he was sacked twice and threw another pass away.
DI Eli Ankou, 84.3 overall grade
Ankou thrived in run defense, finishing the night with an 85.2 run-defense grade after he tallied three stops on 15 run-defense snaps. Ankou also chipped in a pressure on one of his eight pass-rushing snaps, making Saturday night his second consecutive game with a pressure.
Edge Eric Lee, 79.1 overall grade
Lee led the Texans defense with three total pressures, including two sacks, on 16 pass-rush snaps. Lee now has seven pressures on 47 pass-rush snaps this preseason, giving him a 12.5 pass-rush productivity rating through three weeks, which ranks seventh among 3-4 outside linebackers as of the end of Saturday night.

PFF Game Ball: Edge Cameron Jordan, 85.4 overall grade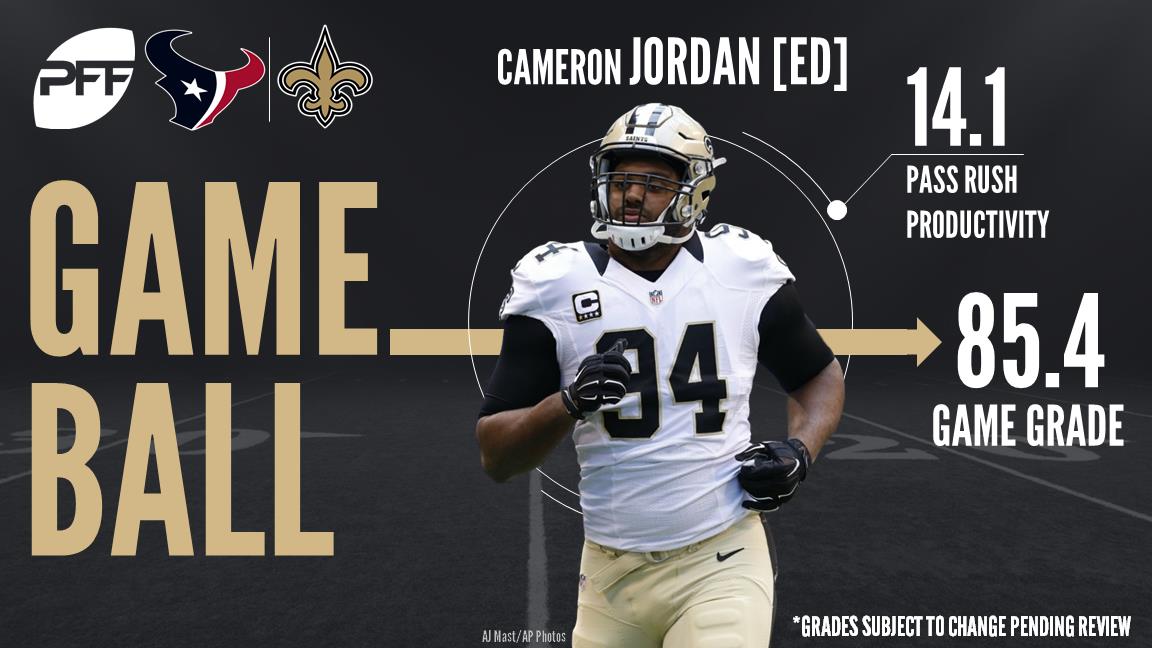 *Grades subject to change pending review