The New England Patriots went into Sports Authority Field and came out with their fifth straight victory, defeating the Denver Broncos 41-16.
QB Tom Brady was his usual excellent self, with 266 passing yards, 7.8 yards per attempt, and three touchdowns versus no interceptions. The Patriots stable of backs also chipped in, with 28 carries for 99 yards.
QB Brock Osweiler and the Broncos did not get the win, but it wasn't all on the quarterback's shoulders. RB C.J. Anderson had over five yards per carry, but the widening scoring gap forced the Broncos away from running the ball. Osweiler ended the night with 221 yards, one touchdown pass and one interception.
While the cornerbacks for the Broncos were as good as we regularly expect, the interior coverage defenders were regularly exploited by Brady. The Patriots defense played solidly, making sure not to give up any back breaking plays throughout the night. With that, we give you our PFF exclusive takeaways from the contest for each team.

Top 5 Grades:
G Joe Thuney, 88.7 overall grade
TE Rob Gronkowski, 85.4 overall grade
QB Tom Brady, 84.6 overall grade
FB James Develin, 83.2 overall grade
CB Patrick Chung, 80.6 overall grade
Performances of Note:
Brady had a solid, reliable performance against the Denver defense on Sunday night. When adjusting for drops and throwaways, Brady completed 81.3 percent of his passes, including a perfect 100 percent on six targeted throws when under pressure. Those six throws went for 89 yards, a touchdown, and a perfect 158.3 passer rating.
Gronk had only four catches on the night, but made the most of them, as all four went for first downs. He ranks second among all tight ends in the league with 2.16 receiving yards per route run this season.
The Patriots defense had their troubles in certain areas Sunday Night but has vastly improved over their early season struggles. Veteran defensive back Patrick Chung stood out in coverage, as his 81.5 pass-defense grade shows. He was targeted four times, allowing three catches for only 14 yards and nabbing a fourth quarter interception. Chung has had his struggles in coverage up to this date, allowing a passer rating of 93.8 while targeted this season but New England will hope see more of what showed up against the Broncos.
Flowers was the Patriots only pass-rusher that generated a noteworthy amount of pressure against a Broncos offensive line that has struggled at times this season. New England utilized Flowers on a number of stunts and he finished with three total pressures on the night. It was clear the New England game plan attempted to create confusion for the Broncos line with the number of games they ran and it was relatively successful, as they ended with 12 total pressures and forced Osweiler to get the ball out early.

Top 5 Grades:
G Ron Leary, 90.1 overall grade
WR Emmanuel Sanders, 89.4 overall grade
CB Bradley Roby, 83.9 overall grade
CB Aqib Talib, 81.8 overall grade
C Matt Paradis, 81.3 overall grade
Performances of Note:
The much anticipated match up between CB Malcom Butler and Emmanuel Sanders was won by the Broncos wide receiver throughout much of the game. Sanders was targeted nine times against Butler and he caught five passes for 99 yards, as his shifty route running gave Butler a tough time. Sanders ended the game with six catches on 10 targets for 137 yards, which surpasses his previous season high of 76 yards in a game.
To his credit, Osweiler played much of the game without making costly mistakes, but in the fourth quarter that changed, as he wasn't as accurate and threw an interception into trap coverage. Brock struggled under pressure, going 3-of-10 for only 45 yards compared to 15-of-23 for 176 yards when given time in the pocket. The Broncos quarterback was improved over last week but still needs to improve upon his decision making at times.
Von Miller actually was held in check this week. Miller had just two pressures despite going up against back up tackle LaAdrian Waddle for much of the game. Unlike last week where he was highly productive in the running game, Miller did not have a defensive stop and had little impact as the Patriots ran away from him quite a bit. Miller did not have a single defensive stop of any kind for the first time since Week 4 of the 2016 season.
Prior to the Patriots final drive of the game, Roby had been targeted three times in the game. Those three targets resulted in a catch for a loss of three yards, a catch for no gain, and a pass breakup. Only a screen pass to Brandin Cooks in garbage time with the game well out of reach gained any yardage against Roby. He now has a pass breakup in seven of nine games this season.
PFF Game Ball: Tom Brady, QB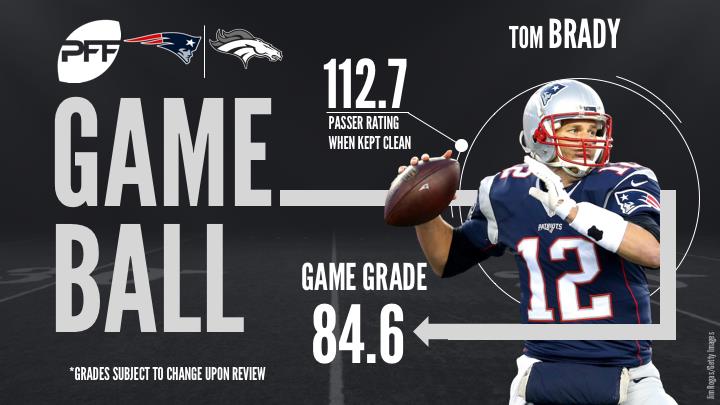 *Grades are subject to change upon review