Rallying from an early 14-3 deficit, quarterback Tom Brady and the New England Patriots pushed past the visiting Jacksonville Jaguars to secure a 24-20 win and punch their ticket to the Super Bowl.
Completing 26-of-38 passes on the day, Brady threw for 290 yards and two touchdowns in the Pats' comeback win — all with an injured hand to boot.
Opposite of Brady, Jaguars quarterback Blake Bortles put together a strong performance, completing 23-of-36 passes for 293 yards and one touchdown. His running back Leonard Fournette also had his fair share of highlight plays, logging 76 yards and one touchdown on 24 carries.
Of course, their respective efforts weren't enough to hold off Brady & Co.
With that, we give you our PFF-exclusive takeaways from the contest for each team.

Top 5 Grades:
Edge Trey Flowers, 91.4 overall grade

WR Danny Amendola, 86.8 overall grade

T Cameron Fleming, 85.4 overall grade

T Nate Solder, 81.8 overall grade

QB Tom Brady, 79.6 overall grade
Performances of Note:
Brady wasn't terribly sharp on Sunday, but he made the plays when it counted. He had a handful of forced throws down the field and misses that I'm sure he'd like back. He was 3-of-8 for 83 yards on passes targeted 20-plus yards downfield. Brady was much more efficient in the intermediate range, as he was in sync with Danny Amendola all day. On those passes, Brady was 9-of-14 for 133 yards and a touchdown.
One of the biggest stories of this game was the Jaguars' inability to get pressure on Tom Brady. Fleming was a big reason why. Brady was under pressure on only nine of his 42 dropbacks, and Fleming was responsible for only one of those.
One of the better, more underrated draft picks in Patriots recent memory, Flowers emerged as a force in 2016 but has taken his game to a new level this year. He has now amassed 12 combined sacks, hits and hurries and six run stops in the postseason. 
That's why you give him the big bucks. Gilmore did give up one big play to Dede Westbrook, but just four plays later, he was making the play of the game to turn the ball over on downs. He allowed three receptions on his five targets for 48 yards and recorded one crucial pass break-up. 

Top 5 Grades:
LB Myles Jack, 85.8 overall grade

G A.J. Cann, 83.1 overall grade

WR Allen Hurns, 82.1 overall grade

WR Keelan Cole, 80.6 overall grade

DI Marcell Dareus, 79.4 overall grade
Performances of Note:
History beckoned, but perhaps this is a fitting end for the Blake Bortles era in Jacksonville. There was the tease of what was to come but ultimately Bortles was unable to make a play when most needed. It was a solid performance from Bortles with just the one turnover-worthy throw, but as the Patriots put him under more pressure in the second half, he just couldn't respond. Will he get another chance? That will be one of the offseasons biggest questions.
The Jaguars are a young team on offense, and it's good to see young players coming of age. Cann had a shaky 2017 season, but his play over the last four weeks — since he was worked over by San Francisco — suggests the Jags have got their right guard for the long term.
Jack made the play of the day for the Jaguars' defense when he chased down Dion Lewis on a trick play and simply took the ball away. He added a hit and a stop on the day for the Jaguars' highest-graded performance.
The Jaguars' corners weren't close to their normal lockdown selves on Sunday. Bouye allowed four his five targets for 58 yards, while Ramsey yielded four of his five targets as well for 72 yards. Both were also flagged for deep pass interference penalties as well.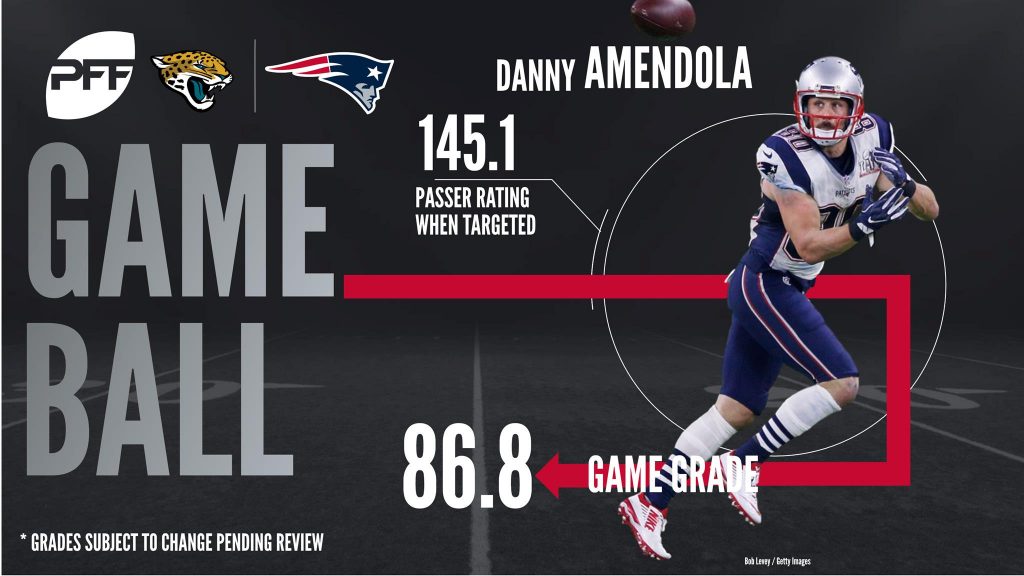 *Grades subject to change