Though New England Patriots quarterback Tom Brady and offensive coordinator Josh McDaniels had an early spat in the contest, Bill Belichick's crew still rolled past the Buffalo Bills, 23-3.
Brady leaned on his star tight end Rob Gronkowski all day, as he led the Patriots with nine receptions for 147 yards. Opposite to Gronkowksi, no Buffalo receiver recorded more than 22 receiving yards with a mix of Tyrod Taylor and Nathan Peterman at the helm, making it that much more difficult for the Bills to pull off a much-needed comeback.
With that, we give you our PFF-exclusive takeaways from the contest for each team.

Top 5 Grades:
CB Stephon Gilmore, 92.7 overall grade
DT Malcom Brown, 86.1 overall grade
TE Rob Gronkowski, 84.5 overall grade
CB Jonathan Jones, 84.0 overall grade
RB Rex Burkhead, 83.3 overall grade
Performances of Note:
Not your classic Brady performance, but he got the team into the lead with some good throws in the third quarter and ultimately that was enough to put the Patriots out of reach. But there was enough to suggest that Brady versus Sean McDermott will be one to watch over the years, with Brady not his usual smooth and assured self, twice throwing turnover-worthy passes even if only one was actually picked off.
It was a fascinating game for Gronkowski. On one hand his contributions early in the second half were pivotal in the Patriots pulling away, as he worked down the seam chiefly to get the chains moving. Then on the other hand he started playing penalty bingo, getting flagged for offensive pass interference, a false start, holding, and lastly unnecessary roughness. Against better teams those penalties and lack of discipline could be crucial.
If anything showed Buffalo what they were missing, it was a goal-line stand in the fourth quarter. Rookie QB Nathan Peterman decided he was going to score a touchdown, and that Gilmore was going to be the one to give it up. Only nobody told Gilmore, and three targets turned into three incompletions with one route cut off and two passes broken up. That was indicative of the day Gilmore had, thrown at six times and allowing just two passes for 22 yards. Job done.
Brown isn't always a guy who does a great job getting to the quarterback, but he's certainly gotten better in that regard this year with his game against Buffalo seeing him logged five combined sacks, hits and hurries to set a new personal best. Always disruptive against the run, he's not a player who gets a ton of credit, but is integral to what the Patriots do on defense.

Top 5 Grades:
CB Tre'Davious White, 86.4 overall grade
LT Dion Dawkins, 82.0 overall grade
LG Richie Incognito, 80.5 overall grade
DT Adolphus Washington, 79.4 overall grade
RT Jordan Mills, 78.7 overall grade
Performances of Note:
This was not the performance Taylor wanted to show people they are wrong about him. It was all going so well initially as the Bills marched down the field, but a bad decision assisted by being hit as he threw led to a pick, and it was all downhill from there. Outside of making plays with his legs Taylor couldn't get anything going, and while two drop passes didn't help he attempted just two passes further than 10 yards in the air and struggled with accuracy even then. This kind of performance is why the team wanted to get a look at Nathan Peterman.
In what is looking like a transitional year for the Bills, they can take solace in the play of rookie Dawkins. He's come on strong the past four weeks, surrendering just nine pressures over his last four games while looking at home in the run game. The second-rounder didn't have many problems with the Patriots' pass rush and ended the day with just one hit and two hurries allowed.
Continuing to live up to his first-round draft status, White walked away with a pick of Tom Brady and just two grabs allowed (one of which owed a lot to the excellence of Rob Gronkowski). The former LSU Tiger has had a year to remember and has already established himself as a building block for this secondary unit for years to come.
This was one of Washington's better games as a pro, with the Patriots interior linemen struggling to get a handle on him most of the game. He did pick up a sack, but it was his work in the running game that really stood out where he led the team with three defensive stops. His four total defensive stops represented a career best.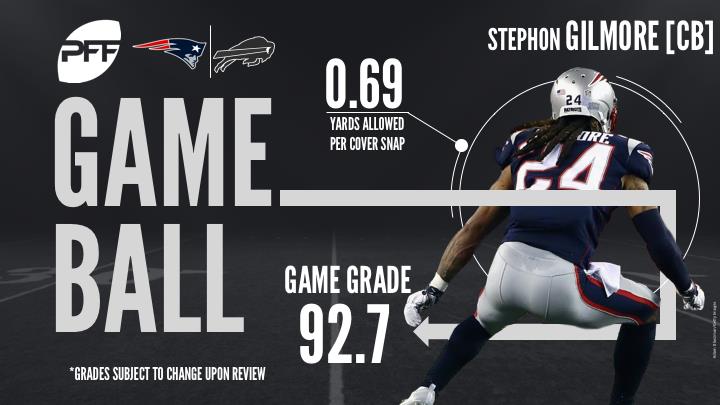 *Grades are subject to change upon review