After a first quarter where each team would get a field goal, HB Ezekiel Elliott would catch a ball from QB Dak Prescott and he would dive for the pylon to secure the game's first touchdown. Elliott would score a rushing touchdown, and Prescott would throw a second touchdown to Brice Butler. The Rams would get a touchdown pass from QB Jared Goff to WR Cooper Kupp and two more field goals to cut the Dallas lead down to 24-16.
The Rams would go ahead in the third quarter on the strength of a field goal and a long HB Todd Gurley catch and run for a touchdown. They would score 9 more points in the fourth to stave off a Cowboy comeback, winning 35-30. With that, we give you our PFF exclusive takeaways from the contest for each team.
Top 5 Grades:
DI Aaron Donald, 89.8 overall grade
DI Michael Brockers, 84.8 overall grade
T Andrew Whitworth, 81.9 overall grade
TE Tyler Higbee, 81.0 overall grade
S John Johnson III, 80.8 overall grade
Performances of Note:
QB Jared Goff, 45.2 overall grade
Goff had some good plays, he had a 128.6 passer rating on throws coming from a clean pocket and his touchdown throw down the seam to Gurley was a thing of beauty. But offsetting that there was the bad: he had just a 39.6 passer rating on throws coming under pressure, completing just 3-of-11 passes for 16 yards while under duress and he nearly threw Dallas back into the game late with a ball that should have been intercepted by Anthony Brown.
After three down weeks to start the season, Higbee had easily his best game of 2017 in Dallas. He only hauled in three of his six targets for a total of 47 yards, two of those catches picked up first downs though and the third was a nice grab right on the sideline to get the Rams into field goal range at the end of the first half. To go with that Higbee also put up an above average 80.7 run-blocking grade.
Donald simply does not miss a beat; even against one of the league's best offensive lines Donald was at his best, wreaking havoc against run and pass. His nine pressures were his most of the season so far and one of the only plays that got away from him was one of those 9 pressures where he fell off a sack on Dak Prescott, allowing the Cowboys' signal caller to spin away for a third down.
This was far from a one man show on the defensive line this week for the Rams. With Tanzel Smart taking the snaps at nose tackle, Brockers played over the Cowboys' guards and tackles and in his most productive display as a pass rusher (1 sack, 3 hits, 1 hurry) since Week 14 of his rookie season in 2012. Brockers even added a pair of batted passes as well, after four weeks he is only one pressure shy of matching his pass-rush production for the entire 2016 season.

Top 5 Grades:
S Byron Jones, 84.9 overall grade
CB Anthony Brown, 84.2 overall grade
C Travis Frederick, 84.0 overall grade
T La'el Collins, 82.9 overall grade
QB Dak Prescott, 80.6 overall grade
Performances of Note:
Frederick had some breakdowns in pass protection with Jonathan Cooper alongside him but in the run game he was at his best. Capitalizing on a favorable matchup against rookie NT Tanzel Smart and undersized LB Mark Barron, Frederick controlled the middle of the Rams' defense while Michael Brockers and Aaron Donald made their plays on the Cowboys' guards and tackles.
Faced with his toughest task of the season since facing Von Miller in Week 2, Collins turned in his best performance of the season against the Rams. He got off to a fast start, burying Alec Ogletree on the Cowboys' opening drive and looked largely in control the rest of the way. Surrendering only 3 pressures on 46 snaps in pass protection, none of them quick enough to disrupt Dak Prescott early in his dropback, this was comfortably Collins' best display of the season so far.
Brown was a blanket in coverage this afternoon, allowing just two catches on six targets for a total of 15 yards. Brown allowed just two total yards after the catch and he also broke up a pass intended for Tyler Higbee; Goff had just a 42.4 passer rating when targeting Brown's man in coverage on Sunday.
Lawrence was able to generate some pressure on Sunday afternoon, tallying four total pressures on 28 pass-rush snaps (including a strip-sack). Outside of those plays though he was held in check by the Rams offensive line and he especially struggled in run defense, finishing the game with a 44.3 run-defense grade.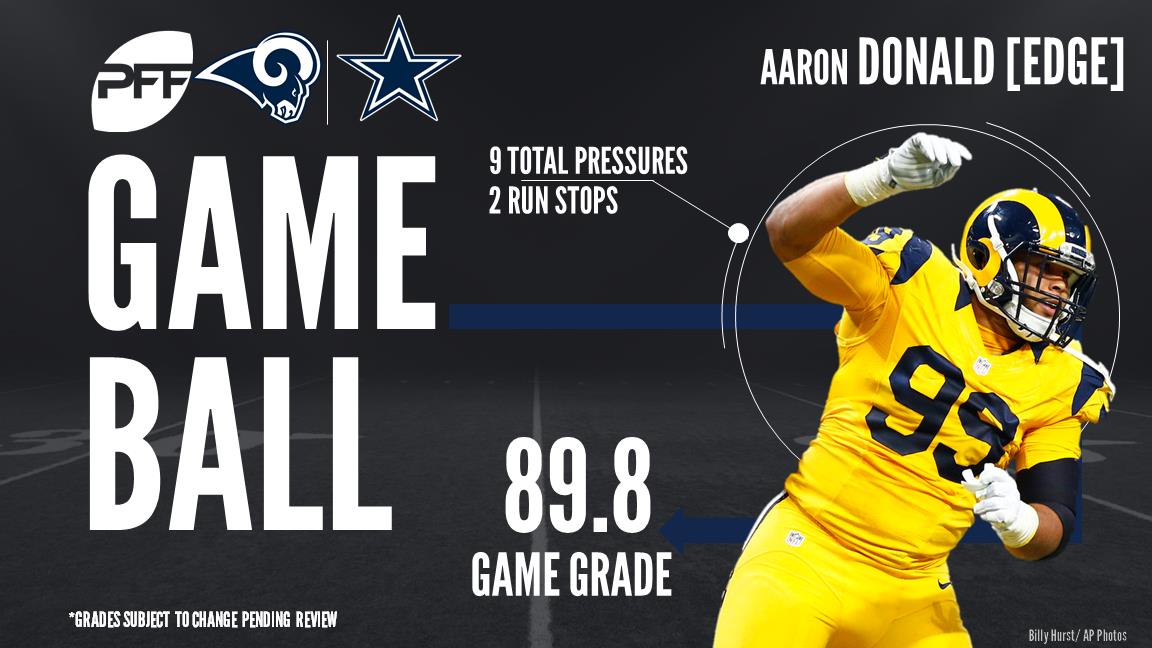 *Grades are subject to change upon review