The Los Angeles Chargers traveled to MetLife Stadium for the second time this year and came away with their second win, defeating the New York Jets 14-7.
QB Bryce Petty went 15-of-28 for 119 yards with an interception and no touchdowns. RB Bilal Powell had an excellent day, aided by three big plays, including a long 57-yard touchdown run. He ended the game with 145 rushing yards.
QB Philip Rivers was 22-of-40 for 290 yards and a touchdown to his longtime teammate TE Antonio Gates. Gates led the Chargers in receiving as well, catching six passes for 81 yards on the day. RB Melvin Gordon had 81 yards on 19 carries and chipped in another 47 yards receiving.
With that, we give you our PFF-exclusive takeaways from the contest for each team.

Top 5 Grades:
LB Korey Toomer, 90.6 overall grade
TE Antonio Gates, 88.6 overall grade
S Jahleel Addae, 87.7 overall grade
RB Melvin Gordon, 84.5 overall grade
S Adrian Phillips, 82.4 overall grade
Performances of Note:
Gordon surpassed the 1,000 yard mark for the first time in his career and did so by breaking five tackles in a game for the second straight week. Much like Powell on the opposite sideline, help wasn't always plentiful for Gordon from his run blockers but he made the most of what he got, whether that was breaking tackles to maximize solid blocking or breaking tackles behind the line to turn losses into no gain or short gains. This was Gordon's eighth career game forcing five or missed tackles on the ground.
Gates pulled in all six passes thrown his way against the Jets, the first time he's caught every target in a game this season when he's been targeted more than twice. Gates was busy on the left side of the field, picking up three of his catches outside the left numbers when 10 or more yards down the field. His longest gain of 27-yards was when he got open on a tight end-throwback off of play action. He sneaked through the second level, getting lost as a presumed blocker before breaking free in the secondary to set the Chargers up in the red zone on their first touchdown drive.
Toomer only played 25 snaps against the Jets but he absolutely maximized his impact in that limited playing time. His five stops tied a season high but one stop in particular midway through the second quarter proved a crucial moment in such a tight game. He came free in the backfield thanks to Melvin Ingram's disruption up front and he stripped the ball away from Matt Forte just as the Jets were knocking on the door of the red zone. In a one-score game, that red-zone turnover ultimately could've been the difference as the Chargers sought to keep their playoff hopes alive.
Four stops for Addae against the Jets, a welcome return to form after he had recorded none in the last three games and only two since Week 10. After Week 10 Addae had already set a career high in stops and led all safeties with 23 stops but since then that production had dried up until today. His sack in the fourth quarter was his first since 2015 and he showed his early season form chasing down Austin Seferian-Jenkins and Matt Forte in the passing game for third-down stops in the second half as the Chargers' defense held firm for the win.

Top 5 Grades:
DI Mike Pennel, 86.8 overall grade
G James Carpenter, 86.3 overall grade
LB Demario Davis, 83.2 overall grade
RB Bilal Powell, 82.6 overall grade
Edge Jordan Jenkins, 81.4 overall grade
Performances of Note:
The Jets' offense was at times a one-man show with Bilal Powell ripping off a trio of big gains, often on broken plays, exploiting the Chargers' defense as it over pursued after having forced Powell to change the point of attack. The yards after contact numbers may look limited (88 of his 145 yards came before first contact) and he only broke two tackles but that can be attributed to Powell finding the space left by the Chargers' defense as they crashed the intended point of attack rather than clear chasms being opened by his offensive line.
A couple of shots to Petty's throwing hand early in the game might've hinted at an NFL debut for Christian Hackenberg but it never came. Instead the Jets saw another ineffective performance from Petty, with some of his better plays coming on the run as he escaped pockets as they broke down. Petty was pressured on 11 of his 34 dropbacks and when he wasn't under pressure had a passer rating of just 42.2, completing just 50 percent of those passes. For the season Petty's passer rating with no pressure is little better, at 43.2.
Entering Week 16, Pennel had racked up just 10 defensive stops in his first season with the Jets, an occupier rather than a producer at nose tackle. That changed this week, with the former Packer adding five stops to his season total, comfortably a season high and a career high to boot. Pennel spread his workload around the entire Chargers' interior but had plenty of joy against C Spencer Pulley in particular with three of his stops coming off blocks by Pulley.
A bounce back performance from Jenkins after a couple of rough outings. Jenkins picked up three hurries against the Chargers and added his first batted pass since Week 13 last season as a bonus. This marks just Jenkins' fifth career game with three or more pressures, his third this season.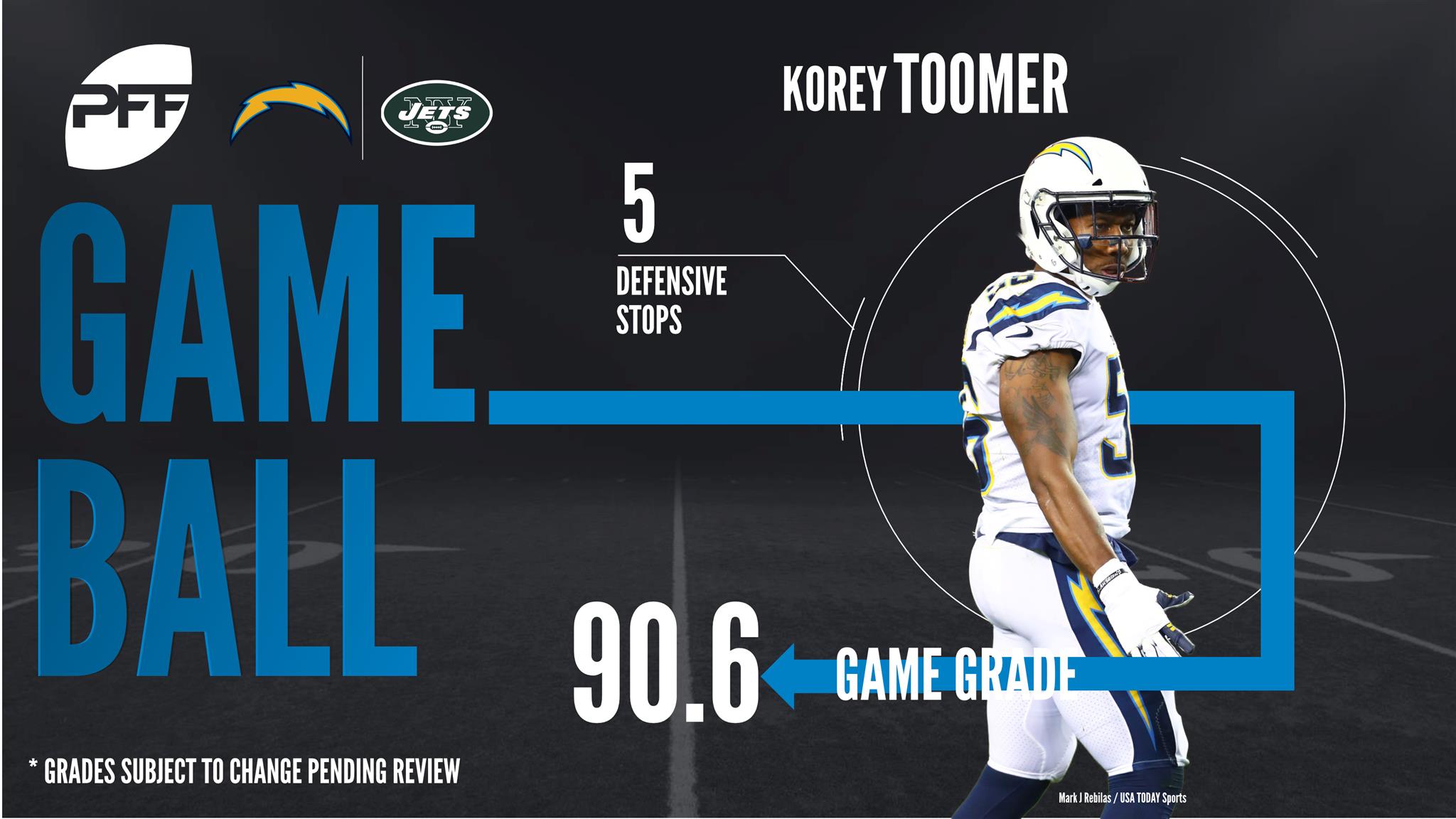 *Grades subject to change