The Jacksonville Jaguars defended their home turf, defeating the Seattle Seahawks 30-24 at EverBank Field.
QB Blake Bortles had 268 passing yards and two touchdown on just 27 attempts, good for 9.9 yards per attempt. RB Leonard Fournette topped 100 yards rushing for the first time in five weeks and added a touchdown as well. WR Keelan Cole caught one of Bortles' touchdowns and had 99 yards receiving. The Fournette and Cole scores helped build the Jacksonville lead to midway through the third quarter that Seattle was never able to top.
QB Russell Wilson had 271 yards and three touchdowns, but also had three intercceptions and was sacked twice. He did rush for 50 yards, helping the Seattle offense rush for 141 yards on the day. RB Mike Davis was Seattle's leading rusher at 66 yards. WR Tyler Locket caught a deep touchdown pass from Wilson and finished with 90 yards on four receptions. With that, we give you our PFF-exclusive takeaways from the contest for each team.

Top 5 Grades:
DI Malik Jackson, 92.6 overall grade
CB A.J. Bouye, 89.1 overall grade
LB Paul Posluszny, 84.0 overall grade
WR Marqise Lee, 81.0 overall grade
QB Blake Bortles, 80.6 overall grade
Performances of Note:
Bortles was especially sharp when his offensive line provided him with time to throw, as he completed 11-of-17 passes for 204 yards and had both of his touchdowns (good for a 145.2 passer rating) on throws coming without pressure. The fourth-year veteran also had success when he pushed the ball down field, connecting on seven of nine throws that traveled at least 10 yards in the air (including all three of his attempts that traveled at least 20 yards in the air) for 187 yards and both of his touchdowns.
Lee hauled in five of his six targets and gained 17 of his 62 yards after the catch, Bortles had a 109.7 passer rating when targeting the ex-USC receiver on the afternoon. Although Lee didn't make it into the end zone, he was instrumental in helping his offense move the chains, all five of his catches resulted in a Jaguars first down.
Over the past eight weeks of the season Malik Jackson has been playing more at the level he was with Denver than the good player he was last season. Against the Seahawks he produced one sack, a hit, and three hurries and was able to collapse the pocket with relative ease.
Bouye was stalwart in coverage. On his 36 coverage snaps, he was targeted seven times and gave up as many receptions as interceptions he had on the day, two a piece. Wilson threw for only eight yards into Bouye's coverage, and had a passer rating of 0.0 when he tried throwing his way.

Top 5 Grades:
QB Russell Wilson, 82.3 overall grade
S Bradley McDougald, 81.1 overall grade
WR Doug Baldwin, 79.0 overall grade
WR Tyler Lockett, 77.4 overall grade
C Justin Britt, 76.3 overall grade
Performances of Note:
Russell Wilson'd stat line looks like he had a very high highs and low lows, the first part of that actually was true. Wilson provided some big plays when the Seahawks needed it the most. Where most people will look at the interceptions as the flaw in Wilson's play, the biggest issue was his play under pressure. Eight of the 17 plays he was under pressure were due in part to his own style of play. While some games he can get away with it, against the Jaguars he only completed 42.9 percent of his passes for 91 yards.
Coming off a week where it looked like Mike Davis would be the lead back for the Seahawks, he led the Seahawks in carries and again gained over 40 yards after contact for a second straight week and forced 4 missed tackles. It looks like the Seahawks will be ending the season with Davis and McKissic spiting the work load.
From Weeks 1 through 13, McDougald was asked to line up as a linebacker on 35 percent of his defensive snaps; thanks to some injury issues though with the Seahawks' linebackers in Week 14 he spent 73 percent of his snaps against the Jaguars in a linebacker position, and he appeared to be up to the task. McDougald led Seattle's defense in terms of overall grade and he also led the team with five stops, giving him ten over the last two games.
Clark followed up his elite Week 13 performance (92.1 overall grade last week against the Philadelphia Eagles) with a bit of a dud against Jacksonville. Clark did earn three pressures on 22 pass-rush snaps (two hurries and a hit) but he didn't have much of an influence beyond those few plays, as he recorded no stops and missed a tackle. Clark has now failed to record a stop in four of his last five games (he had three against the Eagles) and he's on pace for just 17 this season after he notched 27 a year ago. Clark had a stretch in the middle of the season from Weeks 4-9 where he finished four out of five games with a grade of at least 79.0, him getting back to that level would go quite a ways as Seattle makes their playoff push.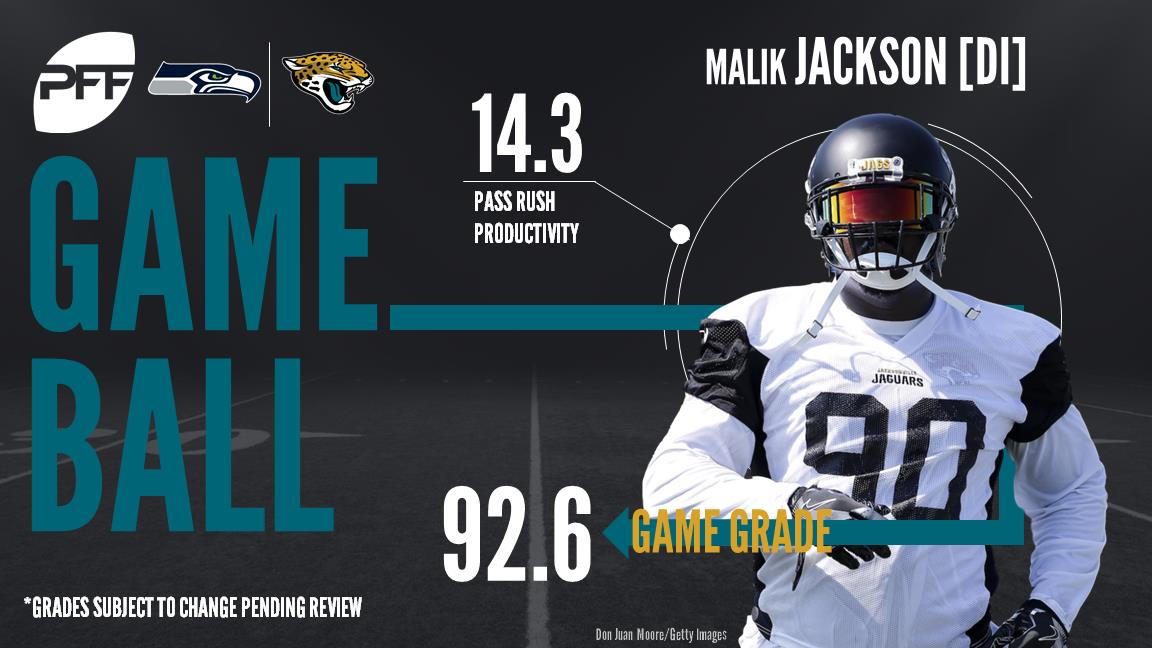 *Grades are subject to change upon review