A CB Justin Bethel 82-yard interception return for a touchdown and a field goal was all of the scoring in the first quarter. However, the Lions would come back in the second quarter to make it competitive, getting 6 points on a QB Matt Stafford to WR Marvin Jones Jr. for a touchdown (followed by a failed 2-point attempt) and a Matt Prater 58-yard field goal to close the half.
The Lions would dominate the scoring in the second half, with two WR Kenny Golladay receiving touchdowns and a S Miles Killebrew interception return for a touchdown. The Lions went on to win 35-23. With that, we give you our PFF exclusive takeaways from the contest for each team.

Top 5 Grades:
S Glover Quin, 87.7 overall grade
T Rick Wagner, 87.4 overall grade
QB Matthew Stafford, 85.8 overall grade
CB Quandre Diggs, 84.4 overall grade
CB Darius Slay, 83.2 overall grade
Performances of Note:
Stafford turned another fourth quarter comeback into a sudden blowout, as he caught fire when it mattered most. He dissected Arizona with his intermediate and deep passing, as he completed nine of 14 targets of at least 10 yards for 186 yards and two scores.
His grade may come as a shock to people just looking at the box score, but Golladay's career did not initially start well, as he dropped two early targets. With the game on the line in the fourth quarter, however, he came through in a big way with two game-sealing touchdown receptions. For the day he caught four of seven targets thrown his way for 69 yards, and Stafford enjoyed a 130.4 rating when targeting him, despite the drops.
Getting supplementary pass-rush support to Ziggy Ansah is critical to the success of Detroit's defense, and Zettel was excellent against the Cardinals. He notched a sack and four QB hurries, and also racked up three total defensive stops.
Diggs couldn't have played much better in coverage this afternoon, as he did not give up a reception on four throws into his coverage and broke up two of the attempts. He rounded out his day by notching a defensive stop and three solo tackles.

Top 5 Grades:
LB Haason Reddick, 82.6 overall grade
S Tyvon Branch, 82.5 overall grade
CB Patrick Peterson, 80.0 overall grade
CB Justin Bethel, 80.0 overall grade
QB Carson Palmer, 78.9 overall grade
Performances of Note:
Not a great game from the veteran quarterback, but a better one than a one-to-three touchdown-to-interception ratio would generally indicate. Palmer was hurt by three drops – including one on a ball he placed perfectly into Jermaine Gresham's hands in tight coverage in the end zone – and by an offensive line that couldn't keep pressure away. 18 of Palmer's 50 dropbacks had pressure on them, he compiled just a 20.1 passer rating on throws coming from those dropbacks.
Whenever Palmer was under pressure on Sunday afternoon, chances are it was Wetzel who was letting the pressure in. For the day, the left tackle from Boston College allowed ten total pressures (eight hurries, a hit and a sack) on 45 pass blocking snaps. He finished the afternoon with an 82.8 pass block efficiency rating (PBE measures pressure surrendered on a per-snap basis, weighting towards sacks) which ranked last – by a decent amount – among tackles at the conclusion of the early games.
It was a strong debut for Reddick, who racked up four total defensive stops and seven solo tackles. He also posted two quarterback hurries, and limited the Lions to an average of just 5.3 yards per reception into his coverage.
Bethel's day was the opposite of Stafford's as he was the beneficiary of the an errant pass that saw him finish the play in Detroit's end zone. By the time the game was over, however, he had surrendered two touchdowns, both of them to the rookie Golladay. On the day he was charged with six receptions on 10 throws into his coverage for a total of 98 yards receiving allowed.

PFF Game Ball: Matthew Stafford, QB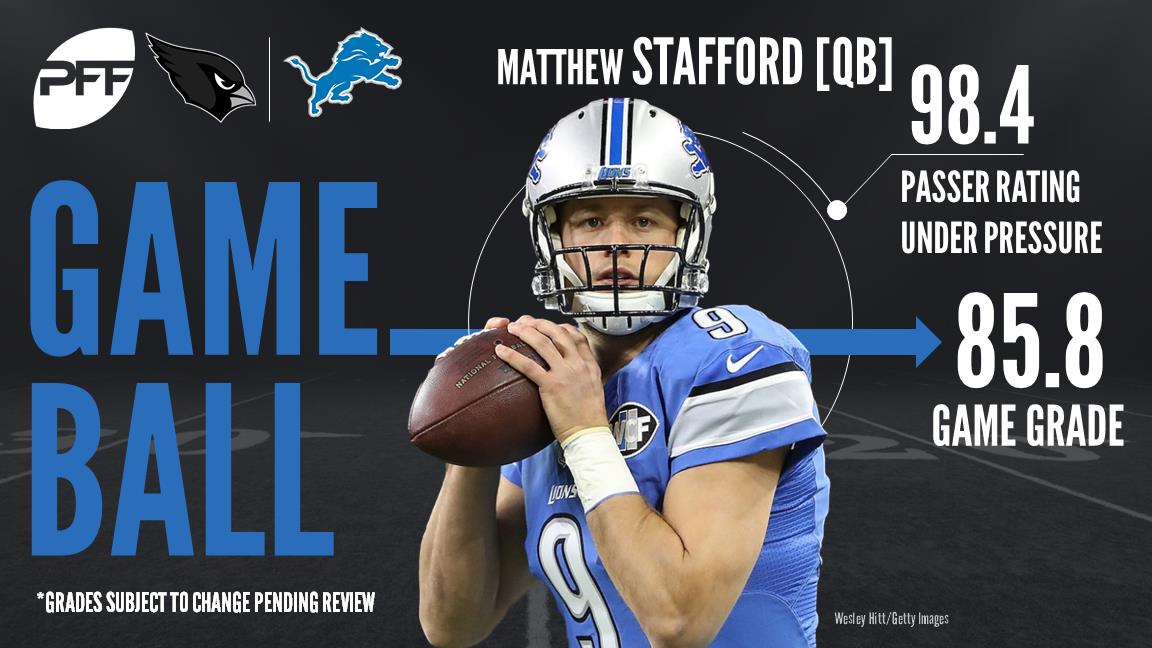 *Grades are subject to change upon review