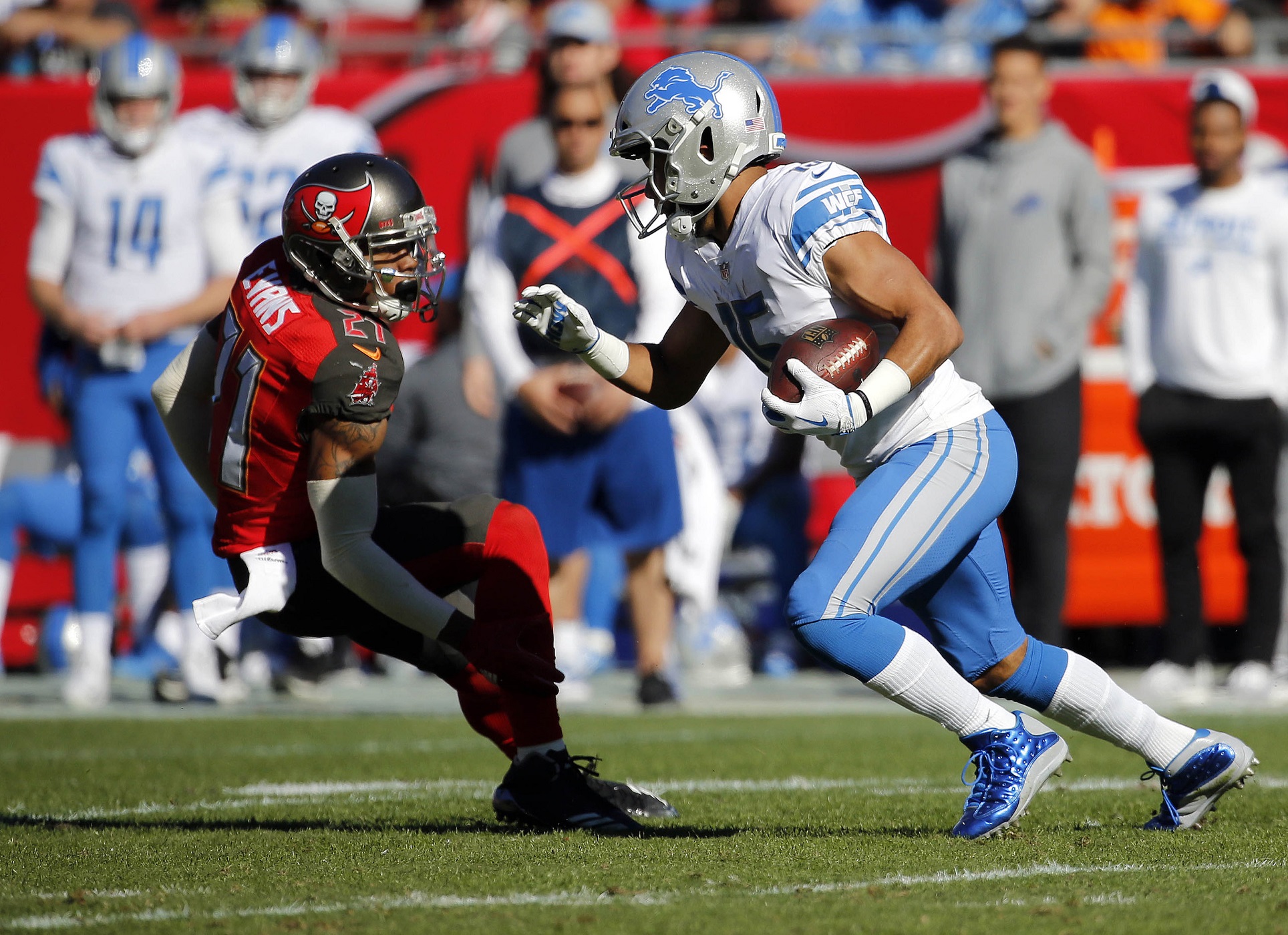 Dec 10, 2017; Tampa, FL, USA; Detroit Lions wide receiver Golden Tate (15) runs past Tampa Bay Buccaneers strong safety Justin Evans (21) during the first half at Raymond James Stadium. Mandatory Credit: Kim Klement-USA TODAY Sports
The Detroit Lions outlasted a strong fourth quarter effort from Jameis Winston and the Tampa Bay Buccaneers, to stay in the heart of the NFC playoff race with a 24-21 victory. Despite two interceptions, quarterback Matthew Stafford was able to throw for 381 yards and crucial completions on the game-winning drive late in the fourth quarter, setting up kicker Matt Prater for his game-winning 46-yard field goal with just :25 second remaining.
Winston also threw two interceptions but was able to toss two fourth quarter touchdowns to tie the game at 21 points apiece but it would not be enough in the loss. Lions running back Theo Riddick found the end zone two times on carries and the Lions emerged from Tampa with their crucial seventh victory on the season. With that, we give you our PFF-exclusive takeaways from the contest for each team.

Top 5 Grades:
WR Golden Tate, 87.0 overall grade
CB Darius Slay, 84.8 overall grade
G Corey Robinson, 84.4 overall grade
S Glover Quin, 83.5 overall grade
RB Theo Riddick, 78.9 overall grade
Performances of Note:
While TE Eric Ebron finished with a couple more catches and yards (and a drop and a fumble), it was actually Tate who had the more effective day. Tate gained two-thirds of his yardage after the catch and forced two more missed tackles to extend his lead among NFL wide receivers on the season.
Stafford completed 36 passes, his most in a game since the 2012 season. Even though those went for a ton of yardage, a lot of that came by his receivers. 33 of his 36 completions traveled nine yards or fewer through the air, yet totaled 308 yards. On intermediate and deep passes, Stafford was just three of seven, including two bad interceptions that looked more due to poor decisions rather than they should be attributed to his hand injury.
Slay continued his great play as one of the NFL's premier cornerbacks. Slay came up with a fumble recovery on an O.J. Howard fumble that took points off of the board for the Buccaneers. Also in 42 snaps in coverage, Slay was targeted eight times, allowing four catches for 64 yards. Slay also added in a pass breakup and an interception. Slay allowed a passer rating of only 37.5 when targeted.
Glover Quinn continued his 2017 campaign as one of the best safeties in the game on Sunday in Tampa Bay. Quinn was solid in coverage, allowing three catches on four targets for 21 yards, but really showed up in run defense. Quin was responsible for seven tackles and one assist, two of which were for stops. Quin finished with a 90.7 run-defense grade, which led the team.

Top 5 Grades:
Edge Robert Ayers, 84.4 overall grade
CB Brent Grimes, 82.1 overall grade
CB Robert McClain, 81.9 overall grade
RB Peyton Barber, 80.6 overall grade
LB Lavonte David, 80.0 overall grade
Performances of Note:
Although Barber did not start this game, he was easily the Buccaneers' most effective runner. Barber split carries with Doug Martin and gained 58 yards on 12 carries. 50 of Barber's 58 yards rushing came after contact. Barber's most effective run of the day set up the tying touchdown. He cut out of the intended hole then powered his way to the two yardline for a 16-yard gain. Barber looks to be the Buccaneers best back at the moment with Martin struggling coming back from injury.
Winston continued his struggles taking care of the ball again, with a badly thrown ball that was intercepted by Darius Slay and an inexcusable fumble where he was trying to avoid a sack and was stripped while trying to get the ball off while being wrapped up by Jarrad Davis. Winston's second interception was a forced throw to a blanketed O.J. Howard that was nowhere close to Howard. The overthrow was easily picked off by Quandre Diggs. Winston struggled under pressure especially, taking three sacks on nine dropbacks and averaged 3.0 yards per attempt.
WIthout Gerald McCoy, who left due to injury, Ayers saw an increase in his snaps along the interior of the defensive line. He took advantage of the opportunity, giving Graham Glasgow more than he could handle in pass protection. Ayers had three hits and four hurries, one of which was nullified because of a holding penalty that he caused on Glasgow. Ayers produced his second-most total pressures in a game this season.
Interesting game for David, who struggled in coverage with a couple missed tackles and over-pursues, allowing nine catches for 90 yards. However, he also forced and recovered a fumble on Ebron that helped mitigate some of the downgrades he received in coverage, and also had a team-high five defensive stops.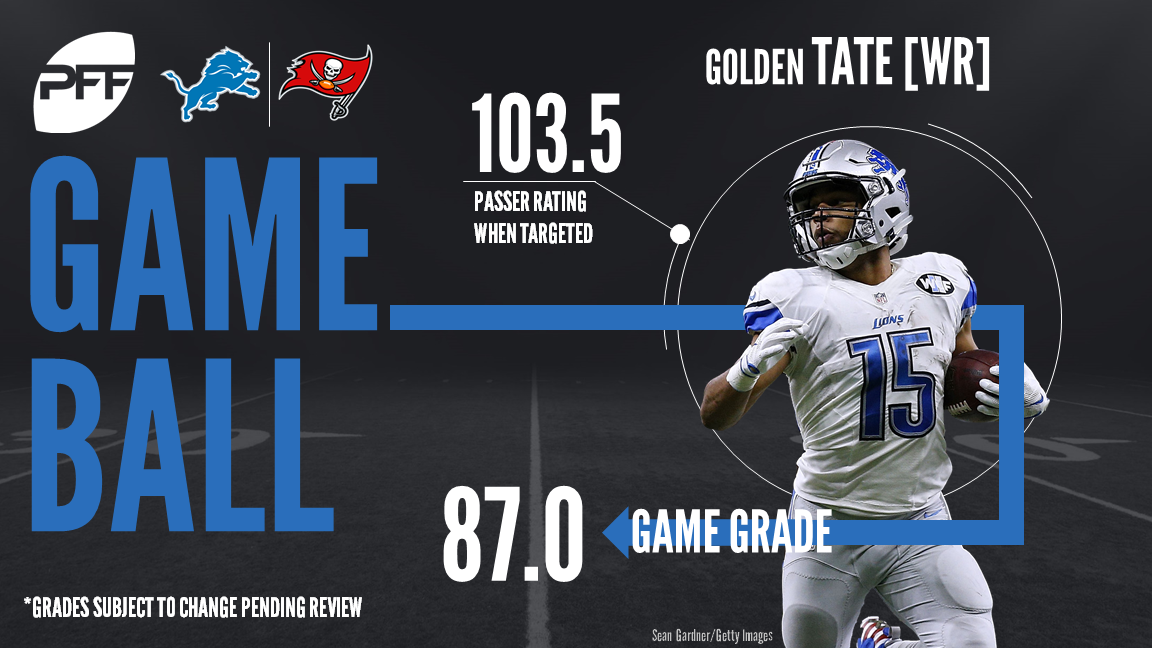 *Grades are subject to change upon review