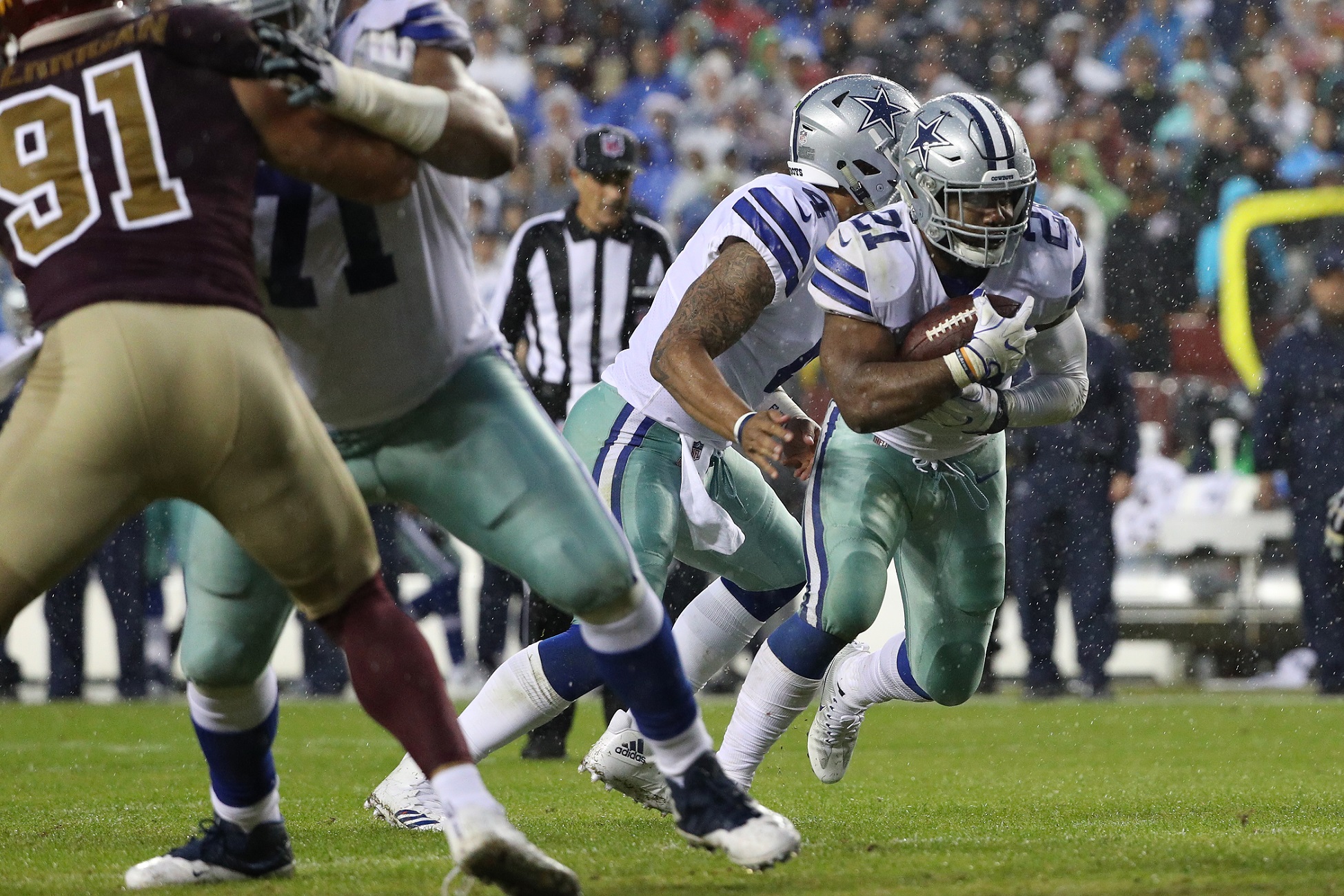 LANDOVER, MD - OCTOBER 29: Running back Ezekiel Elliott #21 of the Dallas Cowboys scores a touchdown against the Washington Redskins during the second quarter at FedEx Field on October 29, 2017 in Landover, Maryland. (Photo by Patrick Smith/Getty Images)
The Dallas Cowboys went to FedExField and came out with a victory against the Washington Redskins, 33-19.
QB Dak Prescott was relatively quiet on the day, but the offense had no problem rolling through RB Ezekiel Elliott, who ran for 150 yards and two scores on 33 carries. Overall, the Cowboys defense wasn't particularly stellar on the day, but they were good enough to limit Washington's scoring.
RB Chris Thompson and WR Jamison Crowder enjoyed good offensive performances for Washington, both chewing up plenty of yards for the offense. QB Kirk Cousins was on his way to a solid statistical day, however their attempt at a game tying drive ended with an interception that was returned for a touchdown for Dallas, sealing the outcome of the game. With that, we give you our PFF exclusive takeaways from the contest for each team.

Top 5 Grades:
C Travis Frederick, 88.6 overall grade
LB Sean Lee, 86.4 overall grade
Edge DeMarcus Lawrence, 86.1 overall grade
CB Orlando Scandrick, 83.0 overall grade
G Zack Martin, 82.4 overall grade
Performances of Note:
The Cowboys went run heavy in the bad weather, and the play from the offensive line, but especially Frederick, led Ezekiel Elliott to a 150 yard rushing game. This game was more about the strength of the offensive line rather than the play of Elliott. Frederick was able to dominate the middle of the defense with his reach blocks to open up lanes for Elliott to run in.
Prescott struggled in the rain and wind but he was able to keep things moving on short passes. He had some misses that nearly put the Cowboys into bad situations and anytime he threw the ball over 20 yards he missed. When Washington was able to pressure Prescott, he only completed three passes on seven attempts.
Sean Lee notched another solid game, which shouldn't be a surprise since he's one of the best linebackers in the league when healthy. His pass-coverage grade of 86.3 was tops on the team, as he was targeted six times and allowed five catches but for only 11 yards. Lee also did his part in the run game, contributing three stops on a day where Dallas limited Washington to 49 yards on 14 carries.
The third-year pro out of Boise State tallied four more pressures on the day, bringing his season total to an impressive 37 through seven games. He ended with a game-high pass-rush grade of 86.7 and took advantage of Washington's makeshift offensive line. Lawrence did most of his work from the left side, recording three pressures on 27 snaps.

Top 5 Grades:
Edge Preston Smith, 83.0 overall grade
CB Josh Norman, 80.7 overall grade
RB Chris Thompson, 80.1 overall grade
WR Jamison Crowder, 78.3 overall grade
QB Kirk Cousins, 77.2 overall grade
Performances of Note:
It was an up and down day for the Washington quarterback. After completing a few nice passes in the first half, he wasn't as accurate in the second, especially down to the wire on their last drive. Weather certainly played a role as receivers dropped four of his passes and he ended with an adjusted completion percentage of 66.7 percent. Cousins was surprisingly better while under pressure, completing 7-of-11 for 112 yards and a touchdown compared to 19-of-28 for 151 yards when given time in the pocket.
Crowder was Cousins' favorite target and was thrown at 12 times, he caught nine of those for 123 yards. It was by far Crowder's best game of the season, as his previous high in receiving yards was 52 yards in Week 3. Crowder was utilized often in the screen and quick passing game, as six of his nine catches came on passes that were thrown less than 10 yards through the air.
With Washington being gashed in the run game, the pass-rush up the middle failed to get any push. However, the edge defenders still were productive. Preston Smith recorded 4 pressures against Tyron Smith and Ryan Kerrigan recorded two sacks and a pressure.
Zach Brown is on his third team and Washington are getting the best out of Brown. While there definitely a few questionable plays on film, Brown is able to used his speed in the run game to make an impact. Brown recorded five stops on 38 run snaps and eight tackles overall in the run game.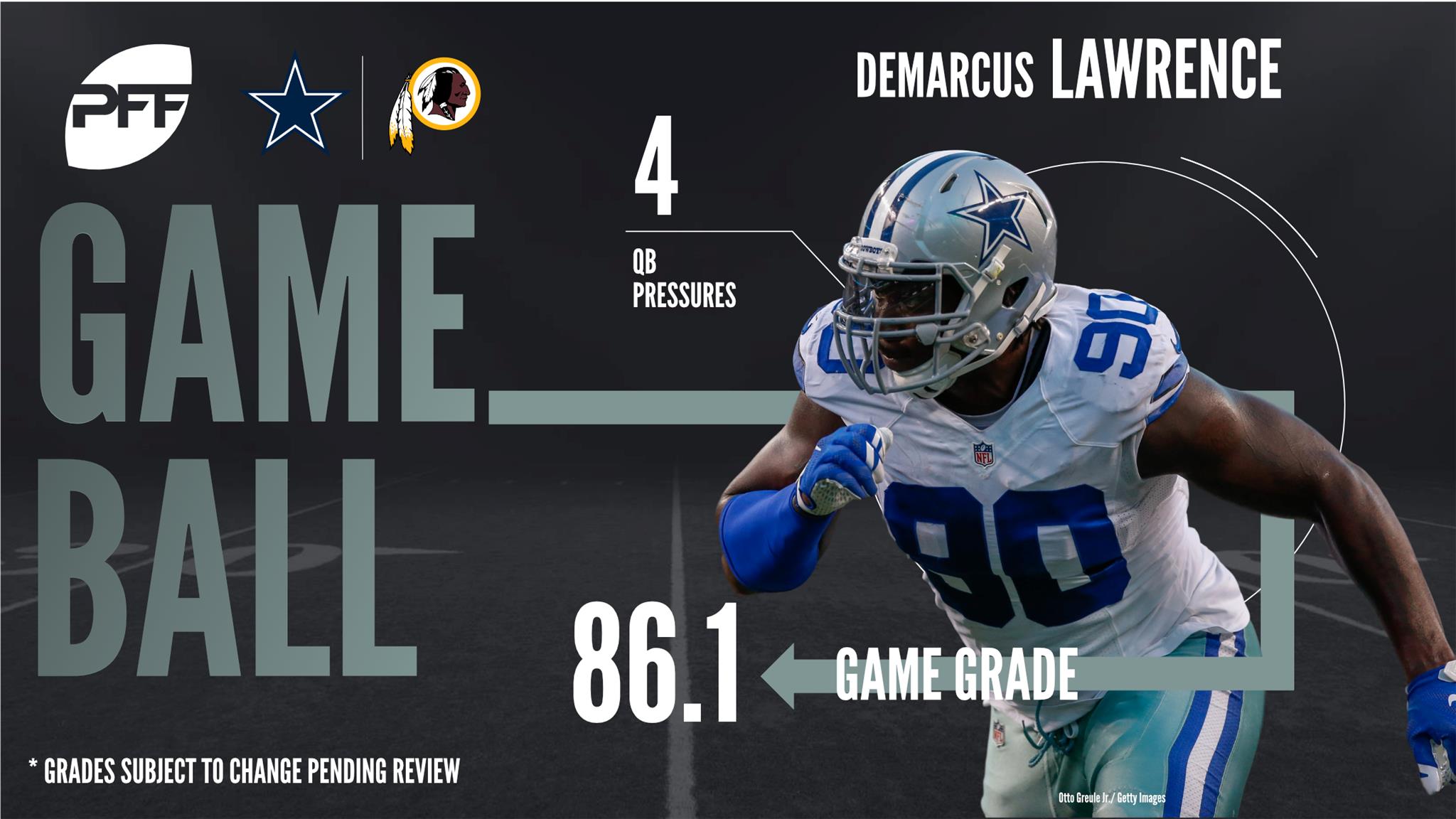 *Grades are subject to change upon review