The Dallas Cowboys were able to come away with a 20-17 victory over the Oakland Raiders at Oakland Alameda Coliseum after a late Raider drive came up short.
QB Dak Prescott was 18-of-27 for 212 yards, and although he threw two interceptions, he also had a rushing touchdown. RB Alfred Morris had 61 yards on 16 carries, leading the team. WR Dez Bryant led the team in receiving yards with 59, albeit on only two catches.
QB Derek Carr was 21-of-38 for 171 yards with two touchdowns, good for only 4.5 yards per attempt, and the game was decided when he fumbled out of the end zone for a Cowboys touchback. RB Marshawn Lynch had 76 rushing yards on 16 carries and contributed 16 yards receiving as well.
WR Michael Crabtree caught both of Carr's touchdown passes and drew an important penalty that put the Raiders well within range to tie the game before Carr's fumble. With that, we give you our PFF-exclusive takeaways from the contest for each team.

Top 5 Grades:
CB Anthony Brown, 92.7 overall grade
LB Sean Lee, 88.8 overall grade
Edge DeMarcus Lawrence, 86.6 overall grade
QB Dak Prescott, 85.7 overall grade
S Jeff Heath, 85.1 overall grade
Performances of note:
In the Cowboys' final game without Ezekiel Elliott, they struggled to run the ball very well. There were a couple times where the offensive line opened up big running lanes for Morris and Rod Smith, but the Raiders defensive front held their own. Morris averaged just two yards after first contact and forced one missed tackle, while Smith had 13 yards after contact on seven carries for 13 total yards.
If you look a traditional stats, it may look like a mediocre night for Prescott, but that doesn't quite tell the whole story. One of Dak's interceptions was not his fault, as his arm was hit during his throwing motion, and he was perfectly on point on a couple deep passes that his receivers just weren't able to haul in. He also scored a touchdown on a scramble, and had a couple other nice runs that picked up first downs or good yardage.
Brown played perhaps his best game as a Cowboy. He was targeted seven times and gave up three catches for 56 yards but added three pass break ups. The trio of Brown, Chidobe Awuzie, and Jourdan Lewis were targeted a combined 21 times and surrendered 12 catches for only 109 yards.
Lee impressed once again and played a well rounded game. He recorded a coverage grade of 86.8 and was stout against the run, recording four stops and earning a grade of 82.0. The Cowboys defense is noticeably better with Lee at the helm and they'll be hoping he continues to stay healthy going forward.

Top 5 Grades:
CB T.J. Carrie, 86.1 overall grade
DI Eddie Vanderdoes, 83.7 overall grade
LB Nicholas Morrow, 82.9 overall grade
C Rodney Hudson, 82.6 overall grade
S Karl Joseph, 81.9 overall grade
Performances of note:
Hudson was the Raiders top-graded offensive player, as he didn't allow a pressure on 45 pass-blocking snaps and led the way in the run blocking department with a grade of 81.8. Hudson has had a good season for Oakland, surrendering only one pressure on the season.
It was a tough night for the Raiders quarterback, he didn't seem to be on the same page as his receivers on a couple of occasions and had a drive to forget on Oakland's last possession. Driving to tie or win the game, Carr threw a pass directly to CB Anthony Brown which resulted in a dropped interception, and then fumbled through the end zone on a scramble, the fumble all but ended their playoff chances. Carr had little luck getting the ball downfield with success, completing 3-of-12 passes for 47 yards on throws traveling 10 or more yards, which led to a underwhelming 4.5 yards per attempt.
Carrie bounced back from one of his lesser performances of the season last week to have a solid night in coverage tonight. On 37 coverage snaps, he was targeted just three times, breaking up two passes and allowing just one 13-yard catch to Jason Witten.
Mack led the team with five total pressures, including two sacks, and added a sixth pressure that was nullified by a holding penalty. He wasn't always beating the offensive linemen as quickly and early into the play as we often see from him though. He added four tackles for stops in run defense, but also allowed an 18-yard pass on the one snap he dropped into coverage.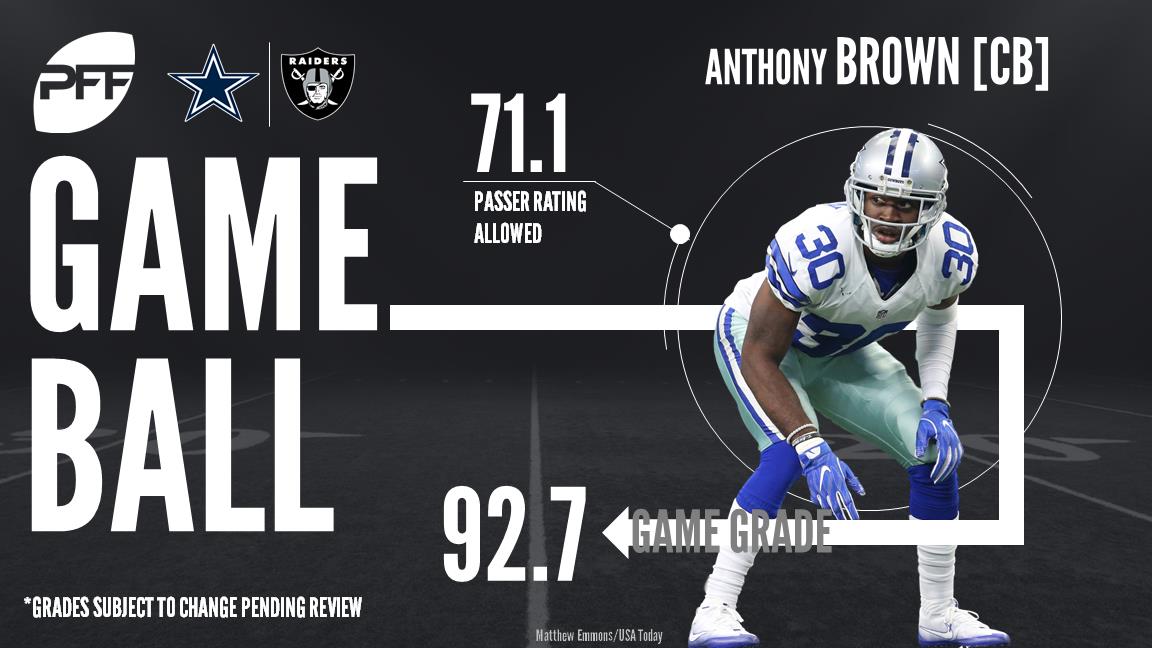 *Grades subject to change