The Bengals snapped a 10 game losing streak in Sports Authority Field at Migh High, defeating the Denver Broncos 20-17. The game was marked mostly by defensive struggle, with no offensive player putting up a huge statistical game.
The closest to doing so was QB Brock Osweiler, with 254 yards and a touchdown. However he averaged only 6.0 yards per attempt and also threw an interception. No Bronco running back average more than 3.1 yards per attempt.
No Bengals running back managed to average more than 2.5 yards per attempt. QB Andy Dalton only managed to average 6.2 yards per attempt and 154 yards overall, although he did have three touchdowns and no turnovers.
Dalton's third touchdown, with WR A.J. Green on the receiving end, proved to be the difference in the game, as although the Broncos managed to respond with their lone passing touchdown of the night, the Bengals lead managed to hold. With that, we give you our PFF exclusive takeaways from the contest for each team.

Top 5 Grades:
LB Vontaze Burfict, 89.9 overall grade
S Josh Shaw, 84.6 overall grade
DI Geno Atkins, 83.1 overall grade
QB Andy Dalton, 81.2 overall grade
DI Ryan Glasgow, 81.1 overall grade
Performances of Note:
Dalton completed 13-of-19 passes for 140 yards and all three of his touchdowns on throws coming without pressure, good for a 129.4 passer rating. Dalton was especially effective throwing to an area that's given him trouble all season long, deep and to the left: coming into the game he was 0-of-7 on throws targeted 20-plus yards downfield outside of the left numbers; on Sunday he went 3-of-4 on throws to that area of the field for 76 yards and two of his touchdowns.
Andy Dalton had a 119.0 passer rating when targeting his star wide receiver on the afternoon, as the two hooked up for four receptions on seven targets, with all four catches coming against a different coverage defender. All four of Greens' receptions resulted in either a Bengals first down or touchdown.
Vontaze Burfict was all over the field in the run game, he recorded six stops in the run game on 27 run snaps and added a stop in the pass game and a sack. On top of that Burfict only missed one tackle.
Shaw was matched up with multiple receivers in the slot and was able to shut down whoever he was across, just allowing two catches on four targets and 17 yards and knocked down a pass.

Top 5 Grades:
DI Derek Wolfe, 86.0 overall grade
DI Adam Gotsis, 85.0 overall grade
DI Domata Peko Sr., 83.8 overall grade
LB Brandon Marshall, 83.4 overall grade
G Ron Leary, 81.0 overall grade
Performances of Note:
When Osweiler had time in the pocket he completed 64.5 percent of his passes for 210 yards. When he was pressured (which was just 16 dropbacks) he only completed three passes for 44 yards but he did record his only touchdown of his game when under pressure.
With Broncos offense struggling all season, one of the few bright spots has been the play of free agent pick up Ron Leary. Leary once again allowed no pressures for the sixth time this season.
Wolfe combined with Domata Peko Sr. to tally nine run stops on the afternoon (four for Wolfe) with each player seeing 17 snaps in run defense. Wolfe also earned three pressures (one hurry, one hit and one sack) on 21 pass-rush attempts. Week 11 was his fifth game of the season with multiple pressures.
Already mentioned above that Peko notched five run stops on the afternoon, he also tacked on two more in coverage, snuffing out two Bengals screen passes. Peko has enjoyed a bit of a resurgence since signing on with the Broncos, he currently owns a 79.1 overall grade for the season after posting grades ranging from 43.0-50.6 over the last four seasons. He's recorded 19 stops for Denver on 339 defensive snaps this season, the last time he had more than 20 stops in a season (23 in 2014) it took him over 700 snaps to earn them.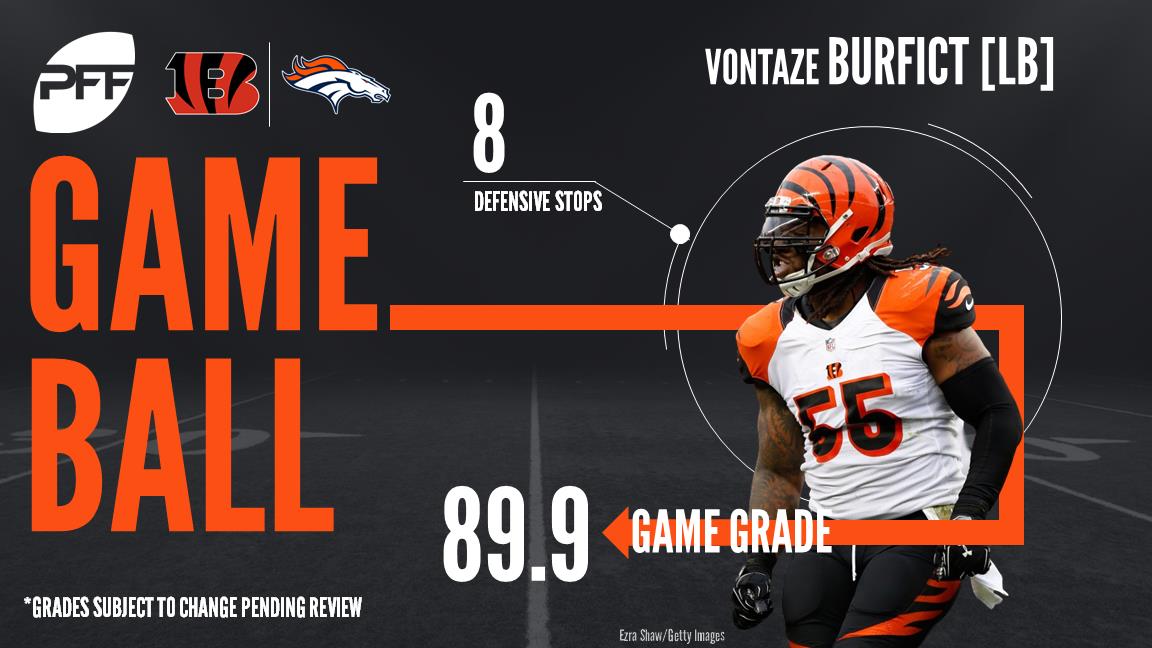 *Grades are subject to change upon review