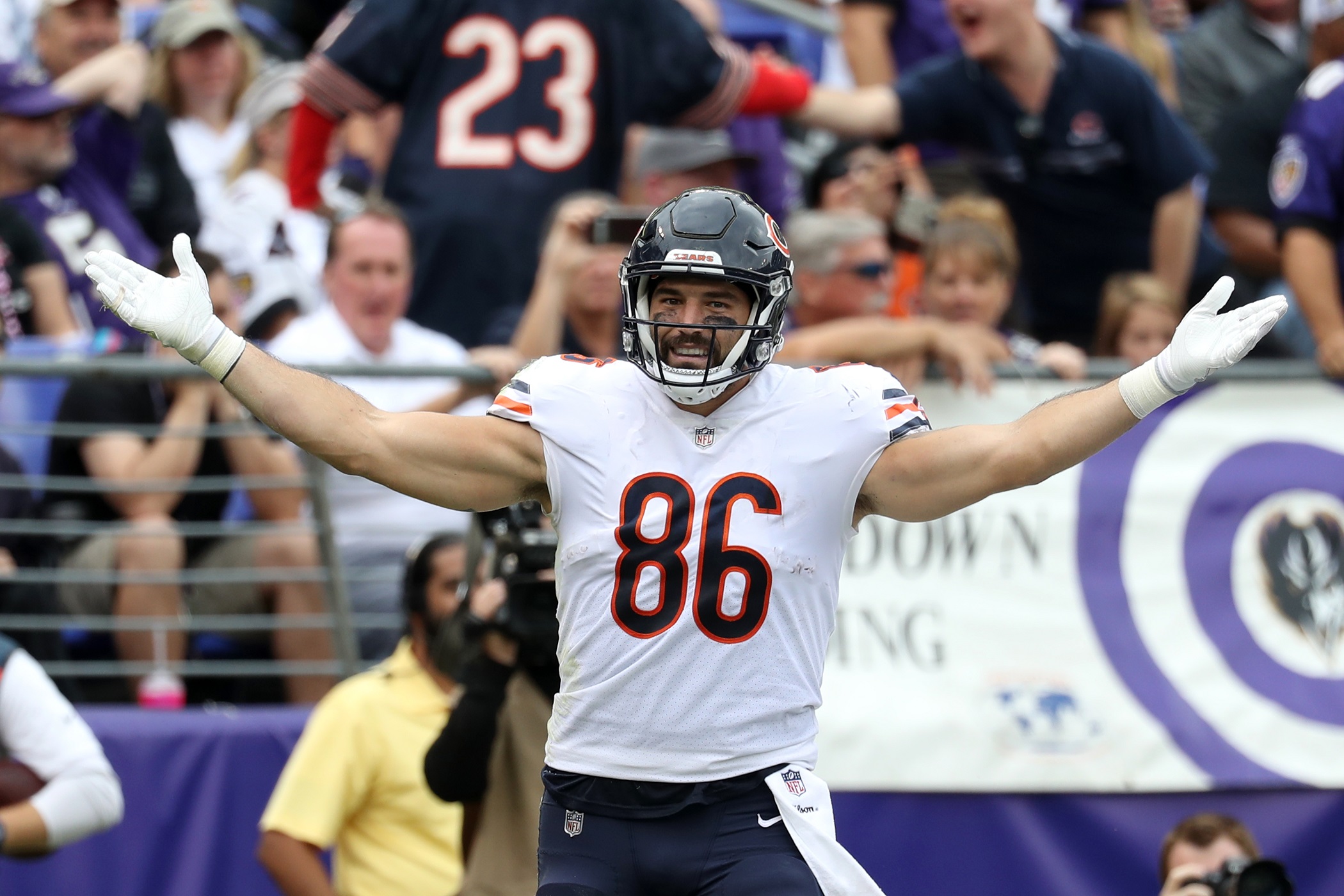 BALTIMORE, MD - OCTOBER 15: Tight End Zach Miller #86 of the Chicago Bears celebrates after scoring a touchdown in the second quarter against the Baltimore Ravens at M&T Bank Stadium on October 15, 2017 in Baltimore, Maryland. (Photo by Rob Carr/Getty Images)
In rookie, second overall pick Mitchell Trubisky's first career road start, the Chicago Bears and Baltimore Ravens battled to overtime in a thrilling early game matchup. Connor Barth kicked the game-winner late in the overtime period, as he both opened and closed the scoring on the day for the 27-24 Chicago victory.
Trubisky and the Bears opened up a late 11-point lead on the heels of a Dion Sims 27-yard touchdown pass from the former UNC quarterback but it was the return game that stole the show in the second half.
Bears S Adrian Amos recorded a 90-yard interception return for a touchdown while the Ravens got two returns of their own, from their special teams. RB Bobby Rainey ran back the ensuing kick from the Trubisky-Sims touchdown, 96 yards for a score and WR Michael Campanaro returned a punt 77 yards for a touchdownw tih just 1:37 left in the fourth quarter. A Joe Flacco to Nick Boyle 2-point conversion pushed the game to overtime before Barth finished the game off late in the extra frame with a 40-yard field goal and the win. With that, we give you our PFF exclusive takeaways from the contest for each team.

Top 5 Grades:
CB Kyle Fuller, 88.9 overall grade
DI Akiem Hicks, 85.4 overall grade
S Adrian Amos, 84.6 overall grade
CB Bryce Callahan, 84.5 overall grade
DI Mitch Unrein, 81.4 overall grade
Performances of Note:
Trubisky was extremely conservative throughout the game, as six of his 17 attempts were throw-aways, five of them coming on his first eight throws. He was also charged with two hits because of his extended plays and scrambling into pressure, but the Bears have to be pleased with the fact he attempted no turnover-worthy throws.
Sims and Miller each contributed a touchdown through the air, but both had significant struggles blocking Baltimore's edge players in the run game. Sims posted a run blocking grade of just 37.7, while Miller wasn't much better at 40.5. Considering their issues outside, its no surprise to find out that Chicago backs posted just 38 yards on 18 edge runs while actually earning 46 yards after contact on those carries.
Fuller had a magnificent game as he was targeted 15 times and yielded five receptions for 45 yards, 32 of which came after the catch. It was Fuller's ability to contend and break up passes thrown to his coverage which helped Chicago's defense control get Baltimore's offense off the field. Fuller's pass deflection led to the aforementioned Amos' interception return for a touchdown as well.
Hicks had two stops in run defense while having a sack and pressure rushing the passer. Hicks and Chicago's pass-rushing ability to beat their blocker assigned to them forced Flacco to look for shorter passes to avoid the rush.

Top 5 Grades:
OT Ronnie Stanley, 87.5 overall grade
DI Michael Pierce, 82.7 overall grade
Edge Terrell Suggs, 78.0 overall grade
LB C.J. Mosley, 75.7 overall grade
CB Brandon Carr, 75.2 overall grade
Performances of Note:
QB Joe Flacco, 61.8 overall grade
Flacco finished 24-of-41 with two drops and two interceptions. Neither of those interceptions were of his error as one a receiver error and the other came via a deflection off of a pass defense by Kyle Fuller. Flacco was 0-for-3 on passes of 20 yards or more and did not complete a pass using play action.
Stanley allowed only one pressure on 45 snaps protecting the quarterback. He also did a nice job run blocking for the Ravens as evidenced by his 82.6 run block grade. Offensively the Ravens struggled to move the ball consistently and although they had some nice runs they just could not find rhythm through most of the game.
Pierce was his usual dominant self inside, posting a run defense grade of 84.1. He posted six total run stops on the day, and also added a quarterback hurry on just 12 pass-rush snaps.
Suggs was one of the chief reasons that Chicago tight ends struggled so much on run blocks, as he posted a game-high 89.7 run defense grade. He was also effective on the pass-rush, as he racked up a sack and four total pressures.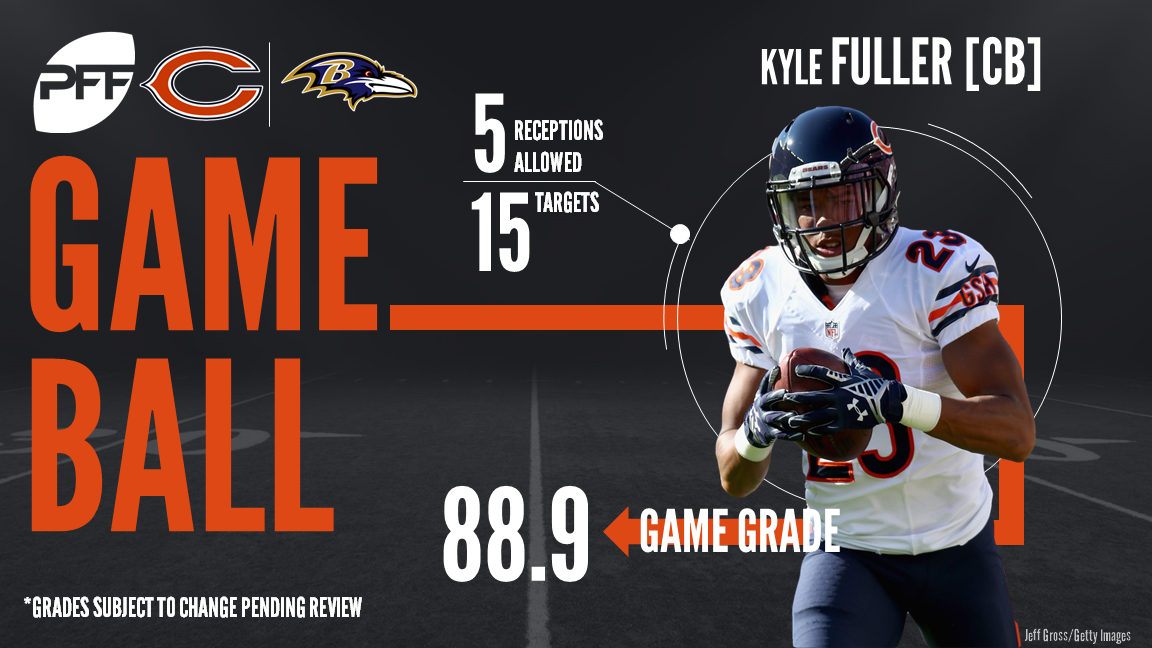 *Grades are subject to change upon review