Led by former NFL MVP quarterback Cam Newton, the Carolina Panthers dismantled the Miami Dolphins 45-21 on Monday Night Football, pushing their record to 7-3 and stating their claim as possibly the NFC South's best team to cap an eventful Week 10 of the NFL season. Newton tossed four touchdown passes, three in the second half including two to wide receiver Devin Funchess, the first of which started the rout.
With a lead of just 17-7 coming out of the halftime break, the Panthers needed just eight plays to gain 78 yards and score a touchdown on the opening possession of the third quarter. The 22-yard connection from Newton to Funchess pushed the lead to 24-7 and Carolina would not look back, scoring touchdowns on their first four possessions of the second half. Despite a late touchdown to make the score more respectable, this one was all Panthers.
Newton finished the day completing 21-of-35 passes for 254 yards and four touchdowns while veteran running back Jonathan Stewart proved he's got plenty left in the tank, totaling 110 yards on 17 carries while his cast behind him in Cameron Artis-Payne and Christian McCaffrey each ran for a score.
It wasn't all bad for the Dolphins on Monday night however, as they saw running back Kenyan Drake break loose for a 66-yard rush touchdown in the third quarter, but down by so much, the load was shifted to QB Jay Cutler's right arm, and ultimately out of reach. Cutler threw for 213 yards and two touchdowns, one of which came late to Jarvis Landry with the game well in hand. With that, we give you our PFF exclusive takeaways from the contest for each team.

Top 5 Grades:
DI Kawann Short, 87.6 overall grade
RB Christian McCaffrey, 85.5 overall grade
T Matt Kalil, 85.1 overall grade
QB Cam Newton, 83.3 overall grade
S Mike Adams, 83.2 overall grade
Performances of Note:
Christian McCaffrey had only 50 yards from scrimmage on Monday Night but it was the way he able to get them was impressive, forcing four missed tackles against a Miami defense that was on its heels all game. McCaffrey has been quite the weapon for the Panthers, notching 57 catches and forcing 22 total missed tackles through 10 games.
Cam Newton caught fire in the second half when he was on target with most of his throws and found gaping holes in the run game. Aside from forcing a throw in the red zone and the dropped interception by Dolphins safety T.J. McDonald, Cam played similar to his 2015 form when he was the MVP. When given time, he made the Dolphins pay, going 16-of-25 for 203 yards with three touchdowns. He ended with 254 passing yards but that could have been more inflated had his recievers not dropped four passes on the night.
Short put on a clinic in run defense on Monday night, earning a 92.5 run defense grade. Outside of Kenyan Drake's 66-yard touchdown run – which Short was not on the field for – the Dolphins weren't able to get anything going on the ground, as Short was one of the biggest reasons why. Short tallied four run stops on the night and his 33.3 run stop percentage in Week 10 led all interior defenders.
Adams had a solid night in coverage, highlighted by a nice pass breakup on Miami's first play in the fourth quarter. He also recorded two stops on Monday – one in coverage and one against the run – making it the third game in a row he's recorded multiple stops. Adams is currently just one of five safeties this season to have recorded at least 16 stops while missing four or fewer tackles.

Top 5 Grades:
G Jermon Bushrod, 81.5 overall grade
DI Ndamukong Suh, 79.6 overall grade
T Jesse Davis, 74.3 overall grade
Edge William Hayes, 74.0 overall grade
CB Cordrea Tankersley, 73.8 overall grade
Performances of Note:
This was an ugly one from the veteran quarterback, who was probably fortunate to finish Monday night with only one interception. Cutler moved around quite a bit in the pocket on MNF and it often led to unset, inaccurate throws, some just sailing over open receivers. He especially struggled throwing to the left side of the field as he completed just 3-of-11 passes to the left that traveled beyond the line of scrimmage for just 33 yards and an interception, giving him a microscopic 1.7 passer rating on those 11 throws.
Parker hauled in 6-of-9 targets with 20 of his 66 yards coming after the catch, and three of his catches resulting in a Dolphins first down. Many thought 2017 would be a breakout season for the former first-round pick and so far it's looking like a good prediction, Parker has finished just one game this season with a PFF grade below 70.0 (69.5 in Week 3).
Perhaps the lone bright spot for a Miami defense that surrendered 294 rushing yards, Suh was the only Dolphins defender to grade above 75.0 against the run. He contributed two pressures rushing the passer as the Dolphins front was held in check throughout the game in that department. The Dolphins missed a total of 11 tackles on top of struggling to maintain their gaps throughout the game led to a performance they'd like to forget.
As stated above, it's hard to take away many positives from the Dolphins defensive outing. William Hayes did make contributions in both facets of defense, recording two pressures and notching two stops in the run game. Both Suh and Hayes were the only two Dolphins to record a pass rush grade above 72.0 as Cam Newton was only under pressure on 10 of his drop-backs.
PFF Game Ball: Cam Newton, QB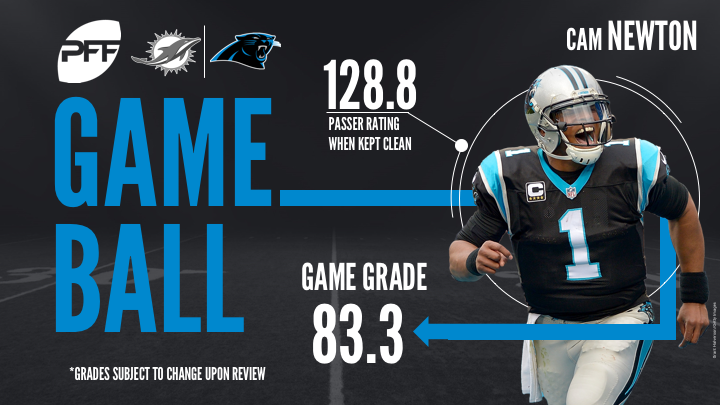 *Grades are subject to change upon review