Quarterback Dak Prescott and the Dallas Cowboys looked sharp in the first nine minutes of their game against the Atlanta Falcons on Sunday afternoon as rookie safety Xavier Woods intercepted Falcons QB Matt Ryan on their first possession. However, after Prescott would rush in an 11-yard touchdown run with 6:52 remaining in the first quarter, that would be the last seemingly positive thing for the Dallas faithful in this one.
Atlanta rattled off 27 consecutive points in a strong performance, including two Ryan passing touchdowns, one to Justin Hardy and Austin Hooper. Despite losing star RB Devonta Freeman in this one, the second half of the Falcons rushing attack found the end zone and several creases all game as Tevin Coleman rushed for 83 yards on 20 carries and a touchdown.
The highlight of the day, and perhaps the defensive highlight of the year so far, however will steal the story of this matchup between two NFC heavyweights as Falcons defensive end Adrian Clayborn completely dominated the Cowboys offensive line, to the tune of six sacks and a multitude of other strong plays against an unmatched Dallas offensive line. With that, we give you our PFF exclusive takeaways from the contest for each team.

Top 5 Grades:
Edge Adrian Clayborn, 99.9 overall grade
LB Deion Jones, 87.7 overall grade
TE Austin Hooper, 86.7 overall grade
CB Desmond Trufant, 85.4 overall grade
QB Matt Ryan, 83.8 overall grade
Performances of Note:
Ryan looked sharp for the third straight week, throwing the ball accurately and maneuvering the ball well. His first pass was intercepted though it was on an unlikely bounce, and that's been the story of the season for Ryan to this point. He converted a number of key first downs with his best work coming at the intermediate level in between the numbers where he finished 5-for-5 for 77 yards and one of his two touchdowns. Ryan was sharp in the short game as well, going 15-for-17 for 110 yards and a touchdown on passes thrown 0-9 yards in the air.
Hooper caught all six of his targets for 49 yards while providing one of his better run blocking efforts of the season. He got to the second level for key blocks in Atlanta's zone scheme while also getting out in front for a key block on an end around that lead to a big gain. Hooper was one of many Falcons who executed well in an excellent team effort offensively.
The chief beneficiary of Tyron Smith's injury was Clayborn, who notched six sacks, but also a hit and six additional hurries, first against Chaz Green and then against Byron Bell once Green had been benched. Clayborn made a sequence of monster plays in the game, and was completely outclassing the players tasked with trying to block him.
Deion Jones was quick to fly to the football throughout this game, making multiple tackles for loss and on screen plays when the Cowboys tried to get around the relentless pressure they were under and get the ball in behind it. Jones finished with a pair of defensive stops and deflected a pass at the line to cause an incompletion.

Top 5 Grades:
LB Anthony Hitchens, 84.8 overall grade
S Byron Jones, 81.1 overall grade
RB Alfred Morris, 78.9 overall grade
DI David Irving, 78.2 overall grade
S Xavier Woods, 78.1 overall grade
Performances of Note:
With Ezekiel Elliott suspended, the focus was on Alfred Morris taking carries in his stead. Morris played pretty well, but was handed the ball just 11 times in the game (gaining 53 yards, 49 of which came after contact) as the Cowboys fell behind and began to chase the game. Rod Smith also saw a few late carries, but both players were far from the problem in this game, and proved that they could ably fill in while Elliott is out of the picture.
With All-Pro LT Tyron Smith not playing due to injury, the Cowboys turned to Chaz Green. Green had been benched earlier in the season from his left guard spot, and so it was perhaps not a shock that he was completely out of his depth at tackle. He surrendered four sacks, a hit and three hurries before finally being put out of his misery and benched in the second half, but he also had very little help and was badly exposed by the game plan.
Even in the loss, Hitchens was excellent in the run game, flying to the ball and often beating Falcons' offensive linemen to the point of attack. He finished with team-high nine stops, six more than anyone else on the Cowboys while finishing with an excellent 89.1 grade against the run.
It was an up-and-down game for Irving who started off hot with a number of big plays in the run game though he did get knocked well off the ball on another play and was bailed out by another teammate killing the play. As a pass-rusher, Irving picked up only two hurries on 29 rushes, as he went from being on his way to a disruptive outing to his lowest pass-rushing output of the season.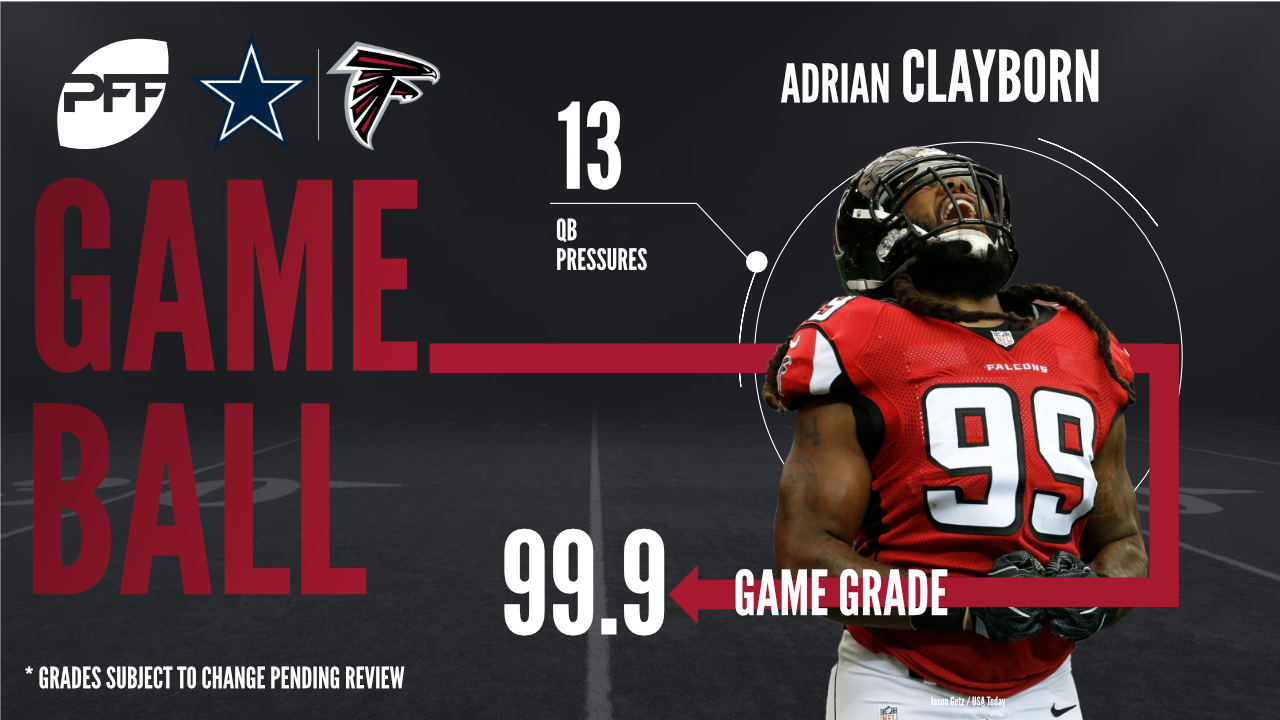 *Grades are subject to change upon review