The Atlanta Falcons survived a late comeback attempt by the Tampa Bay Buccaneers, winning 24-21 after the Bucs' K Patrick Murray missed the game-tying field goal attempt as time expired.
QB Jameis Winston had an efficient statistical game, as he went 27-of-35 for 299 yards and three touchdowns. He fumbled once but the Buccaneers recovered. WR Mike Evans was called for two offensive pass interference penalties, but he also hauled in five catches for 79 yards and a touchdown.
QB Matt Ryan was 17-of-31 for 212 yards and threw a touchdown pass that went to WR Justin Hardy. RB Devonta Freeman was the workhorse of the Atlanta offense, rushing 22 times for 126 yards and a touchdown and also adding 68 yards through the air. He was the team's leading rusher and receiver, although he did fumble twice.
With that, we give you our PFF-exclusive takeaways from the contest for each team.

Top 5 Grades:
T Jake Matthews, 91.6 overall grade
G Ben Garland, 87.3 overall grade
T Ryan Schraeder, 85.6 overall grade
LB Deion Jones, 84.9 overall grade
DI Grady Jarrett, 84.7 overall grade
Performances of note:
Ryan wasn't pressured much in this one, but the few times he did face pressure he struggled, completing just one of his six attempts for 27 yards. Ryan also didn't have a ton of success throwing the ball down field, connecting on just 4-of-12 targets for 87 yards on balls that traveled 10 or more yards in the air. The Falcons quarterback was efficient throwing the ball short, though, and on top of that he picked up 29 rushing yards on a few timely scrambles in the second half and he kept the ball out of trouble. Not the greatest game from a guy who can put up huge numbers, but overall an effective one.
It's been a fairly average year for the former first-round pick, but he was anything but average on Monday night in Tampa Bay. Matthews allowed two pressures (both hurries) on 38 pass-blocking snaps and he was absolutely superb as a run blocker, finishing the night with an elite 94.7 run-blocking grade. This was Matthews' fourth game over 80.0 this season and his first with a run-blocking grade north of 90.0.
Coming off his best game of the season a week ago against the Saints, Jones put in another solid effort Monday night. The speedy linebacker was elite in coverage, as he was targeted four times and allowed only seven receiving yards and notched a pass break up, leading to a coverage grade of 90.5. Jones has notched six pass break ups on the season and quarterbacks have a passer rating of 90.2 when throwing his way.
Jarrett has been a pleasant surprise for the Falcons this season, and that continued with a solid game against Tampa Bay. He was the Falcons' most productive pass-rusher, generating five pressures and recording a pass-rush grade of 86.4. Jarrett now has 35 total pressures on the season and 27 run stops, three shy of his career high of 30 in 2016.

Top 5 Grades:
QB Jameis Winston, 86.8 overall grade
S Chris Conte, 86.4 overall grade
TE Cameron Brate, 80.5 overall grade
CB Robert McClain, 78.2 overall grade
WR Mike Evans, 77.2 overall grade
Performances of note:
Winston played perhaps his best game of the season, throwing for nearly 300 yards and three touchdowns. He carved up the Falcons when given time in the pocket, going 19-of-25 for 185 yards and a touchdown. Winston also found success throwing the ball downfield, completing 11-of-18 attempts for 184 yards on passes that traveled 10 yards or further through the air.
If not for his two offensive pass interference calls, Evans would've graded out better, although he still had a productive game with five receptions on five targets for 79 yards and a touchdown, resulting in a wide receiver rating of 148.2 on the night. Evans' production has dropped off since a career season a year ago, catching 60 passes on 111 targets with five touchdowns on the year.
Conte had a solid night in coverage, allowing zero catches into his coverage on three targets to go with one pass breakup, and he also recorded a stop against the Falcons. Conte was on the field for 55 of 70 snaps for Tampa Bay and he's been on the field for 89.1 percent of the Buccaneers' defensive snaps over the last two weeks after seeing the field for just 52.0 percent of their snaps between Weeks 6 through 13.
McClain was on the field for 29 coverage snaps against the Falcons on Monday night, and he allowed just one catch on three targets for eight yards. The veteran cornerback has bounced back a bit after a poor start to the season; from Weeks 1 through 6, he finished just one game with an overall grade of at least 70.0. Since then he's passed the 70.0 threshold in five of seven games.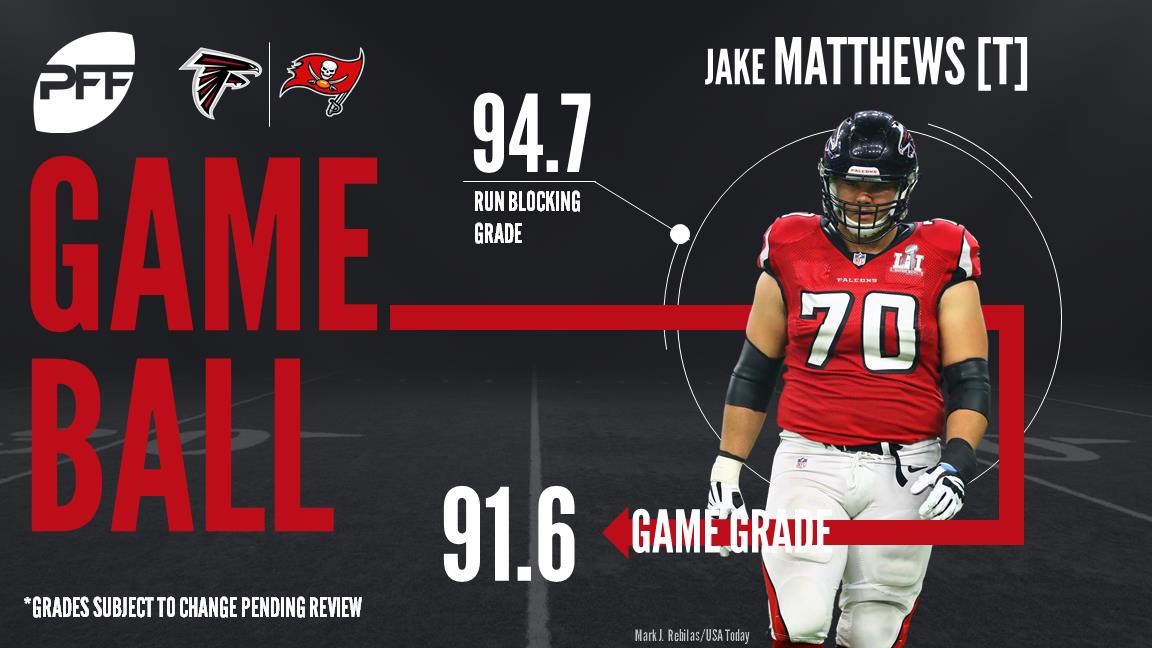 *Grades subject to change