The Green Bay Packers defeated the Pittsburgh Steelers on Thursday night, 51-34 kicking off the second full week of preseason action in the NFL.
PFF's ReFocused series this season features immediate takeaways and a key to the victory from two Senior Analysts who graded the performance, watching every player, on every play of the game. For more data and analysis from the game, utilize our Premium Stats 2.0 dashboard to expand your knowledge on the key players, signature stats and much more.

FINAL SCORE
Green Bay Packers 51, Pittsburgh Steelers 34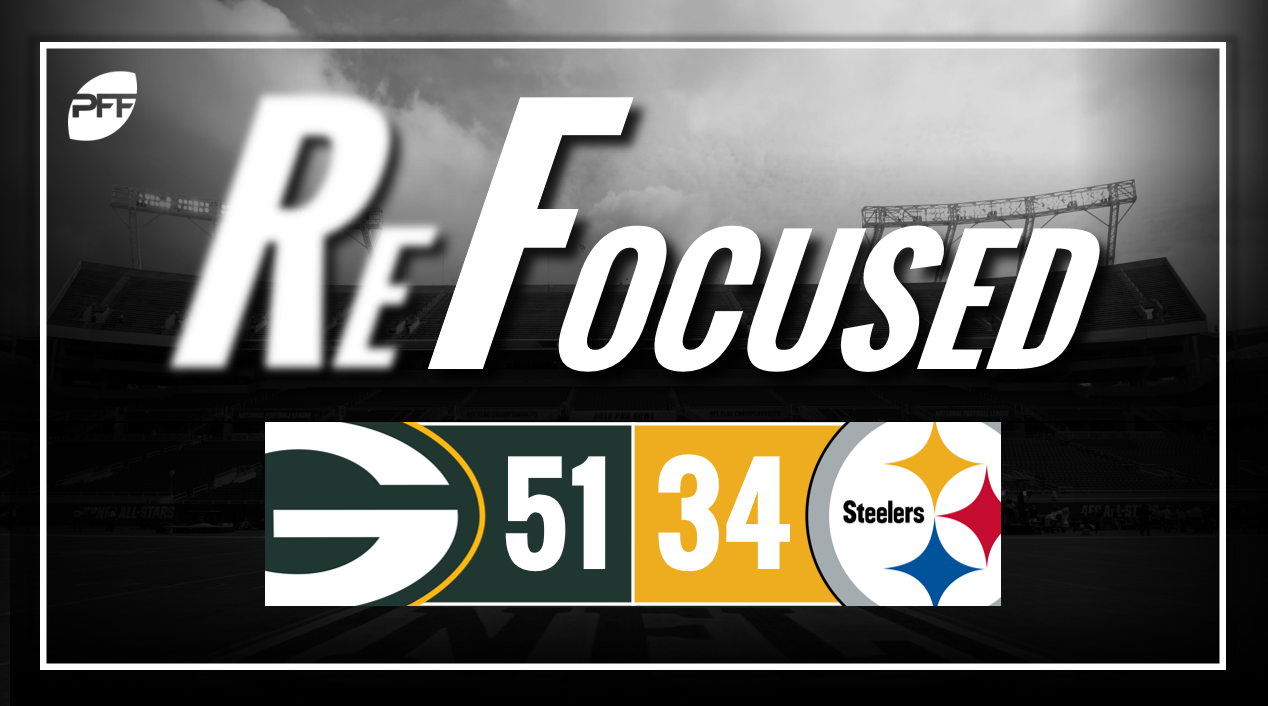 Analyst Takeaways

Rookie wide receiver James Washington grabbed five-of-seven targets on the night for 114 yards, two of which were contested highlight reel touchdowns. The first can best be described as "mossed" in the corner of the end zone and the second was a 50/50 ball on a back shoulder throw at the goal line.
Although quarterbacks Mason Rudolph and Joshua Dobbs each had their forgettable moments on the night (each threw a pick six), Dobbs was more effective overall under center, managing to throw for a couple scores. Dobbs also added 27 yards on the ground for Pittsburgh.
It was a tough night for rookie saftey Terrell Edmunds in pass coverage, as he allowed two touchdowns. The first score saw him beat on an in route in the end zone by Jimmy Graham. He then didn't get his head turned around on a 1-yard fade to Robert Tonyan at the end of the first half for his second touchdown allowed.
Starting safety Morgan Burnett had a solid night against his former team, racking up several tackles and two defensive stops. His play of the night came in the second quarter, which saw him not allow Brett Hundley to scramble for a potential touchdown, picking up a pursuit sack.

While Aaron Rodgers saw only one series, it didn't take long for him to look like his old self, leading Davante Adams on a slant for 27 yards and finishing the drive by hooking up with newest red-zone target, Graham for an 8-yard touchdown strike.
Building off of last week's success, Jake Kumerow flashed again with another three catches for 114 yards and a touchdown. The play of the night saw him reel in an out route in contested coverage, cut back in on safety Nat Berhe, and take it for an 82-yard touchdown.
Josh Jackson, despite his draft selection (45th overall) was still our eighth-ranked player on our final PFF Draft Board, and he showed his worth in this contest, as he didn't allow a reception and recorded a pick-six and a pass breakup in coverage. Also on defense, edge defender Reggie Gilbert was unblockable all night, racking up several QB pressures and easy wins on just 15 pass-rush snaps.
KEY TO THE GAME
Pittsburgh: The Steelers put enough points on the board to compete (34) but made too many costly mistakes to win the game.
Green Bay: The DeShone Kizer to Kumerow strike for a touchdown put this one out of reach for the Steelers in the third quarter.