The Kansas City Chiefs defeated the Atlanta Falcons on Friday night, 28-14 continuing the second full week of preseason action in the NFL.
PFF's ReFocused series this season features immediate takeaways and a key to the victory from two Senior Analysts who graded the performance, watching every player, on every play of the game. For more data and analysis from the game, utilize our Premium Stats 2.0 dashboard to expand your knowledge on the key players, signature stats and much more.

FINAL SCORE
Kansas City Chiefs 28, Atlanta Falcons 14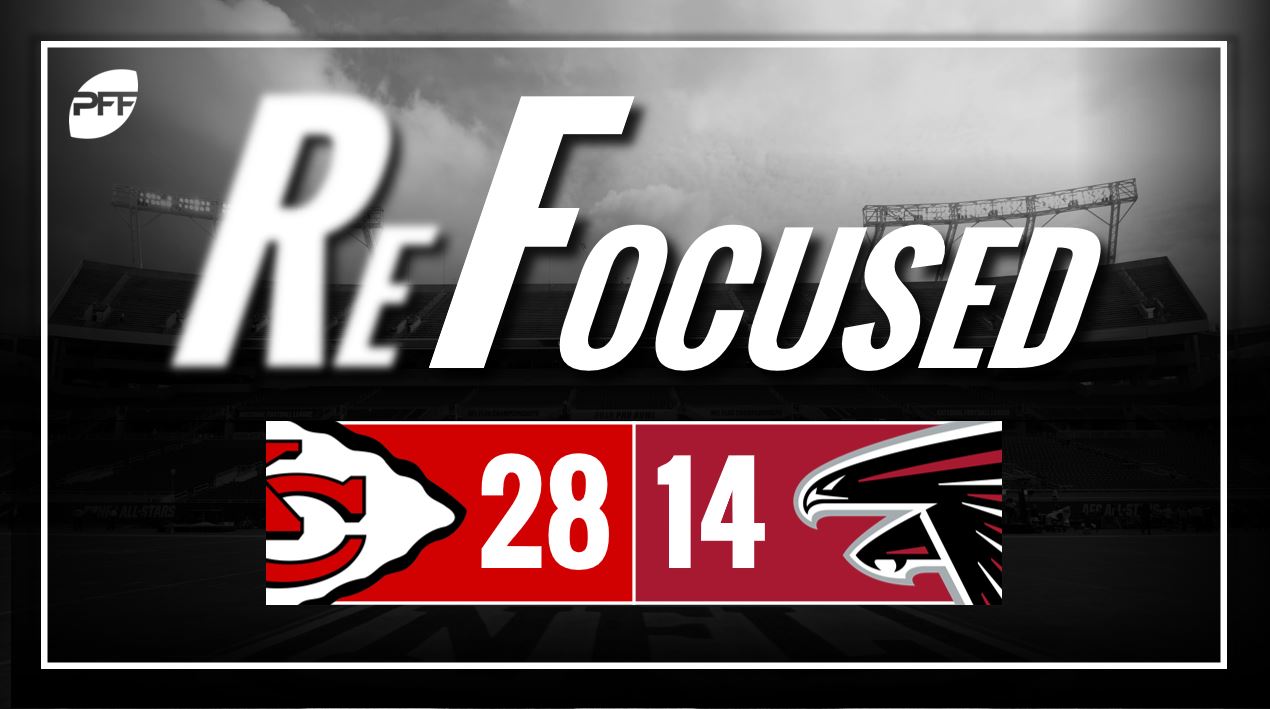 Analyst Takeaways

We saw a little bit of everything from Patrick Mahomes. There were some bad decisions, but also an incredible display of arm strength on his touchdown pass to Tyreek Hill. Mahomes was kept clean for much of the first half, but when he did feel pressure, he did a good job of using his legs to pick up yards. However, the Chiefs' offensive line was unable to generate much movement up front on their run plays. Short passes to the running backs ended up being a much more effective way for the Chiefs to pick up short yardage.
Atlanta's offense rarely left the field in the first half, due in large part to the inability of the Chiefs' front seven to get off blocks. The normally stout Chris Jones had his own struggles at times with Atlanta's offensive line, but the rest of the unit was far too easily tied up and moved off the line of scrimmage.
David Amerson just missed a golden opportunity to prevent Atlanta from converting on it's second touchdown drive of the first half. He made a great play on a poorly-placed end-zone fade from Falcons backup quarterback Matt Schaub, but was unable to come down with both feet in bounds after going to the air to cut off his receiver for an interception.

The offensive line did an excellent job of sealing defenders off the back side of outside zone plays. Their ability to execute reaches quickly enough to also get on top of the Chiefs' linebackers gave Falcons running backs multiple shots at the third level.
First-round pick, wide receiver Calvin Ridley showed glimpses of what made him such a dynamic threat at Alabama, as he found a number of ways to flash open and make big plays against Kansas City's secondary. He made an explosive double-move on a post route that resulted in a big reception. He then settled down in front of two defenders just short of the goal line, and was able to protect the ball and finish off the play for a score.
Falcons CB Brian Poole showed off his athleticism covering Kansas City's speedy wide receiver Hill. He was able to limit Hill's yards after the catch, including an impressive tackle short of the sticks on a third-down crossing route to Hill. On the other hand, CB Desmond Trufant didn't have his sharpest game  allowing two catches that went for first downs on the Chiefs' second drive of the game. One of which was on a 3rd & 11 where Travis Kelce beat him near the right sideline.
KEY TO THE GAME
Kansas City: Two deep-passing connections ended up being the difference in the game for the Kansas City Chiefs as both Gehrig Dieter and Hill got behind the Falcons secondary for long touchdowns.
Atlanta: The first half belonged to Atlanta's offensive line, which dominated on both run- and pass-blocks.