The Los Angeles Chargers defeated the Seattle Seahawks on Saturday night, 24-14 continuing the second full week of preseason action in the NFL.
PFF's ReFocused series this season features immediate takeaways and a key to the victory from two Senior Analysts who graded the performance, watching every player, on every play of the game. For more data and analysis from the game, utilize our Premium Stats 2.0 dashboard to expand your knowledge on the key players, signature stats and much more.

FINAL SCORE
Los Angeles Chargers 24, Seattle Seahawks 14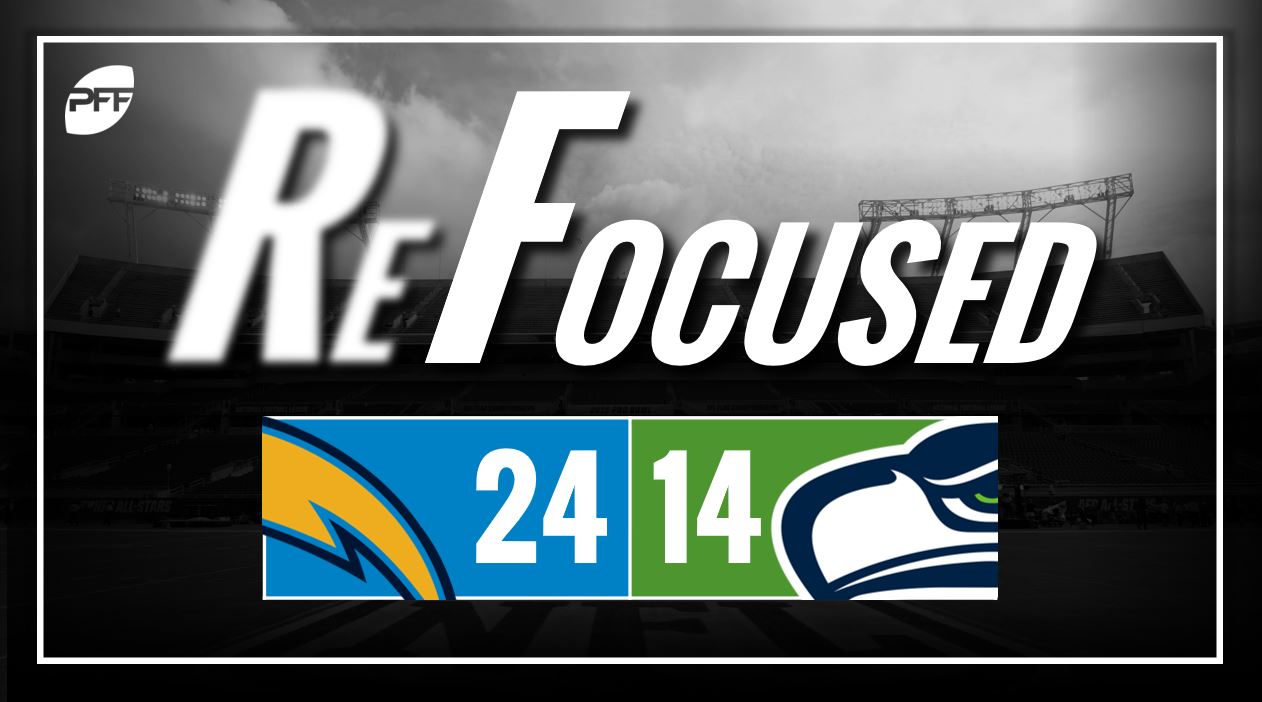 Analyst Takeaways

Quarterback Russell Wilson played the entire first half against the Chargers. Unfortunately, the Wilson-led Seahawks offense were only able to generate two field goals in the first half.
Seattle running back Chris Carson had a nice first quarter touchdown run called back on a penalty.  Carson's bad luck continued in the second quarter, as he fumbled on the Chargers' one-yard line, stalling an otherwise impressive drive by the Seahawks. 
Rookie edge defender Rasheem Green put forth the most impressive effort on the Seattle defense. Green generated several quarterback pressures and maintained a strong presence in run defense, shedding blocks quickly to fill his lane. Seattle looks to have added another piece to their already strong defensive line.
Rookie interior defensive lineman Poona Ford was among the other rookies that stood out on defense. Los Angeles' interior offensive line couldn't get a handle on Ford, as he frequently clogged lanes and forced cuts in the backfield.

Philip Rivers looked in midseason form in his lone series of work. On his first drop back he scrambled to avoid pressure and connected with Tyrell Williams on a 21-yard completion. The Chargers first-team offense looked sharp on the opening possession, capping it off with a two-yard touchdown run by Melvin Gordon.
Chargers fans were treated to the playmaking ability of wide receiver Mike Williams, who jumped over cornerback Akeem King to haul in a 25-yard touchdown pass from Geno Smith. If Williams is able to contribute like he is projected to, the Chargers wide receiving corps quickly becomes a very formidable one for opposing defenses. Quarterbacks Geno Smith and Cardale Jones were able to use their legs successfully, racking up 55 yards on six carries.
Edge defender Isaac Rochell stood out for the Chargers defense, as he stayed active on his pass-rush snaps and managed to notch two sacks thanks to his persistent effort.
Wide receiver J.J. Jones continues to have a strong preseason as a returner. Jones had an impressive 72-yard punt return for a touchdown in which he forced two missed tackles.
KEY TO THE GAME
Seattle: Chris Carson's goal-line fumble prevented a potential Seahawks touchdown.
Los Angeles: The Chargers converted 50 percent of their third downs. With the pass game relatively ineffective for most of the night, it was the scrambling ability of Geno Smith and Cardale Jones which paid dividends.