The Arizona Cardinals defeated the Dallas Cowboys on Sunday night, 27-3 ending the third full week of preseason action in the NFL.
PFF's ReFocused series this season features immediate takeaways and a key to the victory from two Senior Analysts who graded the performance, watching every player, on every play of the game. For more data and analysis from the game, utilize our Premium Stats 2.0 dashboard to expand your knowledge on the key players, signature stats and much more.

FINAL SCORE
Arizona Cardinals 27, Dallas Cowboys 3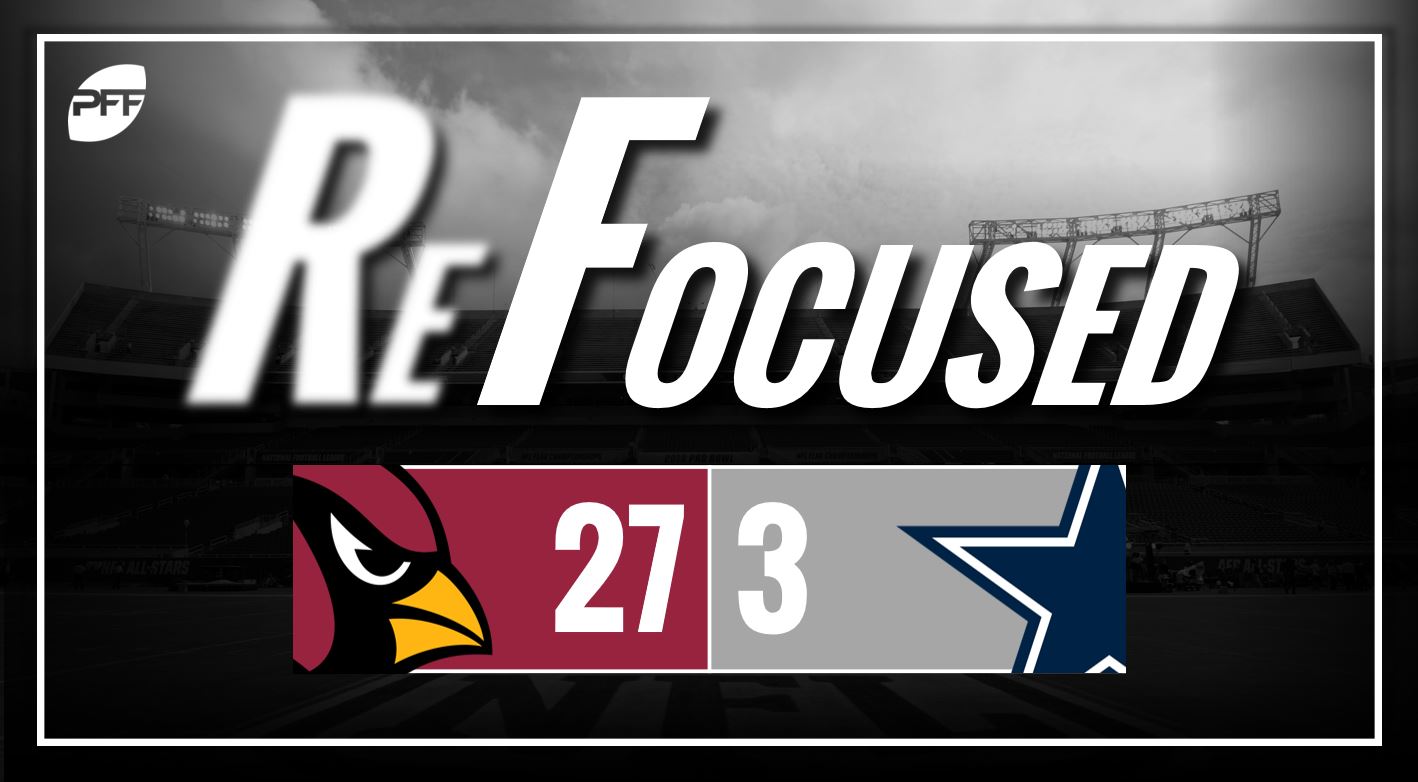 Analyst Takeaways

Quarterback Sam Bradford only played the first two drives, completing just one pass. The Cardinals decided to play backup Mike Glennon for most of the first half, and he was effective, completing short passes while taking what the Cowboys gave him.
Both backup running backs T.J. Logan and Chase Edmonds showed a lot of promise, as both were able to run through contact to gain first downs, showing good bursts of speed in the process.
Veteran cornerback Patrick Peterson was in All-Pro form, recording a pick six and causing a fumble. The Cardinals first-string defense played extremely well, as they closed up running lanes and forced turnovers. Newly signed linebacker Gerald Hodges showed he can be a nice addition to the defense, recording four tackles and a pass deflection.
Perhaps the most impressive performance on the night goes to Arizona's defensive line. They wreaked havoc on the Cowboys backups, as edge defenders Cap Capi and Vontarrius Dora combined for four sacks and two forced fumbles.

It was certainly a poor performance for the Cowboys offense as they turned the ball over eight times. It's slim pickings for top performers but rookie quarterback Mike White showed flashes, connecting on 17 of 22 throws for 157 yards.
Dallas couldn't generate a consistent ground game all night, as they ended with 52 yards on 21 carries. With All-Pro center Travis Frederick expected to miss time, the lack of depth across the offensive line has to be a concern for them moving into the season.
Dallas' secondary was able to hold Arizona's passing game to 68 yards, with the longest completion being 13 yards. Dallas' secondary was also responsible for multiple pass defenses.
The only touchdown the Cowboys allowed was due to a bust in their run gaps. Outside of that 59-yard run, the Cowboys run defense did enough to keep the Cardinals in third-and-long situations, allowing just two successful conversions for a first down.
KEY TO THE GAME
Arizona: Arizona forced eight turnovers, which included two muffed punts, three interceptions, and three fumbles.
Dallas: Dallas was unable to get anything going against a tough Arizona defense, as the Cardinals clogged running lanes and forced eight turnovers.